News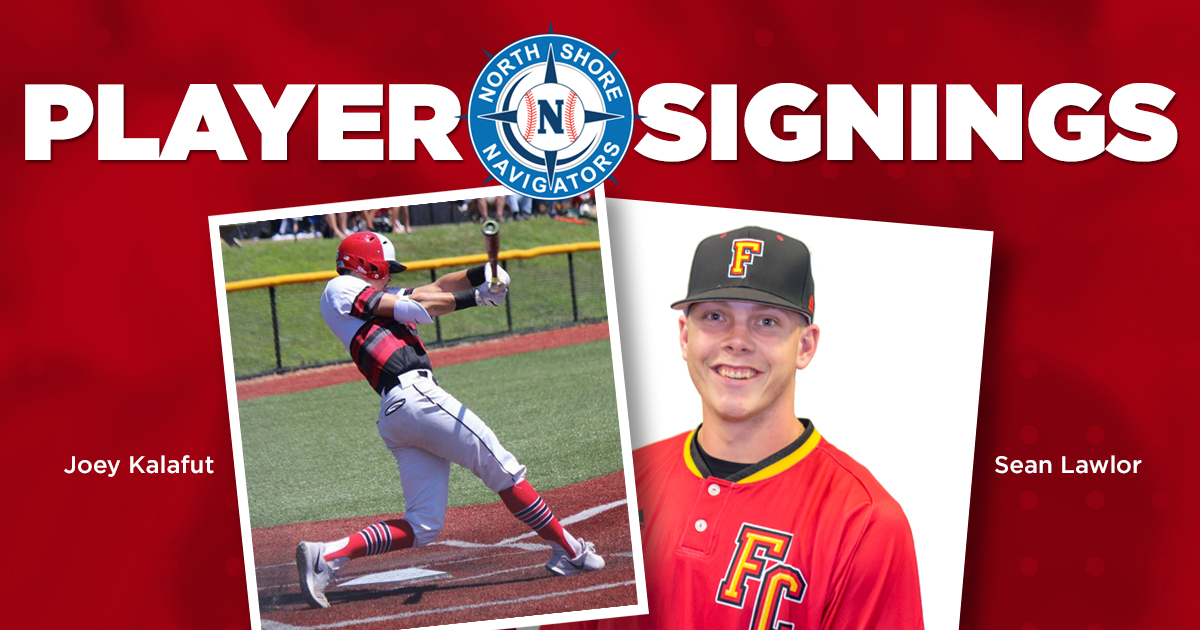 02/08/2019 12:04 PM
LYNN, Mass. -- The North Shore Navigators have added some "small school" power to their roster for the upcoming Futures Collegiate Baseball League season as the signings of the versatile Joey Kalafut and outfielder Sean Lawlor were officially announced on Friday.
Director of Player Procurement Joe Gill revealed the two newest members of the 2019 squad, bringing the total number of players named to the roster to 11.
Kalafut will become the first-ever Wisconsin native to suit up for the Navs following his freshman year as a two-way player at Edgewood College, which is located in his home state's capital city of Madison. Lawlor is a junior outfielder from Flagler College in St. Augustine, Fla.
"Although Joey and Sean come from smaller colleges, we believe they will be strong contributors to our team this summer," said Gill. "Joey is a great asset to a summer roster because of his significant experience playing multiple positions, while Sean has put up solid numbers in a competitive Division 2 conference and also performed admirably in multiple summer collegiate leagues."
Kalafut plays first base, outfield, and pitches for the Eagles, who compete in the Division 3 Northern Athletics Collegiate Conference. The 6-foot-3, 205-pound lefty was a four-year varsity player at his hometown Columbus (Wis.) High School, earning All-Conference honors after hitting .417 as a senior. In addition, Kalafut has played with the Polish National Team for several years, participating in tournaments throughout Europe as well as one in California last December.
Lawlor hit .294 with seven of his eight career home runs and 34 RBI as Flagler's starting left fielder in 2018 and is off to a 6-for-18 start with five RBI through the first four games of this spring. The Boca Raton, Fla., native was busy last summer, posting a .352 average as the 11th-leading hitter in the New York Collegiate League before joining the Valley Blue Sox for their New England League title run. He earned All-NYCBL honors for his efforts with the Syracuse Salt Cats. Lawlor spent his first collegiate summer playing for the Valley League's Covington Lumberjacks.
Although Lawlor competes in the Peach Belt Conference down in Florida, he will not be the first Flagler product to join the Navigators, following in the footsteps of infielder Andrew "Opie" Brodbeck and pitcher Jake Brandenberger who both came to Lynn in 2013. Brodbeck was the St. Louis Cardinals' ninth-round draft pick two years later.
Stay tuned as the Navigators will be announcing more additions to the roster in the coming weeks and months in preparation for the 2019 season. The team's home opener at Fraser Field is slated for Saturday, June 1.