News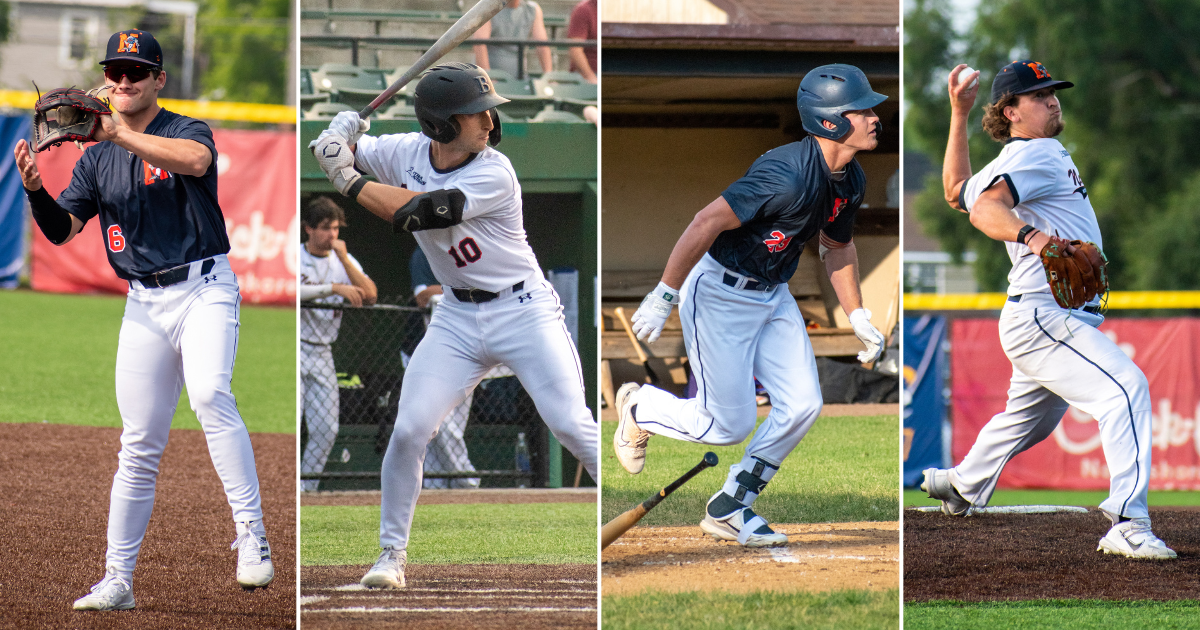 08/18/2023 1:00 PM
LYNN, Mass. -- The North Shore Navigators' 2023 season ended late last month, but four members of the team were recently honored over the last week as the New England Collegiate Baseball League (NECBL) unveiled its annual postseason awards and All-NECBL teams.
The third Navigator in as many summers to earn one of the NECBL's major awards, returning outfielder Stan DeMartinis III (Bentley) became the franchise's second-ever winner of the Most Improved Player Award, which is voted based upon a player's level of improvement throughout their time in the NECBL from one year to the next.
After playing through injury and hitting just .190 during his first summer with North Shore in 2022, DeMartinis turned in a performance worthy of NECBL All-Star honors with a .274 average that ranked fourth on the team, 17 RBI and 21 runs scored. The Boca Raton, Fla., native rejoined the team in mid-June and hit a team-best .341 in 13 games during the month, which he highlighted with a walk-off single to lift the Navs past the evental league champion Newport Gulls on June 18. A rising Bentley junior, DeMartinis was also an Division 2 All-East Region and All-Northeast-10 performer in the spring.
All-Star Henry Kaczmar (Ohio State) was recognized as the top shortstop in the NECBL with his spot on the All-NECBL First Team. Kaczmar led North Shore and stood eighth in the circuit with his .313 batting average and finished second on the team in hits (35) and stolen bases (9) and third in walks (22). Among eight multi-hit games on the season was a 4-for-6 performance with one RBI and three runs scored in a July 5 win at Keene that contributed to a NECBL Player of the Week resume.
Additionally, outfielder Evan Griffis (Stetson) and left-handed pitcher Cooper Smith (Stetson) were both named to the All-NECBL Honorable Mention Team.
Griffis, who joined Kaczmar as an East Division starter in the July 23 NECBL All-Star Game at Fraser Field, regularly patrolled center field for North Shore this summer. He led North Shore in hits (36), doubles (9) and home runs (4) while finishing second in batting average (.308) and RBI (25) across 31 regular-season games. Griffis put together a pair of four-RBI efforts, including one on July 11 against Ocean State that saw him hit one of his three homers in a span of four games.
Smith was a workhorse in the Navs' rotation for a second consecutive season, leading the club with 41 strikeouts in 38 innings while going 3-1 with a 2.13 ERA across seven starts. The southpaw allowed just two earned runs over his final 24 innings, throwing one of his two scoreless starts and another in which he gave up one unearned run within that span. He struck out eight and nine batters over two starts in June before dealing seven scoreless in a June 30 win over Martha's Vineyard to begin a three-game win streak.
DeMartinis joins Saugus native Dario Pizzano (Columbia) as the only other Navigator to be named the NECBL's Most Improved Player. Pizzano was a NECBL All-Star outfielder in 2011.
Kaczmar is the third Navs player to earn top All-NECBL honors since the team returned to the league back in 2021, joining pitcher Jackson Emus (Princeton) and first baseman Logan Bravo (Harvard). Bravo was also named the NECBL's Stephen Strasburg Top Pro Prospect that summer.
Last summer, Lynnfield native Jonathan Luders (Seton Hall) was the 2022 recipient of the NECBL Sportsman of the Year Award.
Until a new season at Fraser Field begins in June of 2024, stay up to date on the latest Navs news by visiting nsnavs.com and following the team on Facebook, Twitter and Instagram.