News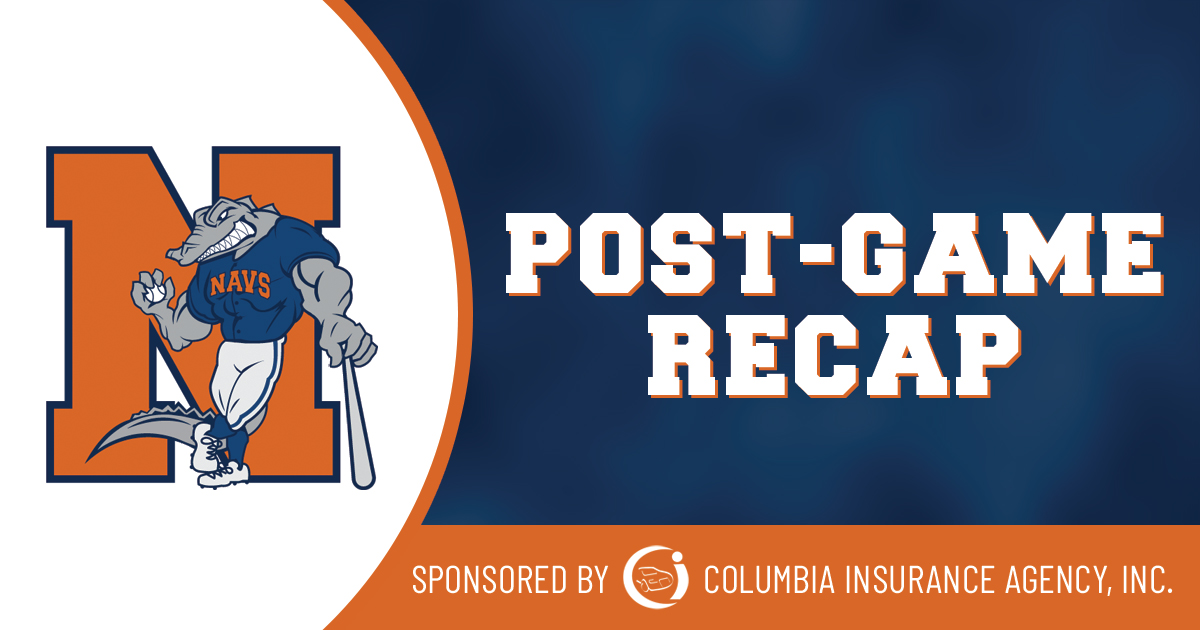 07/27/2023 10:09 PM
OAK BLUFFS, Mass. — A nine-run eighth inning helped the Martha's Vineyard Sharks come from behind to earn a 13-7 win over the visiting North Shore Navigators in Thursday night's New England Collegiate Baseball League action at The Shark Tank.
North Shore slipped to 18-24 on the season, while Martha's Vineyard jumped a half-game ahead in the Coastal Division race with a 17-22-1 mark.
Left fielder Nick White (Maine) enjoyed the best game of his young Navs career, going 3-for-4 with a double, home run and three runs scored. Second baseman Brendan Jones (Holy Cross) drove in a pair of runs, while third baseman Jake Berger (Harvard) scored twice.
The Navs got on the scoreboard first in the top of the second inning. Designated hitter Matt Chatelle (Merrimack) hit a one-out infield single before White's double moved both runners into scoring position. Jones followed with a two-out, two-run double down the right-field line two batters later.
Martha's Vineyard got a run back when left fielder Caden Shapiro (Princeton) hit a run-scoring, two-out double in the second. Back-to-back hits by first baseman Carsten Sabathia (Georgia Tech) and designated hitter Scott Seeker (Mount St. Mary's) plated third-inning runs for the Sharks to flip the score. Sabathia began that stretch with a triple.
In the fourth, White cleared the right-field fence for a solo homer during North Shore's half before center fielder Aiden Tierney (Mount St. Mary's) moved the score back in the Vineyard's favor with a sacrifice fly.
North Shore scored the next five runs to take control of the scoreboard. Berger doubled, advanced to third on a wild pitch and crossed the plate when shortstop Luca Trigiani (William & Mary) reached on an error in the fifth.
Jake Needham (Holy Cross) relieved North Shore starter Brayden Clark (Salve Regina) after four frames and proceeded to post inning-ending strikeouts to escape two-on jams in each of the next two frames.
Needham's strong relief work kept North Shore ahead until it was able to extend the lead with a two-run seventh. Berger walked and Trigiani reached on a fielding error to set up the rally. Catcher Jacob Jarrell (Clemson) followed with an RBI single up the middle, and first baseman Brandon Drapeau (St. Joseph's) executed the hit-and-run to perfection, sending a grounder through the right side to plate another run.
White reached on the third Vineyard error and came around to score as right fielder DJ Pacheco (Richmond) dropped a two-out double inside the right-field line in the eighth.
The hosts exploded for nine runs in the eighth while sending 14 men to the plate against three North Shore pitchers. After Peabody native Ryan Bradley (Bryant) recorded his third strikeout in a span of four outs, the next 11 Vineyard batters reached base to help break open the score. Seeker and catcher Max Kaufer (Texas A&M) each had two-RBI hits in the inning.
Scout Updike (Jacksonville) struck out six while allowing three earned runs on five hits across five innings to post the win for the Sharks. Seeker went 3-for-5 and matched Shapiro with three RBI. Kaufer drove in a team-high four.
Nick Davis (Northeastern) took the loss for North Shore.
North Shore is scheduled to complete the regular season with a two-game homestand beginning at 7:05 p.m. Saturday against the Newport Gulls.