News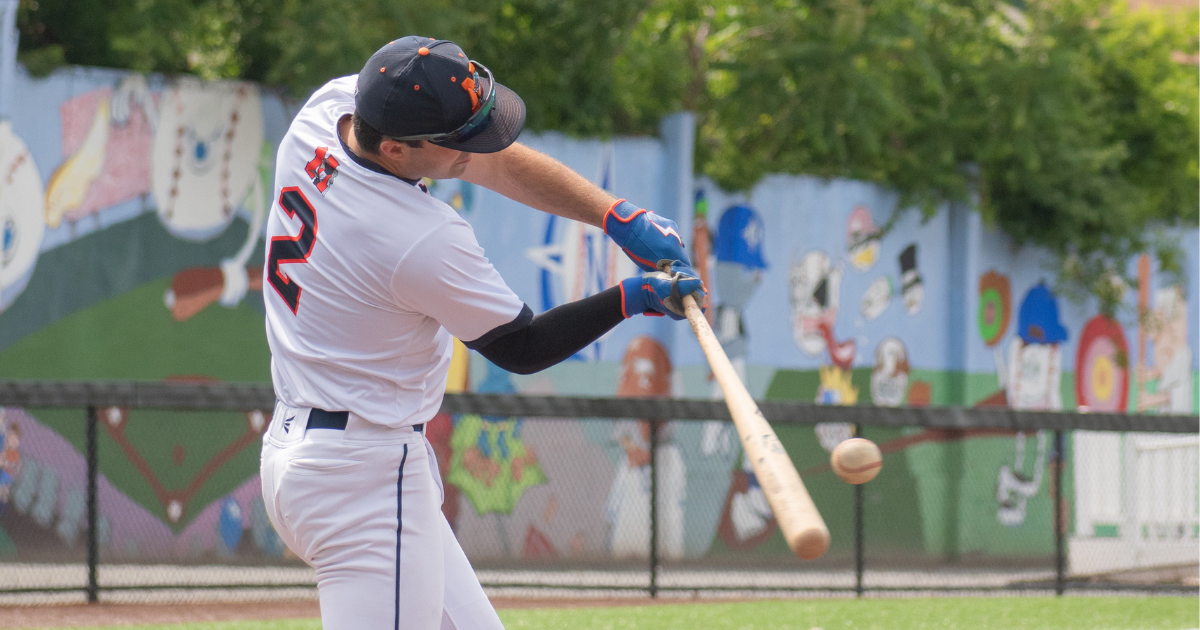 06/28/2023 2:24 PM
By Mitch Fink
For as long as he's been a North Shore Navigator, Jake McElroy has been defined by his consistency.
McElroy, his teammates agree, is consistent in his approach on the field, in his meticulous preparation away from the ballpark, and in his personality as a jokester in the dugout.
After four seasons with the Navs, McElroy has also become the ultimate on-field constant — and now, he has the stats to show for it. With his pinch-hit appearance, which resulted in a base hit, in Monday's game against the Martha's Vineyard Sharks, the North Andover native set a new record for the most games played as a Nav — 131, to be exact.
"He doesn't ride the wave," said Cedric Gillette, a pitcher who played with McElroy on the Navs in 2020 and 2021. "He's never super high, never super low. You like him because of how much you respect him and how he goes about his business and how he handles himself."
McElroy — who is entering his senior season at Holy Cross — joined the Navs in 2020 when the team was a member of the Futures Collegiate Baseball League. Due to COVID-19-related cancellations, the Futures League was the only summer collegiate league in New England running that summer, so McElroy and the Navs competed against some of the nation's top collegiate talent.
He settled into the role quickly. Manager Bob Macaluso started McElroy in the designated hitter slot for the season opener against the Nashua Silver Knights, and McElroy began to cement a role on the Navs which has stood the test of time.
"I was kind of surprised, because we were loaded," McElroy said. "I didn't think I was going to play that summer, but I ended up playing all summer."
McElroy, who typically splits time between the infield and outfield, rapped 30 hits in a team-high 38 appearances that year, and continued that success into his freshman year at Holy Cross, where he earned the teams' Ray Dobens Award as the Crusaders' most improved player.
In 2021 — North Shore's first season back in the New England Collegiate Baseball League — McElroy was instrumental in the Navs' run to the Fay Vincent Sr. Cup Finals.
Then, last season, he belted 30 hits and 13 RBI en route to his first NECBL all-star appearance with North Shore. He's off to another strong start this year, posting a .286 average with 13 hits and three RBI.
McElroy's contact-driven approach at the plate makes him an ideal leadoff hitter. He may not hit for power, but he's adept at squaring up the ball for consistent hard contact.
"He's got a flat swing too, as far as mechanics," said Luke Marshall, who pitched for the Navs from 2020-22. "He gets that high fastball and he can definitely do damage with that pitch."
Jonathan Luders (Seton Hall), who played for North Shore from 2020-22, considers McElroy an "all-time Nav."
"He's just a phenomenal teammate," Luders said. "He has a great way of interacting with every guy, and he's obviously a phenomenal competitor."
For as long as McElroy has played at Fraser Field, some members of North Shore's squad — like reliever Brett Dunham (Northeastern) — have known McElroy for far longer than four years.
Dunham, also from North Andover, has known McElroy since the two were in elementary school. After school, Dunham would stop by McElroy's house for games of mini basketball on his porch.
"He's been the same teammate his whole life," Dunham said. "He's just always there for you. Always wants to see everyone do well."
Gillette was first introduced to McElroy under less friendly circumstances. Gillette and McElroy were both star three-sport athletes in football, basketball and baseball at rival high schools — McElroy at North Andover, and Gillette at neighboring Andover.
"He was the type of kid you hated when you played against him, because he was good and he was going to beat you every once in a while," said Gillette, who played baseball at Merrimack College. "But you knew that you respected him, and that if you were teammates, you'd really like him."
In a dominant high school career at North Andover, McElroy earned the Boston Globe's Will McDonough Athlete of the Year as a senior, and was named to the Eagle-Tribune's 21st Century baseball team and All-Decade football team.
He led the baseball team to three consecutive Merrimack Valley titles, and a Super 8 championship as a senior. In football, McElroy was the quarterback of North Andover's Super Bowl-winning squad in 2018. That same year, he led the basketball team its first sectional title in over 40 years.
McElroy's longevity with the Navs pushes him past Tim Hendricks for the all-time games played record, who logged 130 appearances between 2012 and 2014.
"It's definitely cool," McElroy said of the record. "I'm super thankful for my experience here."