News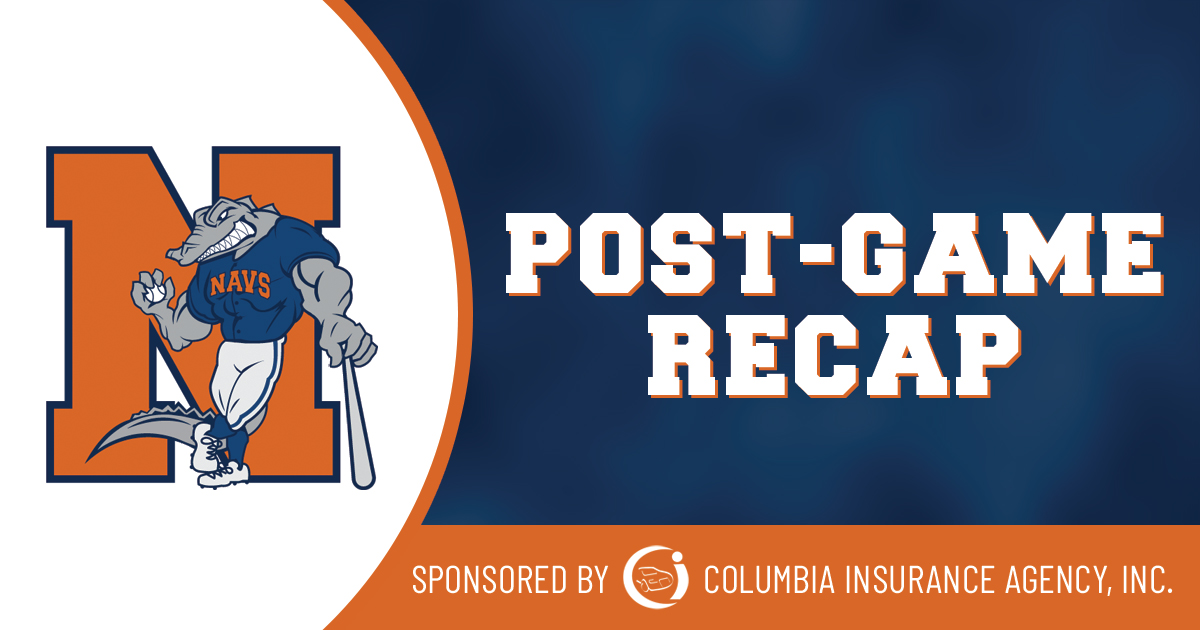 06/20/2023 8:25 PM
SOUTH KINGSTOWN, R.I. -- A seven-run sixth inning helped the North Shore Navigators climb back from a large deficit, but the Ocean State Waves held off the late surge for a 13-10 win in Tuesday night's New England Collegiate Baseball League game between the Coastal Division rivals at Old Mountain Field.
North Shore trailed 9-2 and 12-3 prior to the big inning before it was shut out over the final three innings and fell to 3-9 on the season. Ocean State improved to 7-4, beating the Navs for the second time this summer.
Shortstop Luca Trigiani (William & Mary), left fielder Stan DeMartinis III (Bentley) and catcher Matt Chatelle (Merrimack) all contributed two hits to the Navs' offense, which held an 11-10 advantage in the hit department. Trigiani also scored two runs. Designated hitter Jacob Jarrell (Clemson) hit a solo home run and drove in two.
The back end of the North Shore bullpen was strong as Jake Needham (Holy Cross) recorded all four of his outs by way of the strikeout and Kaden Humphrey (Stetson) pitched one-hit, scoreless ball over the final five outs.
The Waves took an early lead with a run in the bottom of the first inning. Center fielder TJ MacKenzie (Vanderbilt) hit a leadoff single before Navs starting pitcher Ross Dexter (UMass Boston) picked him off first base, but third baseman Davis Gillespie (Southern Miss) made the first mark on the scoreboard with a solo home run to right.
North Shore scored twice in the top of the third to jump in front by a 2-1 score. After second baseman Henry Kaczmar (Ohio State) drew a leadoff walk, he reached third on Trigiani's blooping single into shallow right. Jarrell drove home the first run on a sacrifice fly to left, and center fielder Evan Griffis (Stetson) ripped a two-out, go-ahead RBI single two batters later.
A two-out, two-run homer by left fielder Lewis Barnum (Bryant) helped Ocean State take the lead back in the next half-inning. The Waves broke the game open with a six-run fourth in which Gillespie hit a two-run double, Barnum added a two-run single two batters later and they benefited from two fielding errors along the way.
Jarrell hit North Shore's first homer since the season opener in the fifth, socking a two-out pitch high over the left-field wall. A hit by pitch and a walk opened Ocean State's half of the frame, and Gillespie further extended the lead with a three-run shot.
In the Navs' sixth, pinch hitter Andrew Eppinger (NJIT) was hit by a pitch and came around to score as DeMartinis ripped an RBI double into the left-center gap. After right fielder DJ Pacheco (Richmond) drew a one-out walk, pinch-hitting second baseman Brendan Jones (Holy Cross) drove an opposite-field RBI single down the left-field line.
Chatelle and Trigiani kept the line moving, each driving home a run with RBI singles of their own before scoring on wild pitches. Third baseman Jake Berger (Harvard) made it a two-run game with a sac fly to left ahead of a ground ball that ended the inning.
Needham kept the momentum in North Shore's dugout by striking out the side in the sixth inning, marking the first time that the home team was retired in order since the fourth.
Needham struck out the first four batters he faced before first baseman Brodey Heaton (Belmont) crushed a one-out solo homer in the seventh to make it a 13-10 game. He exited the game with two runners on base in the seventh, but Humphrey used a strikeout to help retire the side and then dealt a scoreless eighth.
North Shore's first two batters of the ninth reached as Tanner Zellem (Tennessee) ripped a leadoff single and Berger reached on a fielder's choice, but a double play ball and a strikeout ended the last threat. Wyatt Lunsford-Shenkman (East Carolina) saved the victory for Kyle Rossy (UCF), who pitched an inning in relief of starter A.J. Colarusso (Boston College).
For Ocean State, Gillespie went 3-for-5 with two homers, six RBI and four runs scored, while Barnum drove in four while finishing 2-for-3.
The Navs continue their scheduled three-game road trip Wednesday against the Bristol Blues. First pitch is set for 6:35 p.m. at historic Muzzy Field in Bristol, Conn.