News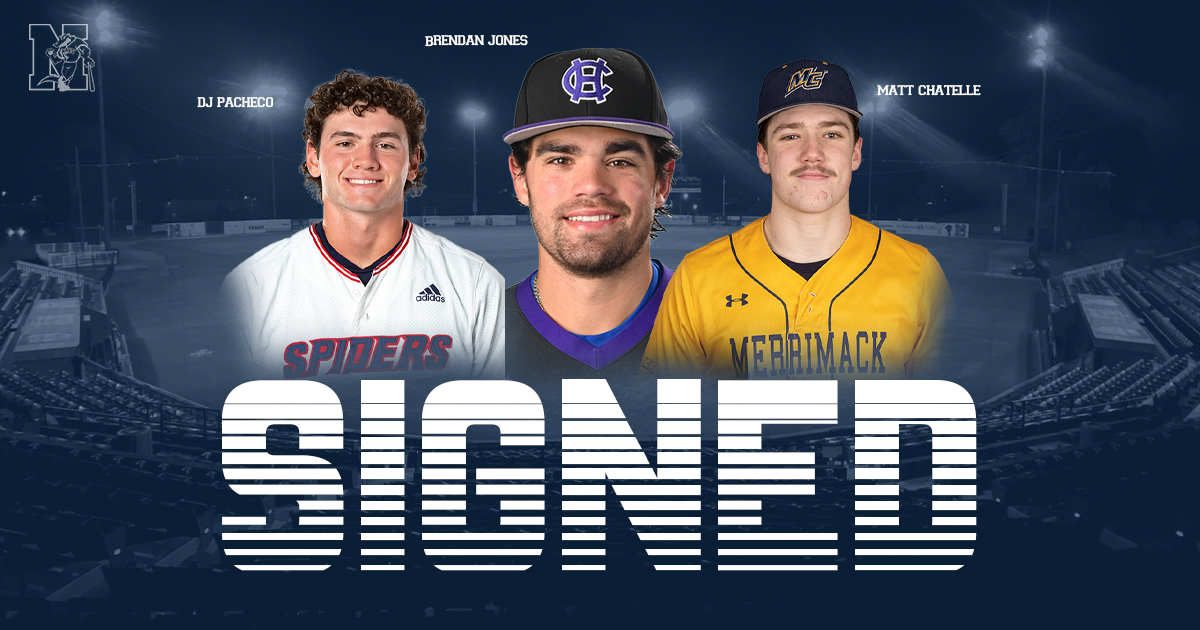 06/02/2023 11:13 AM
LYNN, Mass. -- Three of the latest additions to the North Shore Navigators roster will be staying local within their home state of Massachusetts to compete in the New England Collegiate Baseball League (NECBL) this summer.
Danvers native and former St. John's Prep standout DJ Pacheco makes his first appearance with the Navs after completing his sophomore year at Richmond. Pacheco was named to the Atlantic 10 All-Rookie Team after hitting .290 with 12 extra-base hits, 27 RBI and 36 runs scored in 2022. He logged two doubles among seven hits in 16 games this spring for the Spiders. A three-year starter and former team captain at St. John's, Pacheco helped the Eagles to a Division 1 North title and earned Catholic Conference All-Star and All-Scholastic honors during his career.
As one of two freshmen to take the reins of Merrimack's catching position this season, Matt Chatelle hit .268 with five homers, five doubles, 23 RBI and 25 runs scored across 39 games. He put together eight multiple-hit games in his debut season, two of which came during a five-game hit streak in March that included his first two career long balls and a pair of four-RBI performances. Chatelle hails from Stoneham and attended Austin Prep, where he was a two-time Catholic Central League All-Star and helped the Cougars win league titles in both baseball and hockey.
Holy Cross infielder Brendan Jones brings two packed seasons of college experience to Fraser Field. After hitting .253 and leading the Crusaders with 31 walks as a freshman, the left-handed hitter from Arlington earned the starting nod at shortstop and wound up with a .244 average, nine extra-base hits, 16 RBI and 19 runs scored over 38 games. Jones was a 2022 Futures League All-Star with the Westfield Starfires, hitting .333 with 24 RBI, 31 runs scored and 10 stolen bases in the Navs' former circuit. He was a star athlete in both baseball and hockey at Arlington High.
The Navs kick off their 16th summer of collegiate baseball on Wednesday, June 7 and will host their home opener at a renovated Fraser Field on Friday, June 9. The 2023 season includes 22 home games, as well as the return of the NECBL All-Star Game to Lynn on Sunday, July 23.
Stay up to date on the latest Navs news by visiting nsnavs.com and following the team on Facebook, Twitter and Instagram. Single-game and season tickets are now available for purchase online.