News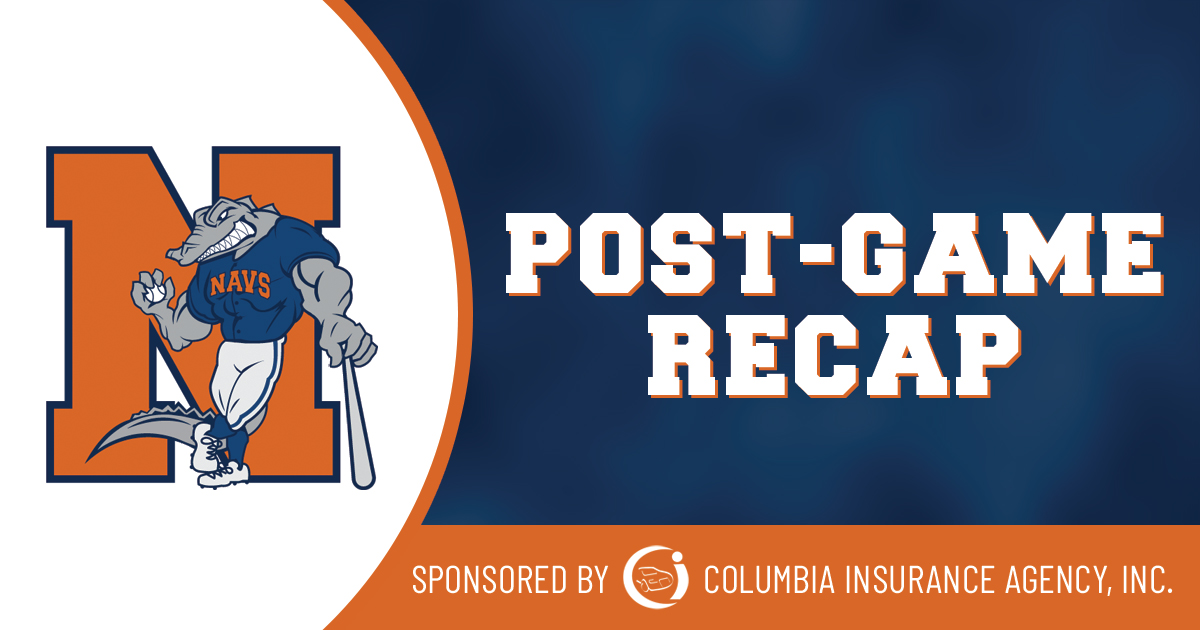 07/30/2022 10:02 PM
OAK BLUFFS, Mass. -- Three big innings helped the Martha's Vineyard Sharks break open a pitcher's duel and earn a 15-2 win over the visiting North Shore Navigators in Saturday night's New England Collegiate Baseball League (NECBL) action at The Shark Tank at Martha's Vineyard Regional High School.
The Navs fell to 13-30 as they were unable to claim their third win in a four-game span, while the Sharks have a 29-15 record entering the NECBL's six-team postseason structure.
Shortstop Jonathan Luders (Seton Hall) and second baseman Jake Gustin (Bryant) both had a hit and scored a run for North Shore. Catcher Charlie Taylor (Tennessee) had the team's remaining hit, while designated hitter Connor Bertsch (Dartmouth) logged the lone RBI.
North Shore starter Nate Espelin (Dayton) matched a slew of Sharks pitchers in posting zeroes through four complete innings. The southpaw worked around singles in the first two frames, benefiting from the first of two 6-4-3 double play balls to get out of the second.
The Sharks had a prime opportunity to draw first blood as they began the third inning with three straight singles. However, left fielder Brady O'Brien (Colby) started a perfect 7-6-2 relay with Luders and Taylor to nab Vineyard catcher Matthew Maloney (Dayton) trying to score from second base. Espelin escaped the two-on, one-out jam with a strikeout.
The hosts used a big inning to take full control of the ballgame, scoring their first five runs with two outs in the fifth. Maloney and shortstop Cavan Brady (Wheaton) delivered back-to-back singles to help start the rally, but Espelin induced another twin killing to put the Sharks on the brink of squandering another chance to get on the scoreboard.
Two batters later, left fielder Harrison Brown (Austin Peay) knocked a pinch-hit RBI single and designated hitter Logan Chambers (Tennessee) added a two-run single to make it a 3-0 game. Shortstop Jaydn Jackson's (Georgia Tech) RBI single and a wild pitch gave the Sharks two more runs.
After Taylor broke up the Sharks' no-hit bid with a two-out single to center in the fifth, the Navs responded with two runs of their own in the following inning.
Luders led off with a bunt single towards third and advanced on a wild pitch. After Gustin roped a hit to right, a subsequent error allowed North Shore's first run to score. Third baseman Jack Penney's (Notre Dame) groundout moved Gustin to third before Bertsch made it a 5-2 game with a sacrifice fly to center.
Navs reliever Peyton Heisner (Merrimack) struck out the side in the seventh, but not before the hosts expanded their lead with two runs. After Brown was hit by a pitch to begin the inning, third baseman Michael Snyder (Washington) ripped a run-scoring double and scored on a wild pitch himself.
The Sharks put the game away with eight runs in the eighth inning, including a two-run double by center fielder Luke Masiuk (Northeastern). Masiuk made his presence felt all night, robbing Navs first baseman Nathan Blasick (West Virginia) of a run-scoring extra-base hit to end the third. Penney walked to begin the inning.
Espelin took the loss after 4.2 innings. Tyler McDonald (Franklin Pierce) pitched a scoreless and hitless frame with two strikeouts.
The Sharks totaled 20 hits, including at least one by all 13 players who saw action. Jacob Weaver (Austin Peay) earned the win in relief, while James Sashin (San Diego) was credited with a three-inning save after holding his former North Shore team scoreless and hitless.
The Navs are set to conclude their 15th summer season with a Sunday trip to take on the Danbury Westerners in Connecticut. First pitch at Rogers Park is set for 6:35 p.m.