News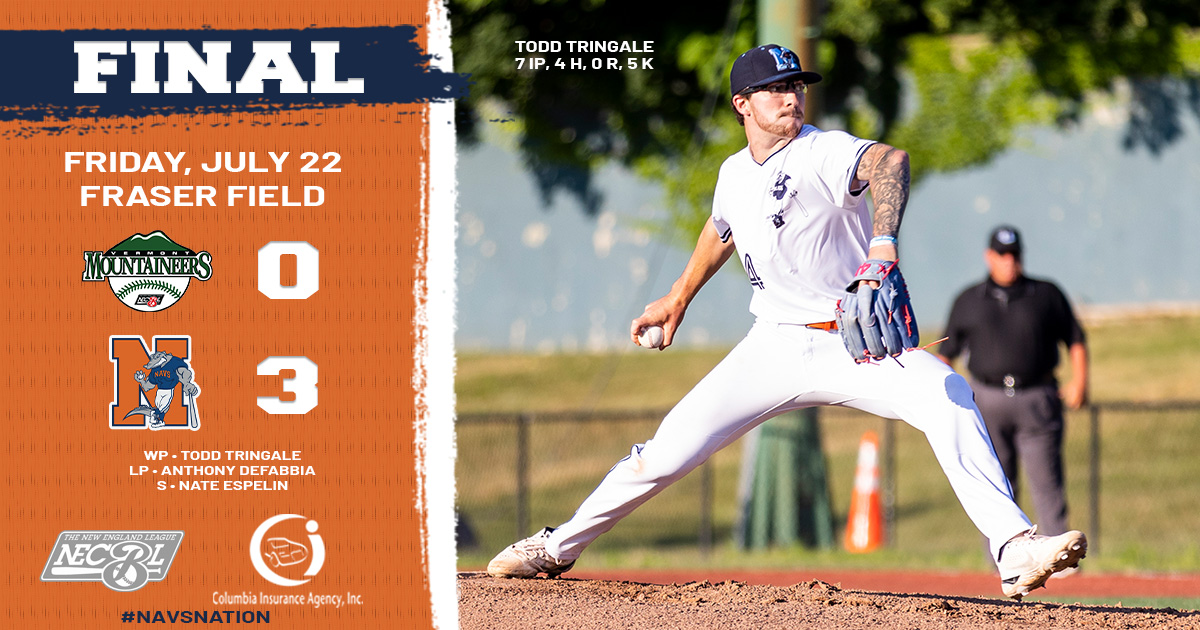 07/22/2022 7:54 PM
LYNN, Mass. -- The North Shore Navigators pitched their second consecutive shutout and extended their win streak to a season-high three games as they toppled the Vermont Mountaineers, 3-0, in Friday night's New England Collegiate Baseball League (NECBL) action at Fraser Field.
The Navs improved to 11-27 on the season while handing 30-9 Vermont its third straight loss.
First baseman Nathan Blasick (West Virginia) went 2-for-4 as the lone repeat hitter for the Navs, while three different players scored runs and three others drove in one. North Shore scored single runs in the third, fifth and sixth innings.
Todd Tringale (Dayton) earned his team-leading third win of the season after dealing seven shutout, four-hit innings with five strikeouts. The Saugus native righty has worked at least six innings of scoreless ball in three of his six appearances.
After Tringale stranded a leadoff baserunner on third in the second inning, North Shore strung together three hits to score a go-ahead run an inning later.
Catcher Charlie Taylor (Tennessee) started the opening run-scoring rally with a single through the left side and reached third after a hit-and-run single to center by right fielder Stan DeMartinis (Bryant). Left fielder Jake McElroy (Holy Cross) lined a base hit up the middle to bring in the first North Shore run.
The Navs doubled their lead in the third as third baseman Brady O'Brien (Colby) sent a two-out hit into right after DeMartinis reached on a fielder's choice and stole second.
To begin the sixth, center fielder Justin Cassella (Elon) beat out an infield single just past first base and advanced across the diamond on Blasick's hit. Designated hitter Connor Bertsch (Dartmouth) made it a 3-0 game on a run-scoring grounder to short.
As it turned out, even the opening run was more than enough offense for Tringale, who allowed single hits in the second and third innings before throwing three straight hitless and scoreless frames. Second baseman Jake Gustin (Bryant) spun his second 4-6-3 double play to end the fifth.
Triangle allowed a one-out single to shortstop Santino Rosso (Hofstra) and a two-out knock to designated hitter Tom Ruscitti (Fairleigh Dickinson) two batters later in the seventh. He got out of the jam and ended his inning with a strikeout of third baseman Stephen DiTomaso (George Washington).
Nate Espelin (Dayton) shut down the league-leading Mountaineers over the final two innings. The southpaw retired all six batters he faced, striking out a pair.
The Navs will begin the final week of the NECBL's regular season with three consecutive games away from Fraser, beginning with a Monday contest against the Winnipesaukee Muskrats. First pitch is set for 6 p.m. at Robbie Mills Field in Laconia, N.H.
Before the team reunites next week, three Navs will take part in Sunday's NECBL All-Star Game festivities at The Shark Tank in Oak Bluffs. McElroy and pitcher Jake Gigliotti (Northeastern) were selected to the Northern Division roster, while Blasick will swing in the Home Run Derby.