News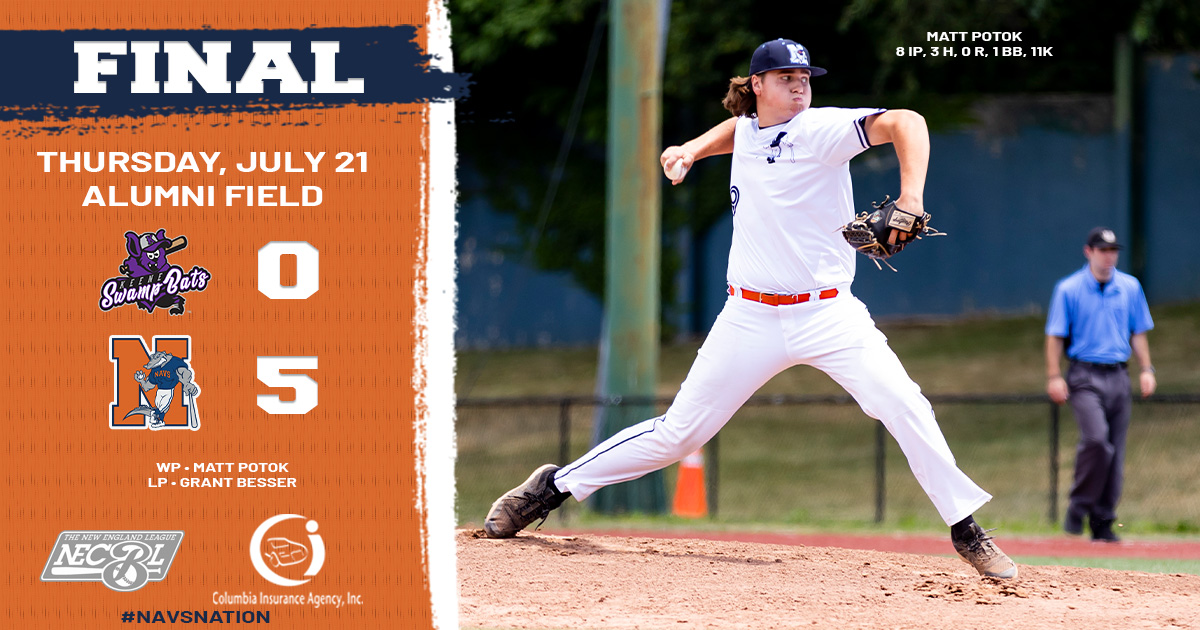 07/21/2022 10:02 PM
KEENE, N.H. -- A stellar starting pitching performance and a three-run eighth inning propelled the North Shore Navigators to a 5-0 win over the host Keene SwampBats in Thursday's New England Collegiate Baseball League (NECBL) action at Alumni Field.
North Shore improved to 10-27 by sweeping the two-game season series against the defending Northern Division champions and posting back-to-back wins for the third time this summer. The Navs' three team shutouts are tied for third-most in the entire NECBL.
Right-handed starter Matt Potok (Coastal Carolina) was the star of the night for North Shore, tossing eight shutout, three-hit innings with a team season-high 11 strikeouts. Potok had fanned 13 batters in his first 21 frames this summer before his sparkling performance, which included six straight 1-2-3 innings from the second through seventh.
On the offensive side, designated hitter Justin Cassella (Elon) went 2-for-5 and scored a run to produce his fourth consecutive multi-hit game. Third baseman Jack Penney (Notre Dame) and left fielder Nathan Blasick (West Virginia) scored two runs apiece.
North Shore got the scoring going in the second inning after Blasick and first baseman Connor Bertsch (Dartmouth) led off with back-to-back walks against Keene starter Grant Besser (Florida Southwestern State). After center fielder Jake McElroy (Holy Cross) moved both runners into scoring position with a sacrifice bunt, right fielder Stan DeMartinis (Bryant) sent a sacrifice fly to center to bring in the first run.
The one-hour, 48-minute rain delay didn't faze Potok in the slightest as he stranded a two-out single by designated hitter Jackson Ross (FAU) to finish a scoreless opening frame before shutting down the SwampBat offense.
Potok, who was making just his third start in eight appearances this season, faced the minimum over 19 straight batters following the Ross base hit. Keene catcher and former Navigator Colin Wetterau (St. John's) broke up the streak with a leadoff single in the eighth. Potok's night was highlighted by striking out the side in the fourth.
Potok benefited from a defensive web gem from the Navs infield to erase a one-out walk in the third. Shortstop Jonathan Luders (Seton Hall) started a brilliant 6-4-3 double play by fielding a grounder in the shortstop hole. The Lynnfield native turned over to second baseman Jake Gustin (Bryant) who then threw onto first, where Bertsch scooped out a low throw to end the inning.
A three-run eighth inning broke the game open in the Navs' favor. They loaded the bases with one out as Penney walked, Cassella reached on an error and Blasick drew a free pass. Bertsch and McElroy drove out consecutive sac flies to make it a 3-0 game before DeMartinis lined a two-out RBI single up the middle.
Keene didn't put multiple baserunners on until there were two outs in the eighth, but Potok loggd his second strikeout of the inning to end the threat.
The Navs added a ninth-inning run after Penney walked with two out and advanced to second on a passed ball. Cassella ripped a single to deep short that nearly caught Penney rounding third, but Wetterau's throw sailed into right and allowed the fifth North Shore run to cross home.
Max Tarlin (Endicott) closed out the win for a second straight night, recording a strikeout in a scoreless and hitless ninth inning.
Besser was charged with the loss despite allowing just one hit and one run in two innings. All four of North Shore's runs over the eighth and ninth innings were unearned.
The Navs return home to Fraser Field to host the league-leading Vermont Mountaineers at 6:35 p.m. Friday. It is the team's last scheduled game before the NECBL All-Star Game, which will be held Sunday afternoon in Oak Bluffs.