News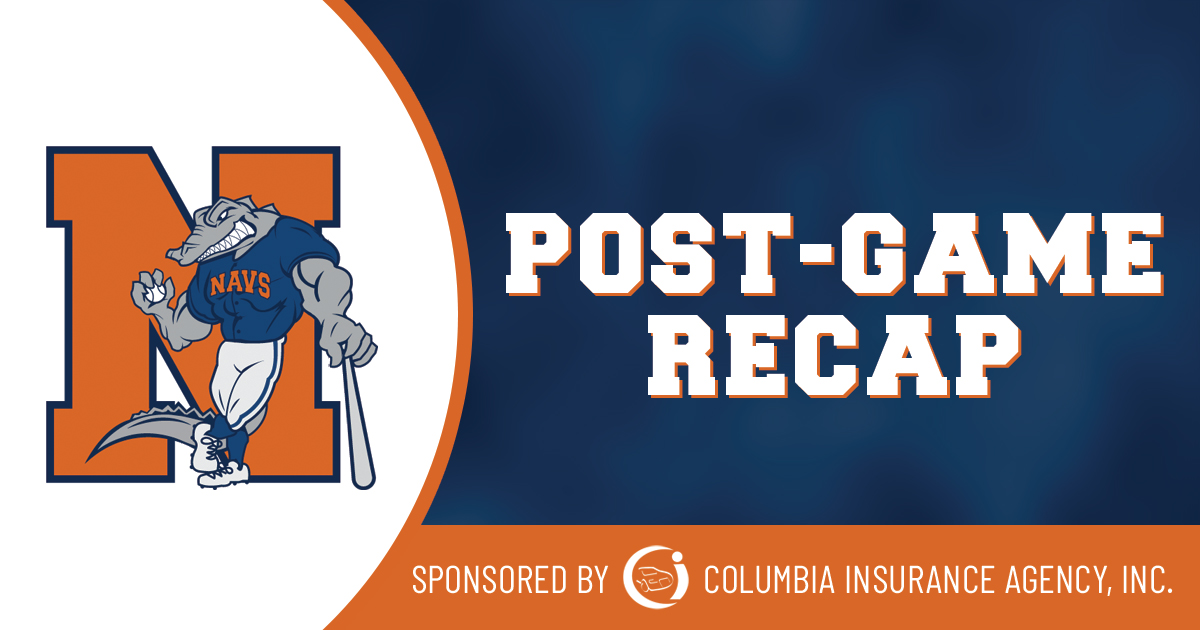 07/09/2022 8:23 PM
LYNN, Mass. -- It was a tale of two different games, but the Mystic Schooners accomplished a sweep of Saturday's New England Collegiate Baseball League (NECBL) doubleheader over the North Shore Navigators at Fraser Field.
Mystic opened the day by pitching a one-hit shutout in a 6-0 win before edging past the Navs for a 2-1 win in the nightcap to sweep the twinbill and improve to 16-10 on the season. North Shore slipped to 7-20, taking back-to-back losses after Friday's 3-2 win over Danbury.
After completing a four-game homestand, the Navs hit the road for their next three games. The stretch begins at 5 p.m. Sunday with a trip to face the Upper Valley Nighthawks at Maxfield Sports Complex in White River Junction, Vt.
Game 1: Mystic 6, North Shore 0
Center fielder Jake McElroy's (Holy Cross) leadoff single in the third inning was the lone Navs hit of the opener as the offense was shut out for just the second time this summer.
Schooners center fielder Anthony Donofrio (Quinnipiac) led off with a single to left, stole second and crossed the plate on a pair of grounders. First baseman Eddie Micheletti (George Washington) lifted Mystic with the game's first RBI.
After Navs starter Jake Gigliotti (Northeastern) pitched a 1-2-3 second inning with his first strikeout, Mystic sent eight to the plate and broke the game open with a four-run, four-hit third.
In the big inning, left fielder Kevin Ferrer (UConn) delivered the big blow in the form of a two-run single to center, while shortstop Mason LaPlante (Georgia) and designated hitter Michael Bello (Auburn) added back-to-back RBI hits starting two batters later.
McElroy lined a single to center and right fielder Brady O'Brien (Colby) drew a one-out walk to get the Navs going in the third, but a foul pop on a bunt attempt and a fly ball extinguished the team's biggest offensive threat of the game.
LaPlante's double into the left-center gap added a single run for Mystic in the fifth.
Gigliotti entered his fifth start of the summer with a league-leading 0.47 ERA through 24.1 innings, but he was charged with six runs (four earned) on nine hits in six frames in Saturday's opening loss. Prior to the game, the North Shore starter had allowed just 13 hits and two earned runs this season.
Timmy Kenney (Lehigh) pitched a scoreless inning of relief for the Navs.
Ferrer went 3-for-4 with two RBI and two runs scored, and LaPlante went 2-for-4 with a run scored and two RBI for Mystic. Jimmy Chatfield (Yale) pitched four shutout, one-hit innings with five strikeouts for the win.
Game 2: Mystic 2, North Shore 1
After Mystic took a 2-0 lead in the first inning, the Navs had game-tying runs aboard in the sixth and seventh before falling short in a one-run decision. Graham Jeffries (Salve Regina) didn't allow a run after the opening frame and completed six innings of six-hit, two-run ball with a pair of strikeouts.
The Schooners scored their lone runs right off the bat as four straight one-out baserunners proved to be the difference. Micheletti's double three batters into the game made it 1-0 before Bello doubled the lead with a base hit two batters later.
Jeffries worked around two baserunners in the third inning, starting a streak of eight consecutive batters retired by getting out of that jam. However, the North Shore offense was unable to find the hit column until Mystic went to the bullpen to start the sixth.
Schooner starter Brett Wichrowski (Bryant) worked five perfect innings with six strikeouts, but left fielder Stan DeMartinis (Bryant) greeted reliever Jonathan Velazquez (Stetson) rudely, lining a double over his counterpart's head to begin the sixth inning. The Navs quickly plated a run as catcher Robert Wirtanen (Wheaton) snuck a single through the right side.
After Wirtanen's first hit as a Navigator made it 2-1, North Shore had an opportunity to tie the game with two runners aboard following a walk to O'Brien, but three consecutive outs ended the threat of any further damage. First baseman Nathan Blasick's (West Virginia) leadoff single in the final frame also went to waste as Connor Harris (George Washington) finished a two-inning save.
LaPlante and Ferrer both had multiple hits in a second straight game for the Schooners.
The Navs also got another strong relief effort from St. John's Prep grad Matt Remley (Holy Cross) as he followed Jeffries with a scoreless inning to end the day.