News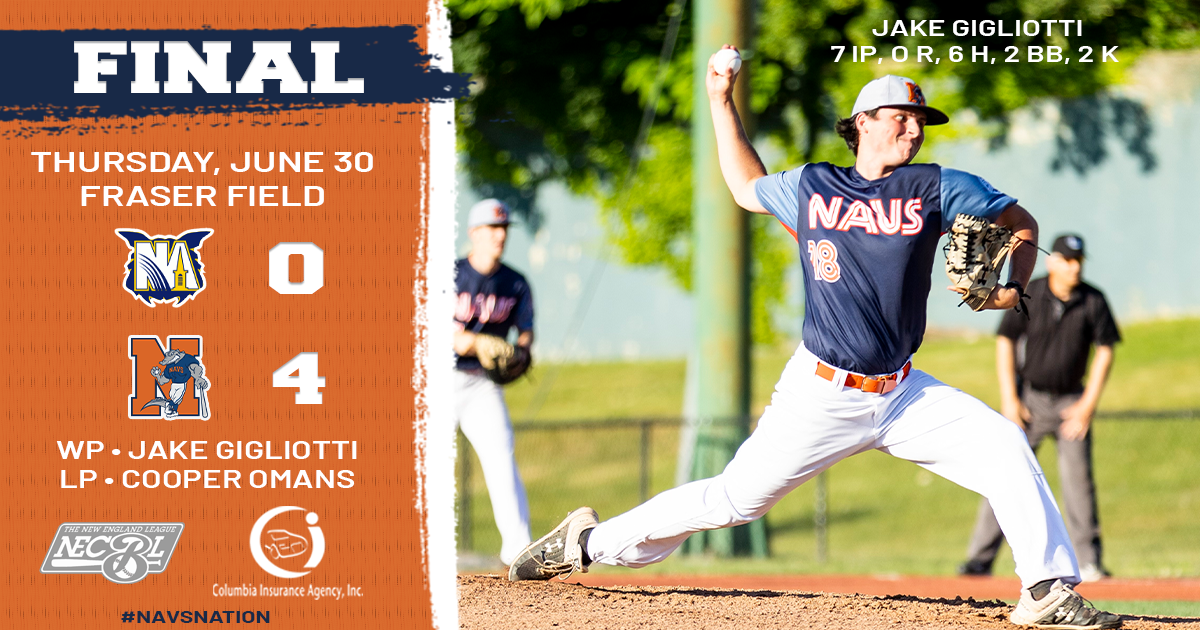 06/30/2022 7:39 PM
LYNN, Mass. -- The North Shore Navigators combined for a season-high 11 hits and pitched their second shutout of the New England Collegiate Baseball League (NECBL) season in Thursday night's 4-0 win over the visiting North Adams SteepleCats at Fraser Field.
North Shore snapped its six-game losing streak and improved to 4-16, while North Adams has the same record after losing for the fifth straight game.
Right-hander Jake Gigliotti (Northeastern) earned his first victory while continuing his outstanding start to the summer, scattering six hits and striking out two across seven shutout innings. For the season, Gigliotti has allowed just two earned runs across his 24.1 frames and now ranks second in the NECBL with 30 strikeouts.
At the plate, the Navs scored single runs in the first, fourth, fifth and eighth innings. Designated hitter Max Viera (Seton Hall), first baseman Connor Bertsch (Dartmouth) and catcher Charlie Taylor (Tennessee) each went 2-for-4 with one run scored and another driven home.
The Navs started the game on the front foot for the second consecutive night, plating a two-out run against North Adams starter Cooper Omans (Nova Southeastern) in the first inning. Viera started the rally with a double to left-center and came sliding across the plate on Bertsch's single into center.
Omans and Gigliotti put up dueling zeroes in back-to-back frames before North Shore extended its lead to 3-0 with single runs in the fourth and fifth innings.
The home team's recent newcomers jump started the offense in the fourth as Taylor beat out an infield single and second baseman Jack Penney (Notre Dame) added a hit of his own. Right fielder Jake McElroy (Holy Cross) doubled the score on a sacrifice fly to center.
An inning later, shortstop Jonathan Luders (Seton Hall) got the Navs going with the first of three straight one-out singles. Center fielder Jarrett Ford (Dayton) followed with a knock to right before Viera snuck a single through the left side to drive home North Shore's third run.
After Tyler McDonald (Franklin Pierce) pitched a scoreless and hitless eighth inning, North Shore added a quick run in its final at-bats after Bertsch ripped a leadoff triple and scored on Taylor's single to left.
In his fourth start of the summer, Gigliotti stranded four North Adams baserunners over the first two innings, leaving the bases loaded in the second. SteepleCat catcher Brady Mutz (Monmouth) and right fielder Justin Sierra (Fairleigh Dickinson) logged a pair of two-out singles before Gigliotti induced a fielder's choice grounder to end the latter frame.
North Adams started Gigliotti's final frame with a Sierra single, and center fielder Hunter Pasqualini (Central Connecticut State) was hit by a one-out pitch. Luders started a 6-4-3 double play and Gigliotti struck out designated hitter Alex Lane (Bryant) to finish the inning.
McDonald and Max Tarlin (Endicott) closed the game with back-to-back scoreless frames. Tarlin closed out the SteepleCats with two strikeouts in a one-hit ninth.
Sierra and Lane were both 2-for-4, combining for four of the seven North Adams hits. Omans allowed three runs on eight hits over 4.1 innings to take the loss for the SteepleCats.
After back-to-back home games, the Navs return to Coastal Division play in a home-and-home series against Martha's Vineyard over the next two nights. They will face off against the Sharks at 7:05 p.m. Friday in Oak Bluffs and 6:35 p.m. Saturday back at Fraser.