News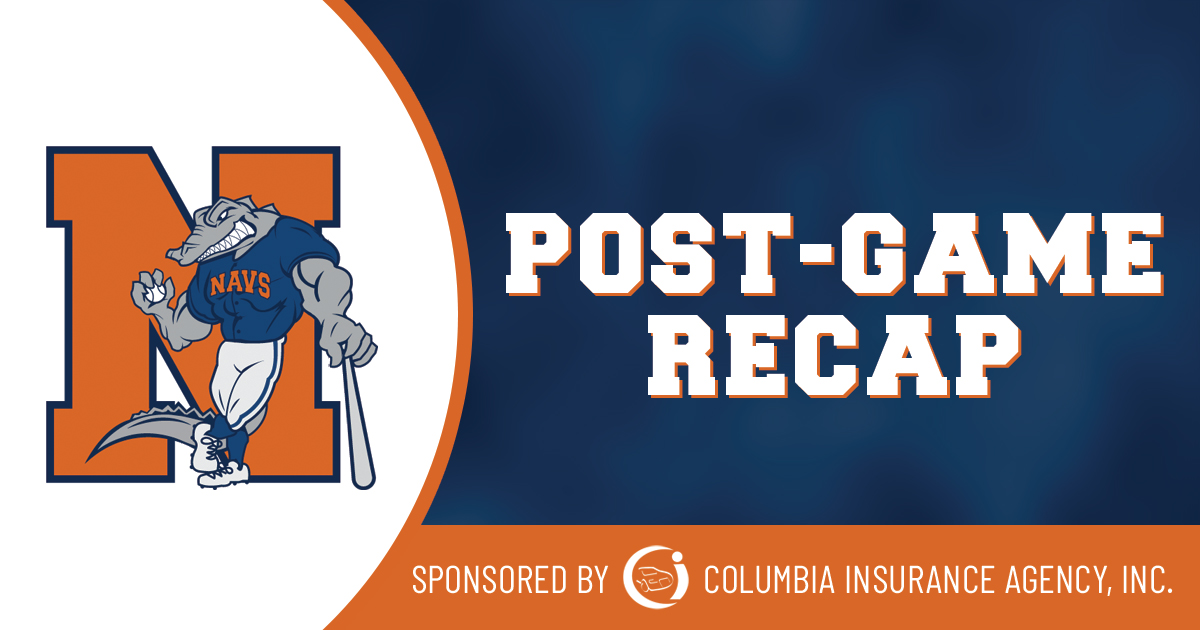 06/23/2022 7:47 PM
SANFORD, Maine -- A spectacular starting pitching performance propelled the Sanford Mainers to a 3-1 win over the visiting North Shore Navigators in Thursday night's New England Collegiate Baseball League (NECBL) action at Goodall Park.
The Navs slipped to 3-12, while Sanford used its fifth consecutive triumph to jump to 6-9.
Shortstop Max Viera (Seton Hall) had two of North Shore's four hits and stole two bases, while second baseman Jake Gustin (Bryant) doubled and drove in the lone run in the top of the eighth inning after Sanford starter Sonny Fauci (St. John's) departed following a 14-strikeout effort in seven shutout, three-hit innings.
The Navs were unable to find enough offense for right-handed starter Graham Jeffries (Salve Regina), who scattered just four hits and walked three across five innings of two-run ball. He struck out six in his third outing of the summer.
North Shore looked to threaten early as designated hitter Jake McElroy (Holy Cross) lined a leadoff single to right, Viera followed with a hit of his own two batters later and left fielder Nathan Blasick (West Virginia) walked to load the bases, but Fauci fanned back-to-back batters and struck out the side to keep the game scoreless.
Jeffries quickly logged the first two outs of the bottom half of the first, but a two-out run gave Sanford the lead first. After designated hitter Adam Dapkewicz (Georgetown) hit a two-out single, third baseman Marco Castillo (Georgetown) sent a single into right to advance the runner to third base. Dapkewicz crossed the plate on a subsequent fielding error.
In the third, Viera lined a two-out single and stole second, but Fauci finished with two more strikeouts in the inning after Blasick was caught looking. The Sanford starter struck out the side in the first, second and fifth frames.
Jeffries worked around one-out walks to strike out a pair in the second and induce three foul flies in the third. The latter of those innings began with Blasick making a diving catch to rob Sanford right fielder Matthew Polk (Vanderbilt).
Sanford doubled its lead to 2-0 in the fifth as shortstop Jake Rainess (Maine) ripped a one-out solo home run out to left. Jeffries retired five of the next six batters he faced to complete five frames, though he would ultimately suffer the hard-luck loss.
Nate Espelin (Dayton) struck out one in a scoreless sixth inning out of the North Shore bullpen, while Max Tarlin (Endicott) worked the final two frames and punched out three.
The bullpen's strong work helped North Shore remain in striking distance before McElroy drew a two-out walk and scored from first on Gustin's two-out double to center in the eighth. After Brian Craven (Davidson) followed Jack Mullen (Bowdoin) out of the Sanford bullpen, he struck out Viera to end the Navs' threat.
The bottom of the eighth saw Sanford extend its lead back out to two runs as second baseman Devan Bade's (Binghamton) RBI grounder after first baseman Aidan Kane (Delaware) hit a one-out double to right.
North Shore also threatened in its final at-bats as pinch hitter Ty Dooley (Radford) walked and third baseman Trace Willhoite (Lipscomb) reached on an error. Craven struck out two and induced a grounder to second to end the ballgame and lock up his third save.
The Navs return home to Fraser Field to host the Winnipesaukee Muskrats at 6:35 p.m. Friday. It will be "Cheeseburger in Paradise" Night presented by A&B Burgers! The night will feature various giveaways and prizes for the best Jimmy Buffett-themed attire.