News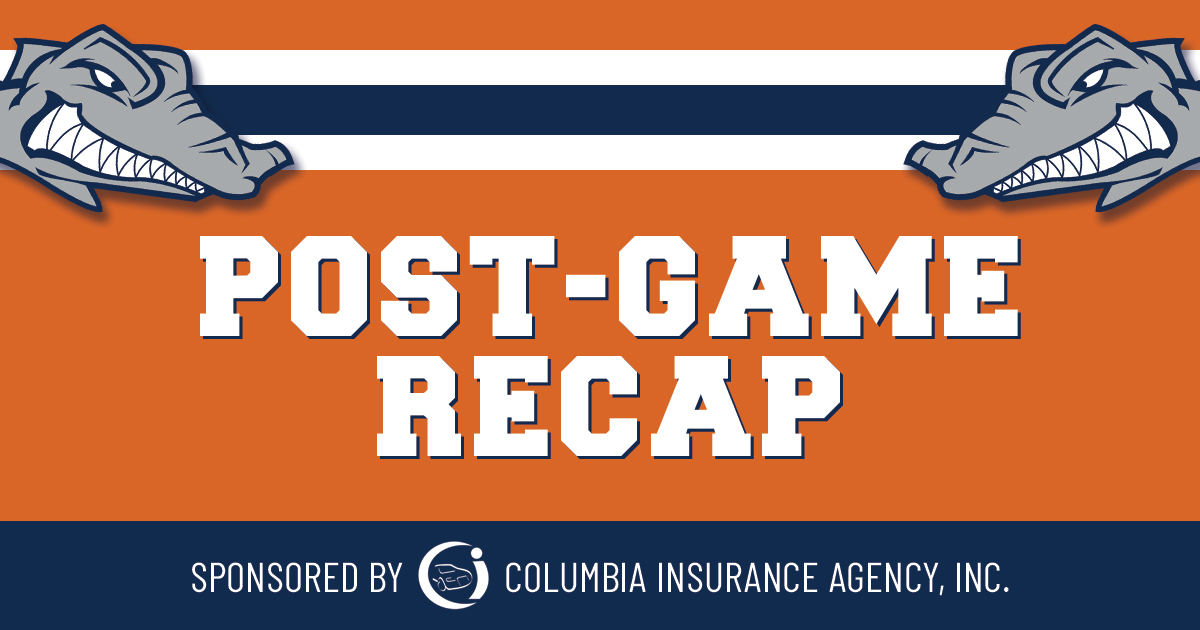 06/21/2022 7:48 PM
OAK BLUFFS, Mass. -- The Martha's Vineyard Sharks completed a home-and-home series sweep of the North Shore Navigators by scoring a deciding eighth-inning run and edging past for a 4-3 win in Tuesday night's New England Collegiate Baseball League (NECBL) action at The Shark Tank.
North Shore slipped to 3-11 on the season after its second straight loss, while Martha's Vineyard moved back above the .500 mark at 7-6.
Peabody native second baseman Jake Gustin (Bryant) went 3-for-5 with an RBI and a run scored, and third baseman Trace Willhoite (Lipscomb) added to the Navs' 10-hit offense with a 2-for-4 showing along with a run scored.
North Shore starter Jake Gigliotti (Northeastern) struck out eight Sharks while allowing three runs (just one earned) on four hits and five walks in 5.1 innings. Through three starts this season, Gigliotti has recorded a league-leading 28 strikeouts in 17.1 frames.
The hosts jumped ahead quickly in the first inning as catcher Thomas Bramley reached on a wild pitch after striking out, moved ahead on a throwing error and shortstop Jake Berger's (Harvard) single before scoring on a wild pitch.
Back-to-back hits by right fielder Jake McElroy (Holy Cross) and Gustin to begin the third helped North Shore take its first lead, giving GIgliotti -- who was named the NECBL Pitcher of the Week to begin the season -- a cushion with which to work for the first time all summer.
In the third, the two leading runners completed a successful double steal to reach scoring position, setting up catcher Jackson Phinney's (Bryant) game-tying RBI on a grounder to third base. Designated hitter Connor Bertsch (Dartmouth) put the Navs in front by dropping a single into shallow left to score Gustin from second.
The Navs made it a 3-1 lead an inning later after Willhoite singled and left fielder Stan DeMartinis (Bryant) walked, forcing Vineyard starter Adam Stone (Harvard) out of the game in favor of former Navigator and island native James Sashin (San Diego).
After the call to the bullpen, center fielder Jarrett Ford (Dayton) sacrificed Willhoite and DeMartinis into scoring position. Gustin's single to the left side of the infield plated the former runner to give the Navs a two-run cushion.
Gigliotti held the Sharks scoreless over four consecutive innings after surrendering the opening run, but Navs reliever Gannon Kadlecik (Radford) was unable to strand two inherited runners after a wild pitch and a passed ball scored two-out runs in the sixth.
Matt Potok (Coastal Carolina) retired the side with a runner on second base in the seventh, but the home team snuck ahead for good on center fielder Luke Masiuk's (Northeastern) one-out double inside the left-field line an inning later.
Southpaw Camren Hill (Georgia Tech) struck out five of the final six batters he faced en route to his second win of the summer for the Vineyard. Second baseman Danny Crossen (Northeastern) and third baseman Jake Elbeery (Richmond) each had two hits to help pace the Sharks.
After taking just their second scheduled off day of the summer, the Navs make the quick trip north to finish a back-to-back road stretch against the Sanford Mainers on Thursday. The team's lone contest of the summer at Goodall Park is set for a 6:30 p.m. first pitch.