News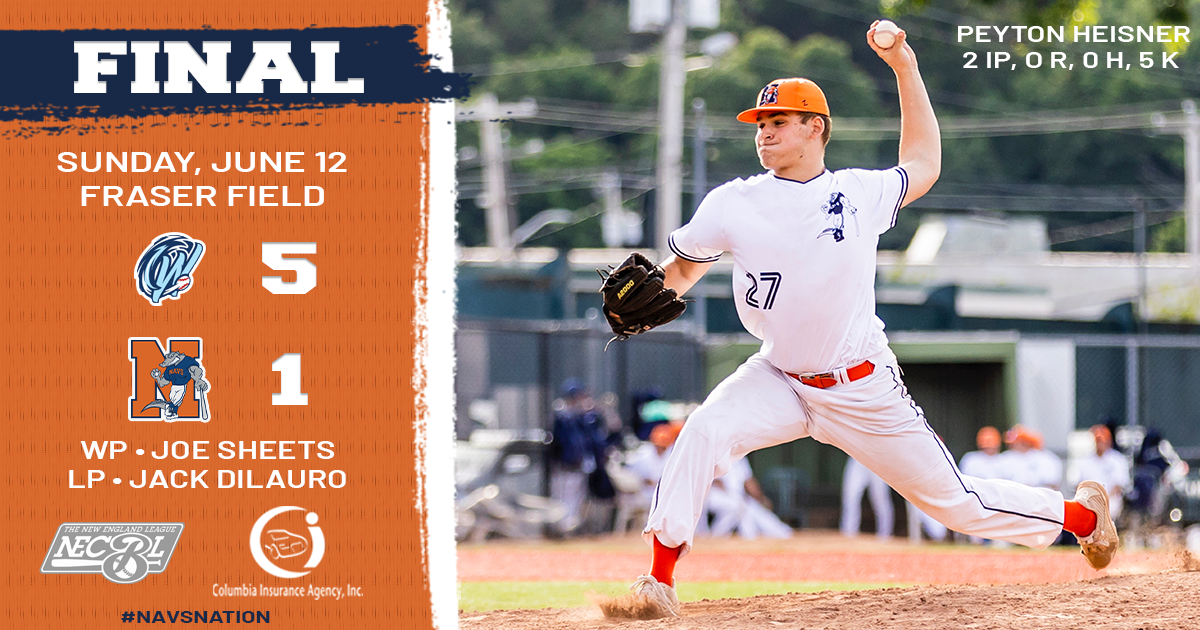 06/12/2022 5:30 PM
LYNN, Mass. -- The North Shore Navigators were unable to put up their second consecutive win as the Ocean State Waves scored five runs over the middle innings en route to a 5-1 victory in Sunday afternoon's New England Collegiate Baseball League (NECBL) game at Fraser Field.
North Shore slipped to 1-4 on the season, while Ocean State improved to 3-3.
The Navs cut a 2-1 deficit in half on third baseman Brady O'Brien's (Colby) sacrifice fly to right field in the bottom of the fifth inning, but the visitors put the game out of reach with a three-run sixth. Designated hitter Nathan Blasick (West Virginia) scored the lone run.
North Shore's bullpen was strong over the final third of the game. Southpaw Peyton Heisner (Merrimack) was dominant over two shutout, hitless relief innings with five strikeouts. Gannon Kadlecik (Radford) tossed a scoreless ninth and struck out one.
Navs starter Jack DiLauro (Holy Cross) put up three consecutive zeros to start the game, then Ocean State got the scoring going with two runs in the fourth. Designated hitter Brodey Heaton (Belmont) was hit by a pitch to lead off the inning before first baseman Drew Holderbach's (Marietta) sacrifice fly to right doubled the lead.
Back-to-back baserunners started North Shore's half of the fifth as Blasick hit a leadoff single and catcher Jackson Phinney (Bryant) was hit by a pitch. Left fielder Stan DeMartinis (Bryant) kept the inning moving with a one-out single before O'Brien's RBI.
The Waves scored three runs on three hits in the sixth inning, highlighted by third baseman Justin Long's (Rice) double to right field. Long crossed the plate on a wild pitch to cap the frame.
Ocean State starter Joe Sheets (Columbia) earned the win after striking out seven over five innings of three-hit, one-run ball. Right fielder Jake Studley (UConn) went 2-for-4 with a run scored, Long drove in two and Ciuffreda scored twice.
The Navs are back in action on Tuesday night when they take on the North Adams SteepleCats at Joe Wolfe Field. First pitch is set for 6:30 p.m.