News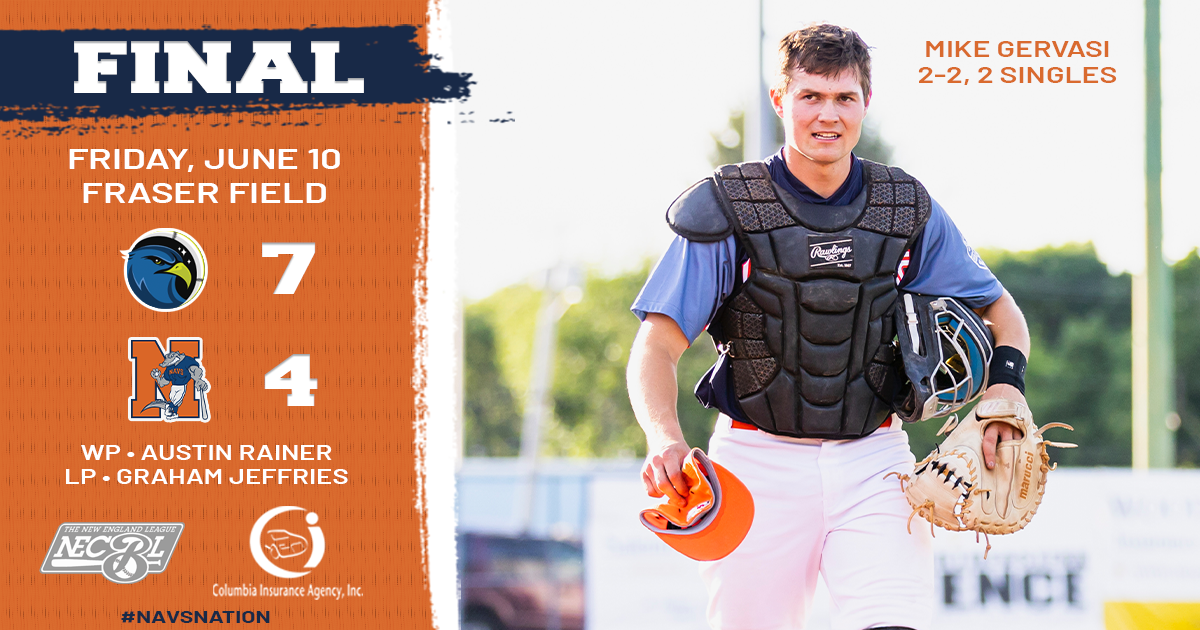 06/10/2022 8:45 PM
LYNN, Mass. -- A pair of multiple-run innings helped the Upper Valley Nighthawks earn a 7-4 win in the North Shore Navigators' home-opening New England Collegiate Baseball League (NECBL) win at Fraser Field.
North Shore dropped to 0-3 on the young season, while Upper Valley improved to 1-2.
Catcher Mike Gervasi (Massachusetts) went 2-for-2 with two of the Navs' four hits.
North Shore starter Graham Jeffries (Salve Regina) worked around leadoff baserunners in each of the first two innings, matching zeroes with Upper Valley counterpart Austin Wainer (Bryant) through the first third of the game.
The visitors got the scoring going with two runs in the top of the fourth as third baseman Kyle Novak (James Madison) hit a ground ball single through the middle after first baseman William Sullivan (Troy) and shortstop Luca Trigiani (Saint Joseph's) laced a pair of one-out singles.
Upper Valley broke the game open by sending 11 batters to the plate and scoring five runs on five hits in the seventh. Right fielder Jonathan Hogart (Louisiana Tech) and Sullivan highlighted the frame with two-run singles.
The first five Navs batters reached base in the seventh inning and led to center fielder Justin Cassella (Elon) and pinch-hitting third baseman Connor Bertsch (Dartmouth) drawing bases-loaded walks. Two batters later, second baseman Ty Dooley (Radford) drove in another run on a grounder to second base.
With one out in the ninth, Cassella drew his second walk in as many plate appearances, stole second and crossed the plate after two wild pitches.
Wainer earned the win in his first Nighthawk start after dealing six innings of four-hit baseball with nine strikeouts. Trigiani went 4-for-5 with an RBI double and a run scored to lead Upper Valley's 11-hit attack, while Sullivan was 2-for-4, scored a run and had two RBI.
In addition to Gervasi, Cassella and shortstop Max Viera (Northeastern) also had a hit for North Shore. Southpaw Peyton Heisner (Merrimack) struck out two in a scoreless sixth inning before Nate Espelin (Dayton) allowed just two hits in three shutout frames to close the game.
North Shore returns to the road for a Saturday night game against the Valley Blue Sox in Holyoke. First pitch is set for 6:30 p.m. at MacKenzie Stadium.