News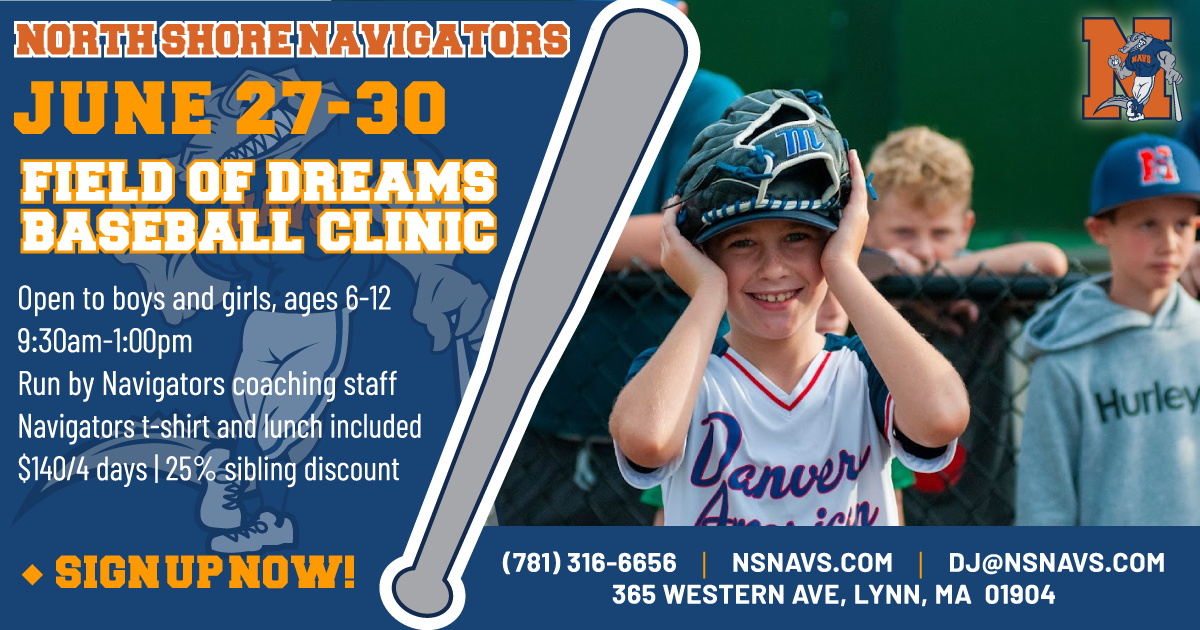 04/13/2022 6:24 AM
LYNN, Mass. -- After hosting successful programs for kids last summer and throughout the most recent baseball offseason, the North Shore Navigators are excited to announce the return of the popular Field of Dreams Baseball Clinic during the summer of 2022 at Fraser Field.
President and General Manager Derek January made the announcement on Wednesday.
This year's event for boys and girls, ages 6-12, will expand to four days. The clinic is scheduled from Monday, June 27 through Thursday, June 30 at Fraser Field.
Each day's session runs from 9:30 a.m. until 1 p.m. Instruction from Navs players and coaches begins at 9:30 a.m. sharp.
All participants will receive a Navs T-shirt and the opportunity to be announced and take the field with the team before a game.
Lunch will be served with options changing each day, and campers may also bring their own lunch. Please inform Navs staff of any food allergies in advance.
The cost of the clinic is $140. Siblings will receive a 25 percent discount.
Click here to register for the Field of Dreams Baseball Clinic. Payments can either be made by mailing a check to the Navs' front office (365 Western Ave., Lynn, MA 01904) or by clicking here and purchasing tickets for the Field of Dreams Baseball Clinic.
For more information or questions on the Field of Dreams Baseball Clinic, call 781-316-6656 or email [email protected].
The Navs kick off their 15th summer of collegiate baseball on Tuesday, June 7 with the home opener at Fraser Field set for Thursday, June 9. Stay up to date on the latest Navs news by visiting nsnavs.com and following the team on Facebook, Twitter and Instagram.