News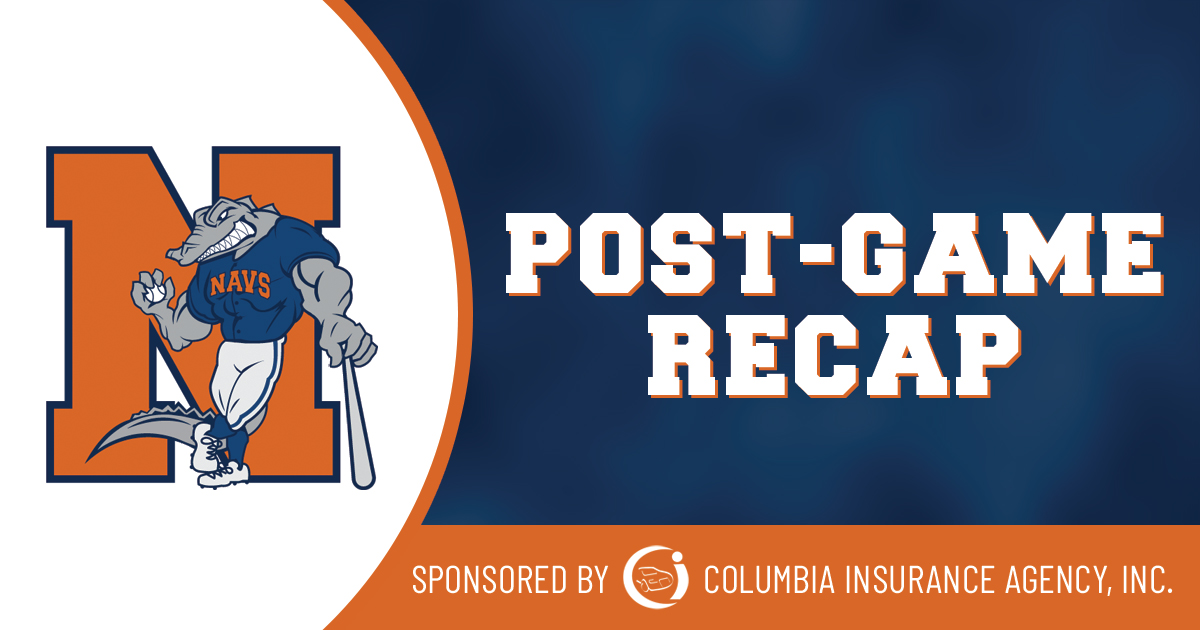 07/30/2021 9:38 PM
By Joshua Kummins
LYNN, Mass. -- The North Shore Navigators suffered an extra-innings defeat for the second time this summer as the Upper Valley Nighthawks scored twice in the 11th and edged past for a 4-2 win in Friday night's New England Collegiate Baseball League action at Fraser Field.
North Shore slipped to 18-18-2 on the season and remains one game behind fourth-place Vermont in the Northern Division standings. Upper Valley improved to 22-16.
The Navs were held to just five hits and fell short after leaving 12 runners on base in the game and committing two crucial errors in the final frame. Right fielder Dylan Brazil (Stetson) registered the team's lone RBI on a game-tying single in the second inning, while first baseman Logan Bravo (Harvard) and third baseman Matthias Haas (Cal Poly) scored runs.
The visitors drew first blood in the second as right fielder Alan Roden (Creighton) doubled and crossed the plate after trading places with first baseman William Sullivan (Troy) two batters later. Navs All-Star starter Jackson Emus (Princeton) bounced back from allowing the opening run to post back-to-back zeroes and finished five innings of four-hit, two-run ball with four strikeouts.
North Shore knotted the score with a two-out run against Jace Kaminska (Wichita State) a half-inning later. Haas drew a walk to jump start the offense and took second base when catcher Cal Christofori (Santa Clara) reached base on a dropped third strike. Brazil knocked in the tying run on a base hit into shallow center.
After Emus dealt a 1-2-3 frame, the visitors grabbed a go-ahead run on second baseman Max Viera's (Northeastern) two-out RBI single up the middle in the fifth.
Jay Driver (Harvard) struck out three Nighthawks over the next two frames of scoreless relief behind Emus. He exited the game in a 2-2 deadlock as Bravo drew a leadoff walk and scored on a bases-loaded passed ball in the sixth. Designated hitter Ryan Marra (Brown) drew a free pass of his own before Haas dropped down a bunt single to set up North Shore's second run.
Two more scoreless, hitless frames by James Sashin (San Diego) carried the home team into extras. After Justin Butera (Merrimack) pitched a scoreless 10th, two North Shore runners were stranded in the bottom half after Connor Holden (Wichita State) dialed back for a strikeout after Marra walked and a fly ball moved pinch-running second baseman Jake Gustin (Bryant) along to third.
The Nighthawks struck for the eventual winning runs in the 11th. Sullivan scored third baseman Gehrig Anglin (Wright State) with a leadoff single into right before stealing second and crossing the plate himself on a throwing error.
For Upper Valley, Holden was credited with the win following two scoreless, one-hit frames. Zane Kmietek (Marist) pitched a 1-2-3 frame in the 11th to record the save.
The Navs travel to Montpelier Recreation Field to take on the Vermont Mountaineers in their final road game of the regular season at 6:30 p.m. Saturday.