News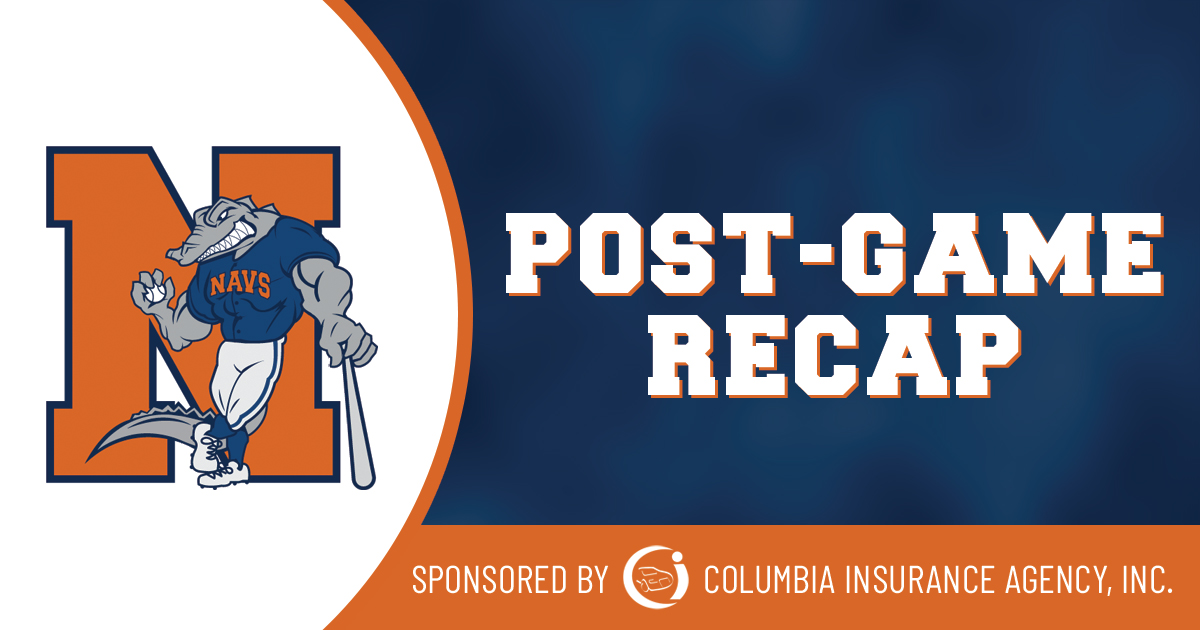 07/24/2021 8:14 PM
By Joshua Kummins
WHITE RIVER JUNCTION, Vt. -- It was a tough Saturday night for the North Shore Navigators as they suffered a 10-4 loss to the Upper Valley Nighthawks in New England Collegiate Baseball League action at the Maxfield Sports Complex.
North Shore had a recent stretch of three wins in four games come to an end as it fell to 16-15-2, while Upper Valley improved to 21-15 following its fifth win in six head-to-head meetings this summer.
Five different Navs recorded the team's hits, while designated hitter Matthias Haas (Cal Poly) recorded the lone RBI before throwing two innings of one-run ball in his first pitching appearance of the summer. Lynnfield native shortstop Jonathan Luders (Seton Hall) recorded North Shore's lone extra-base hit and scored the first run in the third inning.
The Navs actually got the scoring going in the third as Luders hit a leadoff double just inside the left-field foul line and crossed the plate on an error following center fielder Joe Lomuscio's (Stanford) two-out infield single to short. The run came across after Upper Valley's Alex Theis (Wright State) recorded five of the first six outs by way of the strikeout.
North Shore starter Zach Chappell (North Florida) faced the minimum in the opening frame and struck out the side following a two-out walk an inning later, but the home team took a commanding lead with six runs in its half of the third. Second baseman Kyle Novak's (James Madison) grounder to second drove home the first Nighthawk run and preceded a string of four straight hits including a two-run double by third baseman Gehrig Anglin (Wright State).
A pair of bases-loaded walks helped the hosts extend their lead in a three-run fourth inning before North Shore got two runs back to start the fifth.
In the fifth, second baseman Jake Gustin (Bryant) started up the offense with a one-out single and moved ahead when Lomuscio walked two batters later. Haas drove a single through the right side, and a fielding error allowed both the former Peabody standout Gustin and Haas to score.
Upper Valley was held off the scoreboard following left fielder Alan Roden's (Creighton) leadoff home run in the sixth as the combination of Haas and third baseman-turned-pitcher Jake McElroy (Holy Cross) logged the final nine outs. After recording a save in the final game of North Shore's 2020 season, McElroy pitched a scoreless eighth inning with one strikeout.
The Navs added a two-out run in the ninth after pinch hitter Ryan Marra (Brown) was hit by a pitch and Shane Lake (Suffolk) walked in his first plate appearance with the team. First baseman Max Zajec (Dartmouth) sent the run-scoring single over Novak's head to equal the final score of 10-4.
Theis picked up his first win of the summer for Upper Valley, scattering two earned runs on four hits while fanning 12 over the first five innings. The left-hander led a group of four Nighthawk pitchers that combined for a whopping 22 strikeouts. Five of the nine starters were repeat hitters as Anglin and first baseman William Sullivan (Troy) teamed up for five RBI.
North Shore's four-game road trip continues with a Sunday doubleheader against the Sanford Mainers. First pitch is scheduled for 4 p.m. from Goodall Park.