News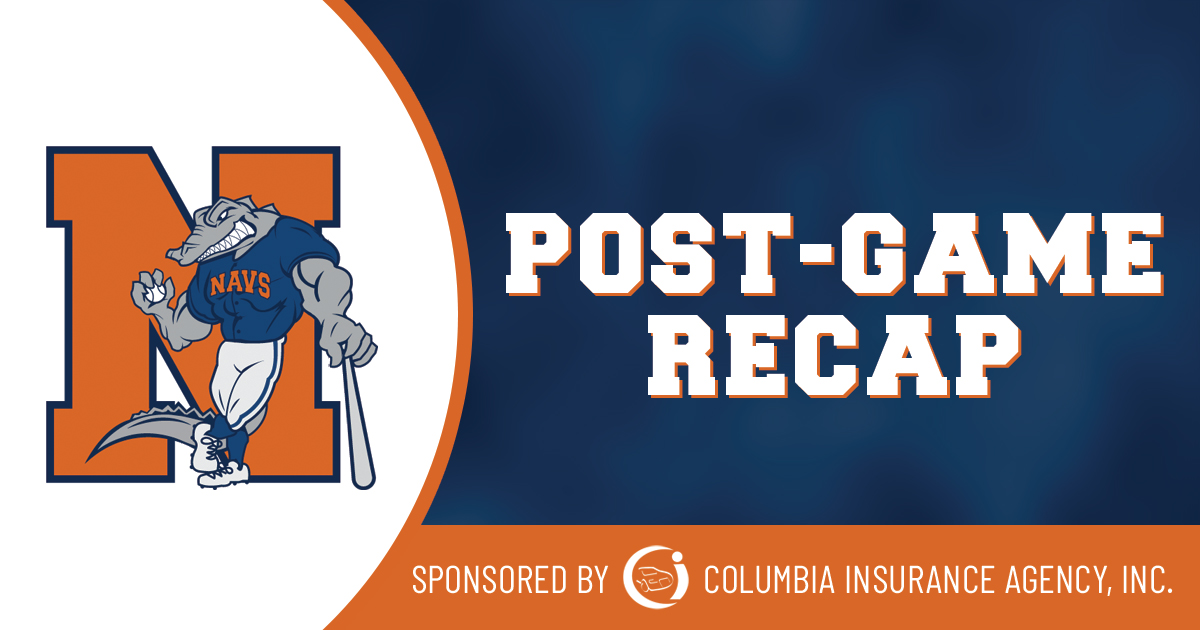 06/20/2021 6:42 PM
By Joshua Kummins
SANFORD, Maine -- The North Shore Navigators recovered from an early six-run deficit to take a seventh-inning lead in Sunday's New England Collegiate Baseball League game at Goodall Park, but the Sanford Mainers put up the last crooked number on a back-and-forth day of offense to earn a 12-8 win.
North Shore slipped to 6-5-2 on the season with its second consecutive loss, while Sanford snapped a five-game losing streak and improved to 3-8.
Hitting back-to-back at the top of the North Shore lineup, left fielder Dylan Brazil (Stetson) and center fielder David Kale (Fordham) both recorded three of the team's season-high 15 hits, as well as a pair of RBI. Designated hitter Ryan Marra (Brown) also drove home two runs on a sixth-inning double that started the comeback.
After North Shore right-handed starter Jay Driver (Harvard) started the game off with a 1-2-3 inning, the home team drew first blood in the second as designated hitter Freddy Rojas Jr. (UTRGV) sent a one-out bloop single into shallow left. Catcher Dayne Leonard (Virginia Tech) led off the frame with a single to center and took second on a wild pitch.
Three singles helped the Mainers extend their lead in a three-run third. Right fielder Derek Smith (Bryant) and center fielder Cam Ridley (Eastern Kentucky) got the offense going with base hits with a Driver strikeout in between, but a hit batter and fielder's choice loaded the bases. Leonard walked to force home Sanford's second run before third baseman Jonathan Bardich (Manhattan) snuck a two-run single through the left side of the infield.
The Mainers started the fourth inning with back-to-back singles by second baseman Mitchell Moralez (Utah Valley) and Smith. Shortstop Pierce Gallo (Clemson) added to the scoreboard with a sacrifice fly before Ridley hit another run-scoring single to left to extend the lead to 6-0.
Sanford starter Kyle McKernan (Virginia Tech) stranded two runners on base in the second, third and fourth innings of his five-inning outing before North Shore climbed right back into the game with three runs in a fifth frame that included Marra's two-out, two-run double.
In North Shore's first-run scoring frame, Brazil drew a leadoff walk and moved up on Kale's line single to center. Third baseman Matthias Haas (Cal Poly) got the Navs' scoring started with a hard-hit single to short before Marra's knock.
The Navs also manufactured a sixth-inning run on Peabody native second baseman Jake Gustin's (Bryant) broken-bat single over second base. After pinch-hitting outfielder Joe Lomuscio (Stanford) and Brazil dropped down back-to-back bunt singles with one out, Kale moved the lead runner into scoring position to set up Gustin's run-scoring knock with two down.
Smith ripped a solo shot to start the Sanford seventh, but eight batters came to bat during the following frame as North Shore scored four, two-out runs to take its first lead. Right fielder Jose Aquino (Cisco) was hit by a pitch before first baseman Logan Bravo (Harvard) hit an infield single and shortstop Jonathan Luders (Seton Hall) walked to load the bases.
Brazil cut his team's deficit to one run as he lined a two-strike, two-run double inside the third base bag. Kale flipped the score in favor of the visitors with a second consecutive two-run hit as he lined a single up the middle.
The Moose responded quickly and won the game with a five-run seventh that started off with a Rojas Jr. line drive homer to right. A one-out error and base hit led to Ridley's go-ahead, two-run single before left fielder Calvin Hewett (Vanderbilt) left the yard with a two-run shot to right to equal the 12-8 final score.
Ridley finished 4-for-5 with two runs scored, three RBI and two stolen bases from the top of the Sanford order. Four other players recorded multiple hits for the Mainers, who held a slim 16-15 advantage in that column.
Reliever James Sashin (San Diego) suffered the loss for North Shore as he allowed four of the Mainers' final five runs over 1.1 innings of work. Sanford's second and final reliever Joe Joe Rodriguez (St. John's) held the Navs to a single run on four hits and struck out three across the final 2.1 frames in relief of McKernan and Trevor LaBonte (Maryland).
The Navs continue their three-game road trip on Tuesday night against the Vermont Mountaineers. First pitch is set for 6:30 p.m. from Montpelier Recreation Field.