News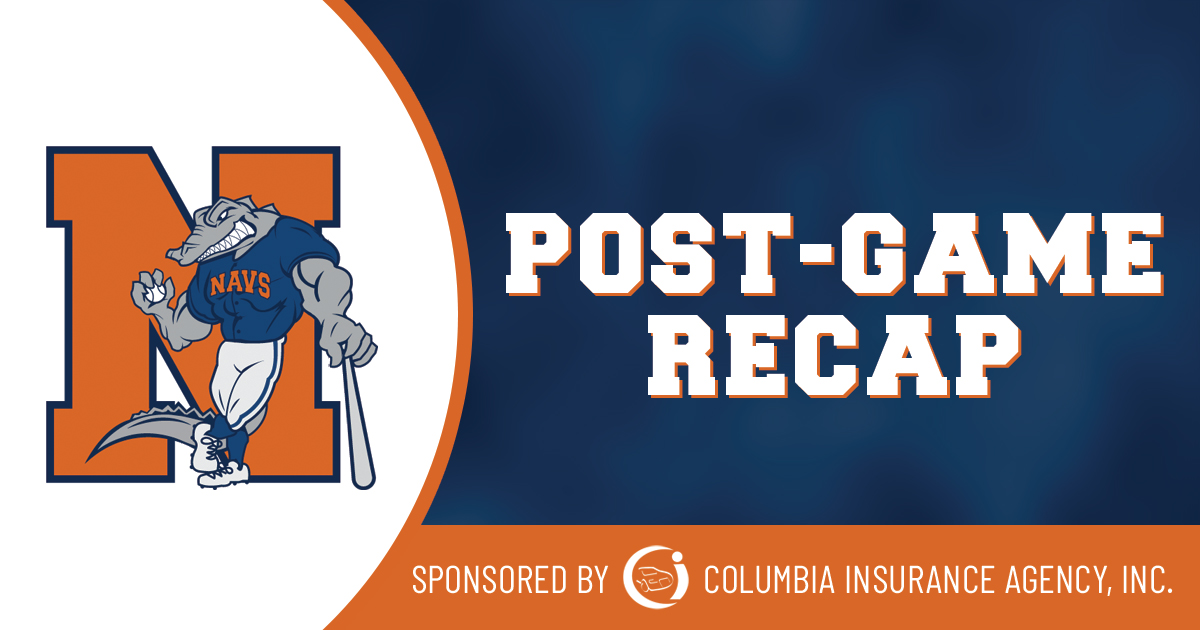 06/12/2021 9:08 PM
By Joshua Kummins
WHITE RIVER JUNCTION, Vt. -- The North Shore Navigators jumped out to a four-run lead in the first inning, but the Upper Valley Nighthawks scored multiple runs in the next three frames and coasted to a 14-5 win in Saturday night's New England Collegiate Baseball League game at Maxfield Sports Complex.
North Shore was unable to put together back-to-back wins for the first time this season as it slipped to 3-3-1 on the season, while Upper Valley extended its Northern Division-leading mark to 5-1 by winning its first home game.
Center fielder Joe Lomuscio (Stanford) and designated hitter Cal Christofori (Santa Clara) were the two Navs batters to post multiple hits as they went 2-for-5 in the game. Lomuscio contributed a run-scoring double for the second straight night. Left fielder David Kale (Fordham) and catcher Tristan Latham (Pomona-Pitzer) also reached base twice each.
North Shore got its offense going quickly against Upper Valley starter Jack Keenan (Marist) as the first four batters reached base and came around to score during a five-hit first inning.
After third baseman Jonathan Luders (Seton Hall) drew a leadoff walk, second baseman Jake Gustin (Bryant) laid down a bunt single to third and came across on Lomuscio's two-run double down the left-field line. Right fielder Ryan Marra (Brown) followed with another two-bagger before scoring the Navs' fourth run as shortstop Matthias Haas (Cal Poly) knocked a single through the 3-4 hole.
Saugus native Todd Tringale (Northern Essex CC) started his second start of the summer with a 1-2-3 inning including a strikeout for North Shore, but the home team cut into its deficit with three runs in the second. Left fielder Andrew Walker's (Xavier) two-out single marked the lone Nighthawk hit after two walks and a hit batter started the frame.
Upper Valley took the lead while sending 10 to the plate during a four-run third inning that included two hits and another error that led to a run. Shortstop Luca Trigiani (Saint Joseph's) sent a base hit past a drawn-in infield to plate a run after third baseman Ronald Evans (UNCW) was hit by a pitch with the bases loaded and designated hitter Kyle Novak (James Madison) hit a sacrifice fly to center.
The Nighthawks added to their lead in the fourth as right fielder Alan Roden (Creighton) singled and scored on first baseman William Sullivan's (Troy) double. After Sullivan advanced on a wild pitch and North Shore reliever Caleb Hollis (Crowder) struck out Trigiani, Novak added an RBI single.
Nighthawk second baseman Max Viera (Northeastern) hit a leadoff single and stole two bases in the fifth, but Myles McDermott (San Jacinto) retired the next three batters he faced to put up the first zero since the first inning.
North Shore got back on the scoreboard as back-to-back hitters reached base to start the sixth. Kale drew a leadoff walk and stole second before coming across on Latham's single up the middle to cut the deficit to 9-5.
Upper Valley scored five unanswered runs over its final three at-bats, beginning with Nowak reaching on an error and touching home on a wild pitch to begin the sixth. Nowak's double was the first of four run-scoring hits to conclude the scoring in the eighth, as he finished a two-hit, three-RBI night.
Justin Butera (Merrimack) stranded two runners on base as relieved Winthrop native Jack Wallace (Franklin Pierce) by inducing a first-pitch fly ball to end the eighth. North Shore got a one-out rip up the middle from Lomuscio in the ninth, but the Nighthawks' Cole Garrett (Liberty) worked around it to strike out the side.
Keenan recovered from the shaky start and put up zeroes in each of his last three innings on the mound for Upper Valley, while Nick Cantone (Marist) allowed just one run over the next three to earn the win. Tringale took the loss after being pulled in the midst of Upper Valley's four-run third.
The Navs return to action at home for a Sunday afternoon contest against the North Adams SteepleCats. First pitch at Fraser Field is set for 4:05 p.m.