News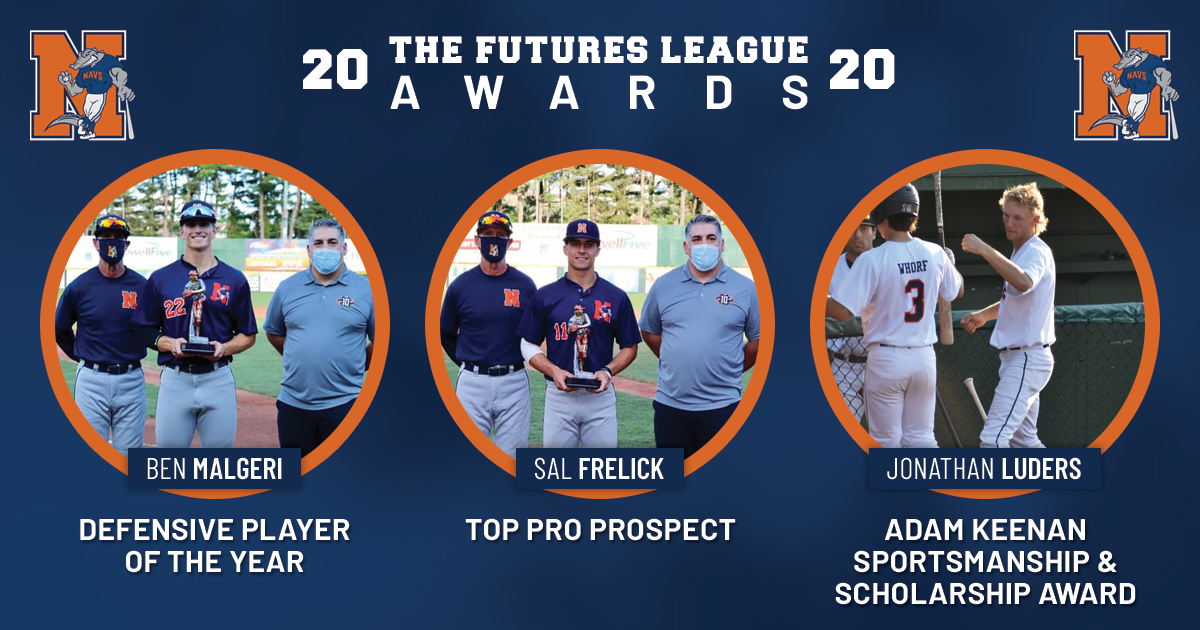 08/24/2020 8:53 AM
LYNN, Mass. -- With the Futures Collegiate Baseball League's 2020 season in the books, three members of the North Shore Navigators are taking home some hardware.
Sal Frelick (Boston College) earned the FCBL's Top Pro Prospect honor for the second time in three summers, while outfielder Ben Malgeri (Northeastern) became the first player in franchise history to be named Defensive Player of the Year.
In addition, second baseman Jonathan Luders (Seton Hall) was recognized as a recipient of the FCBL's prestigious Adam Keenan Sportsmanship & Scholarship Award, which is named in honor of the former Franklin Pierce and UMass Lowell player who passed away of a rare heart condition in 2011 while playing for the Futures League's Seacoast Mavericks.
"It was an honor to watch Sal, Ben and Jonathan play baseball wearing a Navs uniform," Navs President & General Manager Derek January said. "They have set the bar high for future Navigators both on and off the field. All three will get a chance to play pro baseball and it wouldn't surprise me if we see them playing on TV in the future."
Frelick was named the league's Top Pro Prospect in 2018 after playing for the Navs as a graduating Lexington High School senior. Now a rising BC junior, he returned to the North Shore and delivered another stellar season to become the first two-time winner of the award in league history.
Frelick saw time in both the infield and outfield over his 24 games this summer, posting a league-leading .398 average with 26 runs scored, a .473 on-base percentage and .592 slugging percentage. Ranked 18th by MLB.com among 2021 draft prospects, Frelick started the season on a 17-game hit streak and reached base in all but two contests.
"Sal possesses exceptional quickness, speed, versatility and power, proving that he is the top prospect in the Futures League and the top player in New England," Manager Bob Macaluso said. "He is a dynamic, impactful player and a bonafide first-round pick!"
A 2019 FCBL All-Star, Malgeri has been a mainstay in North Shore's lineup for a second consecutive summer. The rising Northeastern junior from Stratham, N.H., played in all of the Navs' 38 games, recording 67 putouts over a league-high 74 total chances on the grass. He has also been credited with five outfield assists and helped turn a pair of double plays.
Malgeri was a steady defender all while standing among league leaders in numerous offensive categories, hitting .333 with 27 RBI and a league-leading 49 hits, 46 runs, franchise record-tying seven triples and 18 stolen bases.
"Ben is a true five-tool player: arm strength, fielding, hitting, power and speed," Macaluso said. "He is tough, physical and plays all three outfield positions very well. He has emerged as one of the best players in New England."
FCBL Commissioner Joe Paolucci presented both awards prior to last Tuesday night's game against the Nashua Silver Knights at Holman Stadium.
Luders becomes the third Navigator ever and second in as many years to win the Adam Keenan Sportsmanship & Scholarship Award. The prestigious award is given to the Futures League player or players who exemplify the outstanding attitude, character and sportsmanship that is synonymous with Keenan's legacy.
Even without a crowd in the stands to watch the Navs play at Fraser Field, the Lynnfield native always gave his best on and off the field and quickly became a popular player among his teammates, encouraging them from his regular position at second place or in the dugout. "Sunshine" brought a boundless energy to the park on a daily basis and was a selfless player all season long. On the field, he hit .328 with seven RBI and 12 runs scored as the No. 9 batter in the lineup.
"Jonathan's energy, competitiveness, passion and team-first attitude made him an easy choice for the Keenan Award," January said. "Jonathan genuinely cared about every one of his teammates and coaches, and his love for the game was infectious in the dugout. I only wish Navs Nation could have been in the park to see him play on a nightly basis because he would have been an instant fan favorite."
The Navigators recently completed their 13th summer of collegiate baseball and ninth in the Futures League. Throughout the offseason, stay up to date on the latest Navs news by visiting nsnavs.com and following the team on Facebook, Twitter and Instagram.