News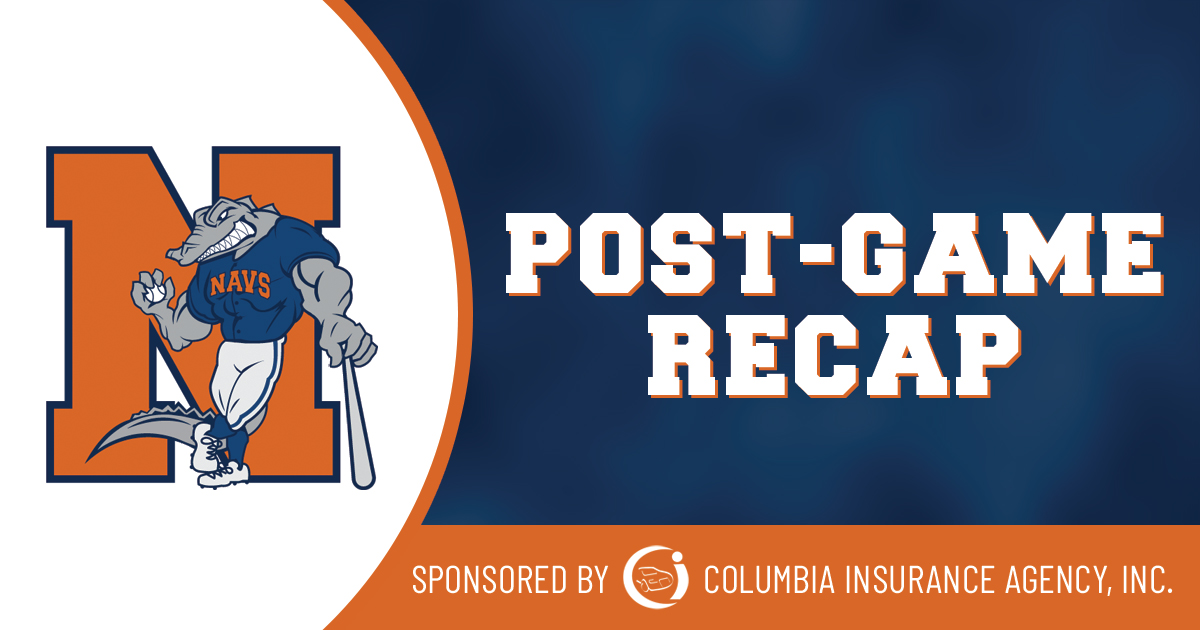 08/16/2020 5:08 PM
By Joshua Kummins
LYNN, Mass. -- The North Shore Navigators' hopes of clinching a Futures Collegiate Baseball League playoff spot were dashed on Sunday as the Westfield Starfires scored seven runs in the eighth inning to come from behind and leave Fraser Field with a 10-8 win.
The Navs saw their three-game winning streak snapped and fell to 17-19 on the season, while Westfield improved to 17-20.
Shortstop Sal Frelick (Boston College), right fielder Ben Malgeri (Northeastern) and second baseman Jake McElroy (Holy Cross) all had two of the Navs' 12 total hits, while center fielder Tommy Seidl (Harvard) doubled, scored three runs and drove in two more.
North Shore got the scoring going in the first inning after starting pitcher Evan Christopulos (Bentley) worked around Westfield's back-to-back base hits to begin the day. Malgeri ripped his third homer of the season out to left-center just two batters into the game to lift the Navs to an early lead.
Seidl opened the following frame with a leadoff walk and reached third on McElroy's hit-and-run single into center. He doubled North Shore's lead to two runs, scoring on catcher Dylan January's (Franklin Pierce) sacrifice fly to center.
Westfield scored its first run on an error following catcher Mike DeMartino's (Southern Connecticut State) double in the third, but the Navs tagged Izaiya Mestre (New Haven) for a pair of two-out runs to extend the lead to 4-1 after their next at-bats. After designated hitter Logan Bravo (Harvard) and Seidl drew back-to-back walks to keep the frame alive, McElroy's double to right drove home a run and Seidl followed him across the plate on an error.
The Starfires crept a run closer in the fourth as left fielder Danny Crossen (Northeastern) was hit by a pitch and scored on a failed pickoff. Christopulos saw his start come to an end following that inning as he struck out nine while allowing two runs (one earned) on four hits.
Frelick and Malgeri knocked one-out singles in the bottom of that frame to start up the Navs offense again, but Mestre made it through the bases-loaded jam after third baseman Cody Morissette (Boston College) was intentionally walked. Morissette had socked a triple in his first at-bat in the first inning.
Making his second appearance in as many days, Peter Sakellaris (Virginia Tech) pitched three innings of two-hit ball after Christopulos exited. However, the Starfires started their comeback after he exited the game before a seven-run, four-hit eighth.
DeMartino started Westfield's outburst with a double and scored on center fielder Andre Marrero's (Quinnipiac) single. Catcher Alex Rodriguez (Trinity) followed with a one-out double and came in to score after third baseman Dolan Ocasal (UAlbany) greeted Navs reliever Derek Goldrick (Quinnipiac) with a two-run single to left. Shortstop Eric Callahan (Millersville) tied the game with a sacrifice fly before DeMartino's grounder past first base scored two more runs.
North Shore moved within a run during an eighth inning that began with Jack Whorf (UMass) drawing a walk and Alex Haba (Merrimack) beating out an infield single in their first at-bats after entering the game as defensive replacements. Seidl's grounder to third brought Whorf home with the Navs' eighth and final run.
Westfield closed the scoring in the ninth after designated hitter Mark Coley (Rhode Island) was hit by a pitch and his pinch runner Javier Irizarry (Amherst) scored on a passed ball.
Goldrick suffered his first loss after recording saves in two of the previous three games for the Navs. LT Pare (Merrimack) earned his second win for Westfield, working around a hit and a run to strike out one batter over his 1.2 innings of work. Jimmy Fahey (Trinity) pitched a 1-2-3 ninth inning to post his first save of the summer.
Following a day off, the Navs will play their final road game of the 2020 season on Tuesday against the Nashua Silver Knights. First pitch is set for 6 p.m. at Historic Holman Stadium.