News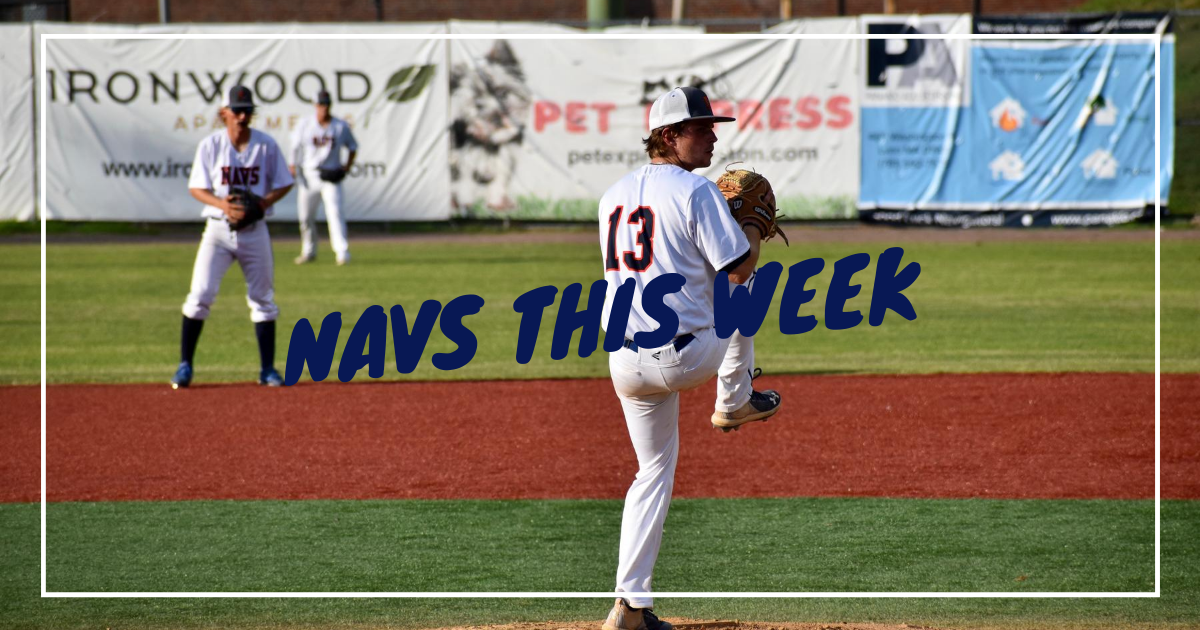 08/05/2020 8:26 AM
LYNN, Mass. -- The North Shore Navigators have jumped right back into the thick of the Futures Collegiate Baseball League's playoff race with back-to-back wins and four over their last six games and begin the upcoming week with three games at Fraser Field over a four-day span following Tuesday's postponement due to rain.
North Shore will see plenty of its most common opponent, the second-place Nashua Silver Knights, in the coming days. Three of the six games scheduled between Wednesday and Monday come against the Navs' closest rivals, who are just 1.5 games ahead in the standings. The top two teams in the FCBL standings will qualify for the best-of-three championship series immediately following the regular season.
BREAK OUT THE BATS, SWEEP THE AWARDS
▪ North Shore capped this past week with its most lopsided victory of the season on Sunday night, pounding out 10 hits on the way to a 10-1 win over the Brockton Rox at Fraser Field.
▪ The Navs scored in the first inning of their third consecutive game as outfielder Ben Malgeri (Northeastern) began his 2-for-4 day at the plate with a double. He was named the FCBL's Player of the Night for the effort, which also included two runs scored and two RBI.
▪ Infielder Logan Bravo (Harvard) tripled as part of his own 2-for-4 day, while catcher Ryan Turenne (Maine) highlighted his team-leading, five-RBI week with a three-run home run in the third inning.
▪ On the mound, Swampscott native Gavin Sullivan (Stetson) struck out eight and allowed just one run on four hits over 5.2 innings. He became just the second pitcher to reach the three-win mark in the FCBL this season and won his second Pitcher of the Night honor.
ON THE EDGE
▪ The Navs' three wins in a row prior to Sunday have come by just a single run.
▪ North Shore has played in a league-high 10 one-run games this season in addition to taking on Brockton in a tie-breaking Home Run Derby on July 25.
▪ Left-hander Cam Seguin (UMass Lowell) worked six innings of two-hit, shutout ball and struck out seven on his way to earning FCBL Pitcher of the Night honors following the Navs' 1-0 win over Westfield last Tuesday.
▪ Last Tuesday's game marked North Shore's first shutout since July 4, 2019 at Pittsfield.
▪ The Navs earned last Friday's 7-6 win over Nashua in walk-off fashion as outfielder Cam Climo (UMass Lowell) hit a ninth-inning single.
▪ Outfielder Jack Whorf (UMass) recorded his first RBI of the summer on a seventh-inning double the following day, helping North Shore to a 4-3 win at Brockton in the second game of a doubleheader.
SETTING THE PACE
▪ The Navs continue to lead the FCBL in batting average (.273) and on-base percentage (.385) while ranking second in both runs scored (137) and hits (213) entering the new week of play.
▪ Bravo's .368 batting average puts him second to Nashua's John Mead (Franklin Pierce) among qualifying league leaders. His 32 hits lead the league.
▪ Infielder Cody Morissette (Boston College) is second in the FCBL with 22 RBI and boasts the sixth-leading average at .323.
▪ Second baseman Jonathan Luders (Seton Hall) ranks just ahead of Morissette in the league race. The Lynnfield native's .326 average is good for fifth.
▪ Malgeri leads the circuit with 27 runs scored and has already surpassed last year's Navigator season-best with five triples. His 12 stolen bases co-lead the league.
▪ Boston College junior Sal Frelick stood among league qualifiers before he missed two weeks due to injury, but his .404 average through 13 contests still leads the team.
DIFFERENT TYPES OF OFFENSE
▪ In addition to the aforementioned categories, the Navs also lead the FCBL with nine triples.
▪ Malgeri has hit five of them, putting him within one of tying the franchise's FCBL-era record for a single season.
▪ Though North Shore's 10 home runs are the fewest in the league, Turenne became the fourth different Navigator with multiple long balls this season with his Sunday shot.
▪ Frelick, Bravo, Turenne and Climo all have two homers, while Morissette and first baseman Alex Brickman (Dayton) have left the yard once.
SAL IS BACK
▪ Frelick was back in North Shore's lineup last Tuesday after missing two weeks due to injury.
▪ Frelick made an impact out of the leadoff spot during his first game back, hitting a leadoff single before stealing a base and scoring the lone run of the Navs' 1-0 win.
▪ The Lexington native's 12-game hitting streak is currently the longest in the FCBL.
▪ No North Shore player had matched Frelick's double-digit streak since he began 2018 on an 11-game spurt from June 12-27.
▪ Ahead of the 2021 MLB Draft, Frelick is ranked as the No. 18 overall prospect by MLB.com, No. 19 overall prospect on "The Board" on FanGraphs and the No. 10 college prospect by Perfect Game.
DANDY DEBUTS
▪ Two new additions to the North Shore roster have contributed to the team's recent wins.
▪ Infielder Alex Haba (Merrimack) joined the Navs to begin last week and played in five consecutive games at three different infield positions.
▪ Haba's last three starts came at second base, the same position at which he started all 15 of Merrimack's games as a freshman this spring.
▪ After a hitless Tuesday debut, the Warriors' rising sophomore recorded hits in five straight games. He went 2-for-4 during Friday's win over Nashua.
▪ Pitcher Derek Goldrick (Quinnipiac) made his first appearance at the end of Sunday's win over Brockton, recording a strikeout during a scoreless inning of relief.
THE WEEK AHEAD
▪ The Navs will open their stretch of three home games in four days with two consecutive contests against the Silver Knights.
▪ Wednesday also doubles as the Futures League's Scout Day for both teams.
▪ North Shore will then round out its season series against the New Britain Bees with two visits to the Hardware City within a three-day window. The first of those matchups is Friday night.
▪ Between North Shore's two visits to New Britain Stadium lies a Saturday home date against the Westfield Starfires.
▪ The Navs and Silver Knights will make up a previous rainout next Monday night from Historic Holman Stadium.
MAKING CHANGES
▪ The Navs will make up Tuesday's rainout against the Westfield Starfires as part of a Sunday, August 16 doubleheader at Fraser Field. The twinbill is slated to begin at 2:05 p.m.
NAVS ON NESN
▪ A three-game series of Futures League action on NESN kicked off on Monday night when New Britain hosted Westfield.
▪ The Navs will be making their television debut on Saturday, August 15 when they head to Historic Holman Stadium to face the Silver Knights at 1 p.m.
▪ Navs Director of Digital Media & Team Reporter Emma Carman is serving as a sideline reporter on all three broadcasts.
▪ The league's second NESN game is set for 1 p.m. on Saturday when the Brockton Rox host the Worcester Bravehearts.
FOLLOW AND WATCH
▪ Stay up to date on the latest Navs news by visiting nsnavs.com and following the team's Facebook, Twitter and Instagram pages.
▪ Watch the Navs all season long on the FCBL Network powered by BlueFrame Technology. Visit fcblnetwork.com to purchase a single-game pass for $8 or an All-Access Pass to every FCBL game this summer for $99.