News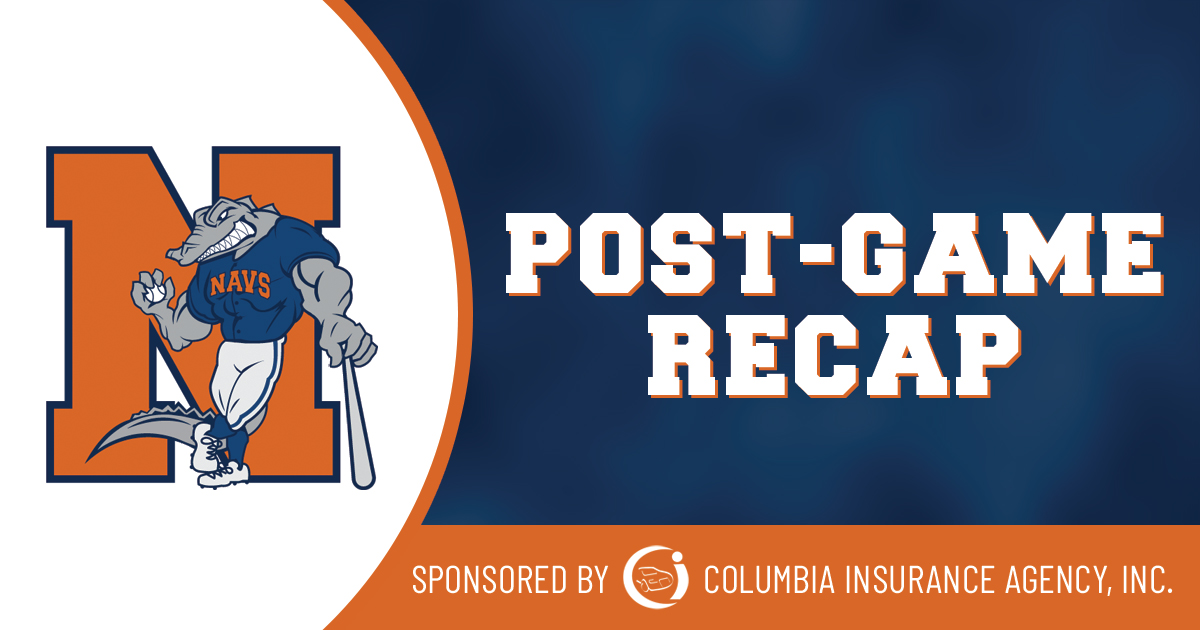 07/29/2020 8:01 PM
Here is @emma_carman_ post-game with Ryan Turenne (@UMaineBaseball) after the @SilverKnightsNH defeated the Navigators by a final score of 13-5. pic.twitter.com/iszxS48dbH

— North Shore Navigators (@NSNavigators) July 30, 2020
By Joshua Kummins
LYNN, Mass. -- The North Shore Navigators recorded double-digit hits for the second time in three games, but that offensive effort was not enough as the Nashua Silver Knights emerged from Wednesday night's Futures Collegiate Baseball League contest with a 13-5 win at Fraser Field.
North Shore slipped to 9-11 on the season, while second-place Nashua used its fourth straight win in the head-to-head series to move to 13-9.
Shortstop Cody Morissette (Boston College) went 3-for-3 with two walks and a run scored as one of three Navs players with multiple hits. Designated hitter Logan Bravo (Harvard) extended his hitting streak to 11 games with a 3-for-5 effort including a double, a run scored and an RBI. Lynn native catcher Ryan Turenne (Maine) finished 2-for-5 with a run scored, two RBI and his first homer of the summer.
The Silver Knights started building up a 10-0 lead with a first-inning run as left fielder John Mead (Franklin Pierce) singled through the left side to score catcher Dylan Jones (Franklin Pierce) following a fielder's choice two batters into the game.
North Shore starter Nate Espelin (Dayton) bounced back from Nashua's quick start to retire the side in the second and third innings. Espelin punched out three batters over his 3.1 total innings, bookending his final complete frame with a pair of looking strikeouts.
Nashua broke the game wide open an inning later as six runs came across on four hits including Mead's one-out, two-run home run to right-center. Third baseman Lucas Stalman (Boston College) reached on an error following Mead's homer and crossed the plate on another two-run shot off the bat of right fielder Mike Rounds (UMass) two batters later. Shortstop Nick Shumski's (Merrimack) fielder's choice and succeeding error scored two more runs.
The Silver Knights extended their lead to 10-0 in the fifth before North Shore was able to make its first dent on the scoreboard. After Mead doubled and Rounds drew a two-out walk, designated hitter Nick Perkins (Endicott) launched a three-run homer to right to put Nashua into double digits in the run column.
Center fielder Ben Malgeri (Northeastern) started the home team's offense with a one-out walk in its first run-scoring inning of the night. Morissette and Bravo connected for back-to-back singles, allowing the Navs to mark the scoreboard and cut their deficit to 10-1.
North Shore continued its run of four straight innings with a run scored as Turenne cleared the fences in right field for a solo homer in the sixth. The St. Mary's High School product became the fifth different Navs player to leave the yard this summer.
In the seventh, the Navs scored twice after loading the bases. Morissette got the line moving with a one-out walk before Bravo ripped a double off the wall in left and left fielder Sean Lawlor (Maine) drew a free pass of his own. First baseman Alex Brickman (Dayton) was hit by a pitch to force home a run before Turenne's grounder to first brought Bravo across the plate.
North Shore creeped a bit closer with an eighth-inning run as third baseman Juan Martinez (New Mexico JC) drew a one-out walk and scored all the way from first on Ryan Cervone's (Northeastern) double to right. Nashua reliever Chris Chaney (Maryland) came into the game with the score trimmed to 10-5 and struck out Brickman to escape any further trouble.
Jones drew a bases-loaded walk and first baseman Brett Anderson (Hartford) laced a two-out, two-run single to plate three Nashua runs during the final frame.
While Espelin was tagged with the loss, Danny Gracia (Franklin Pierce), Will Carpenter (Fisher) and Ricky Alexy (Southern New Hampshire) all pitched an inning of scoreless relief in the middle of the game for North Shore.
The Silver Knight offense recorded 16 hits on the way to the win, with Mead leading the way on the strength of a 5-for-6 effort, two runs scored and three RBI. Rounds, Perkins and center fielder Thomas Crowley (Merrimack) all recorded multiple hits out of the starting lineup.
Gabe Driscoll (Binghamton) relieved Nashua starter Griffin Young (Wheaton) to nab his second win of the season. After Young struck out four over the first 4.1 innings of one-run ball, Driscoll reached the same count over the next 1.2 frames.
The Navs have a day off before returning to Fraser on Friday for another 6 p.m. contest against the Silver Knights.