News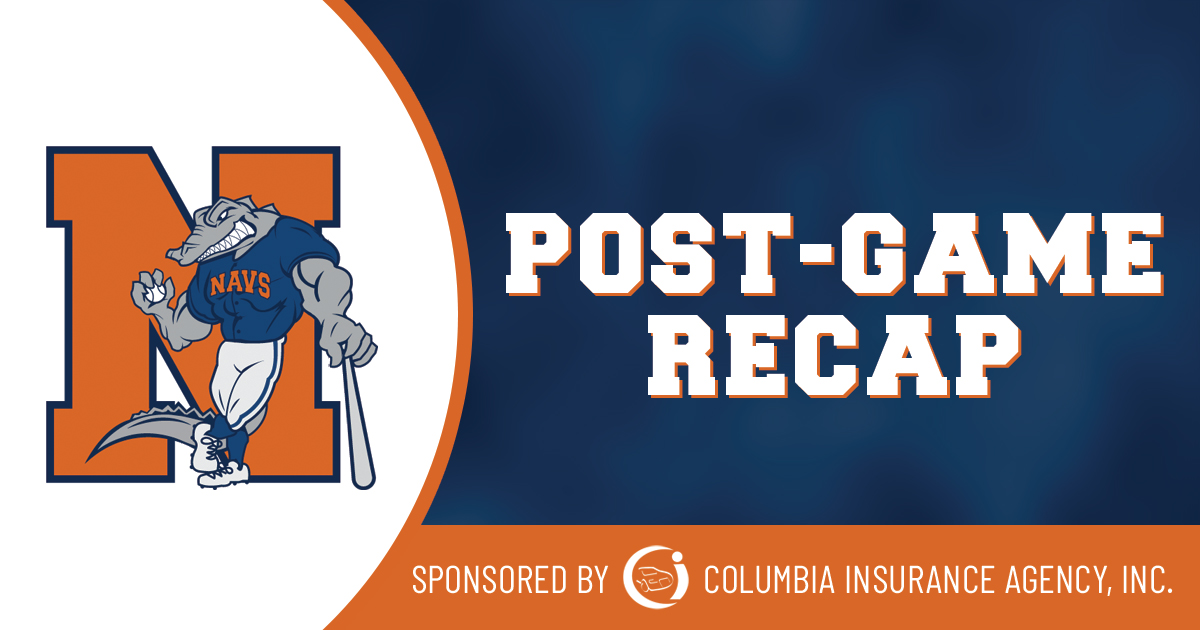 07/16/2020 7:51 PM
@lbseven (@HarvardBaseball) had 2 RBI's in tonight's win. Here is @emma_carman_ post-game. pic.twitter.com/3npeWhXK6r

— North Shore Navigators (@NSNavigators) July 17, 2020
By Joshua Kummins
LYNN, Mass. -- The North Shore Navigators got back in the win column and jumped into a virtual tie for first place in the Futures Collegiate Baseball League standings, downing the defending and four-time champion Worcester Bravehearts by a 4-1 score on Thursday night at Fraser Field.
The Navs put an end to their five-game losing streak and improved to 7-5 on the season, while Worcester now sits at 6-4.
North Shore made the most of its seven hits on the way to its second win of the season against the Bravehearts. Right fielder Ben Malgeri (Northeastern) and designated hitter Logan Bravo (Harvard) each went 2-for-4 with consecutive run-scoring singles in two different innings. Malgeri also scored a run of his own.
Navs starter Evan Christopulos (Bentley) worked around single walks in both the first and second innings before his offense posted a pair of runs to get on the scoreboard in the third when Malgeri and Bravo posted back-to-back RBI singles with one out.
After shortstop Juan Martinez (New Mexico JC) hit a leadoff infield single, catcher Peter Burns (Boston College) walked and center fielder Ryan Cervone (Northeastern) was hit by a pitch to begin North Shore's first run-scoring frame. Malgeri drove home the game's first run with a base hit to center before Bravo doubled the home team's lead with a knock to left in the next at-bat.
Christopulos finished four complete innings en route to the win in his first start and third appearance of the summer. The Andover native struck out a season-high seven batters while allowing just one hit and two walks.
Worcester scratched across its only run against Swampscott native reliever Luke Marshall (Stonehill) in the fifth. Center fielder Trevor Johnson (Dartmouth) hit a two-out double and crossed home after second baseman Danny Torres (Saint Leo) sent a single into center in the next at-bat. Burns then caught the potential tying run in Torres trying to steal second base to end the inning.
North Shore added an insurance run to its tally in the seventh after Burns drew a leadoff walk and advanced to second on a sacrifice bunt by second baseman Jonathan Luders (Seton Hall). Cervone flew out for the second out, but Malgeri extended the Navs' lead with a hit to left before Bravo beat out an infield single to bring home another run.
After Max Meier (Stanford) and Saugus native Todd Tringale (Northern Essex CC) followed Marshall out of the bullpen to pitch scoreless innings, Marblehead's own Beau Dana (Dickinson) worked around a hit and a walk to strike out the side on the way to his league-leading fourth save of the summer.
Worcester starter Carson Hauben (Rollins) suffered the loss despite striking out five Navs batters over the first three innings. Reliever Jakob Barker (Valdosta State) pitched the next three frames, allowing just one hit while striking out six. Hunter Reynolds (Franklin Pierce) fanned three of the four batters he faced over the final 1.1 frames.
On the offensive side, the Bravehearts were held to just five hits by five different players and saw their four-game win streak come to an end.
The Navs return to Brockton's Campanelli Stadium to take on the Rox for the second time in three days on Friday night. First pitch is set for 5 p.m.