News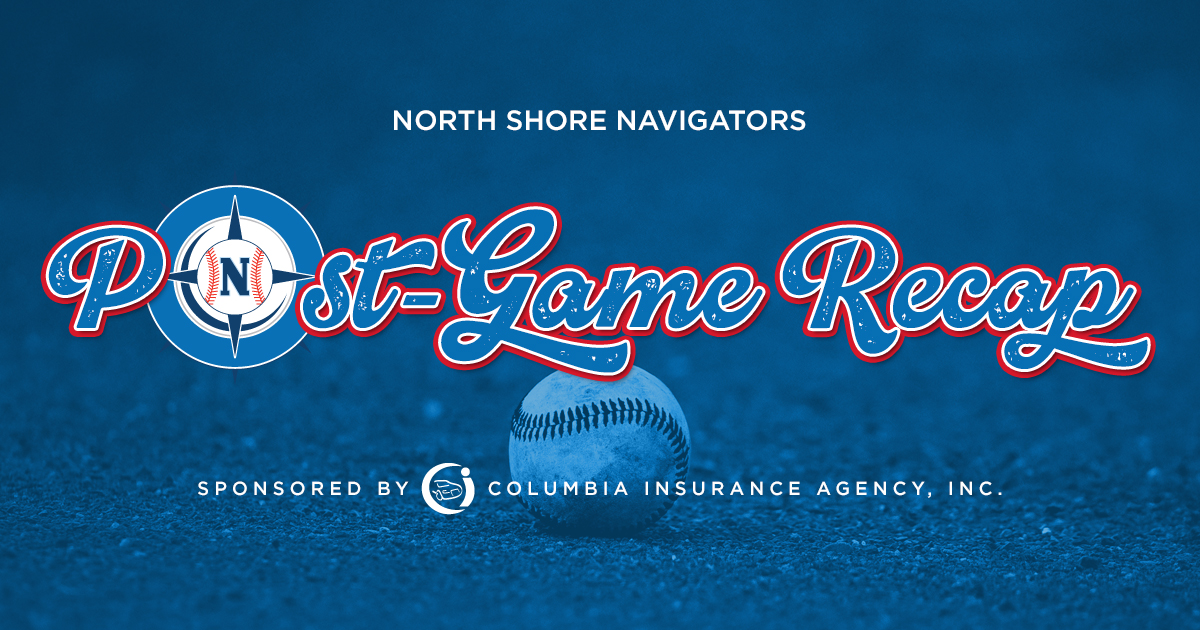 08/06/2019 8:35 PM
By Joshua Kummins
BRISTOL, Conn. -- The third-seeded North Shore Navigators scored single runs in three separate innings while four pitchers allowed just three combined hits en route to a 3-1 win over the Bristol Blues in Tuesday's opening game of the best-of-three Futures Collegiate Baseball League semifinals at Muzzy Field.
Back-to-back playoff triumphs have North Shore just one win away from advancing to the FCBL's championship round for the first time since 2012. Bristol suffered the home loss after finishing the regular season with a 31-23 record.
Shortstop John Rodriguez (San Jacinto) hit his first home run of the summer while right fielder Dominic Freeberger (UNC Asheville) delivered the game-winning RBI and came up with the defensive play of the game, turning a fly-ball double play with the bases loaded in the seventh inning. In addition, first baseman Connor Morin (New England College) was a repeat hitter, going 2-for-3 while reaching base three times in total.
After Navs starter James Flood (Siena) induced an inning-ending double play in the first, the Blues scored the game's first run an inning later. First baseman Dylan Reynolds (Fairfield) led off the second with a one-hop double off the wall in right before moving to third on a ground ball and scoring on a wild pitch.
Flood limited the second-inning damage to just one run with a 5-4-3 double play, allowing his offense to come back quickly and tie the score. Bristol's Mark Faello (Hofstra) opened the third frame with a strikeout and then Rodriguez cranked a one-strike pitch over the football scoreboard in left for a solo shot.
North Shore took its first lead of the game without the benefit of a hit in the fourth. Left fielder Sean Lawlor (Flagler) drawing a leadoff walk and advancing on a wild pitch. Right fielder Ben Malgeri's (Holy Cross) moved the FCBL Most Valuable Player up to third on a long foul fly before Freeberger lifted a sacrifice fly to right.
Flood worked a 1-2-3 fourth and then ran into a bit of trouble in the fifth, allowing back-to-back hits to shortstop Zeke Diamond (Emory) and designated hitter Kasey Bass (Wisconsin-Stout) with one out. Navs reliever Cam Seguin (UMass Lowell) issued a walk to load the bases, but left fielder Christian Beal (Bates) grounded a fielder's choice to Logan Bravo (Harvard) at third to end Bristol's threat.
The Navigator offense went to work with two outs in the sixth. Freeberger was hit by a pitch and advanced on a wild pitch before designated hitter Kade Kretzschmar (Dartmouth) ripped a run-scoring single to center, giving North Shore a two-run lead.
Seguin stranded a runner on base in the sixth. Two walks and a fielding error on Blues second baseman Danny Roth's (Roger Williams) bunt loaded the bases before an out was recorded in the seventh, but Freeberger caught center fielder Austin White's (Rhode Island) fly ball in right and gunned down Diamond trying to score from third. In the next at-bat, Beal landed another fly in Freeberger's glove to pick up Seguin and keep the Navs ahead by two runs.
Flood struck out two over 4.2 innings of three-hit, one-run ball. Seguin did not allow a hit and worked around three walks through the next 2.1 frames, winning his third straight decision between the regular season and playoffs.
North Shore left two runners aboard in its final two at-bats, but the bullpen held strong as well to maintain the same score over the final 3.5 innings. Jake Gigliotti (Northeastern) delivered a 1-2-3 eighth before Beau Dana (Dickinson) dealt a strikeout during a scoreless ninth recorded his second save in as many nights.
Dana issued a one-out walk to Diamond to bring Bristol's tying run to the plate, but Bass grounded into a 5-4-3 double play to end a 10-pitch at-bat and the ballgame. The Marblehead native was recently named FCBL Reliever of the Year.
The Navs and Blues continue the series at 7 p.m. Wednesday from Fraser Field.