News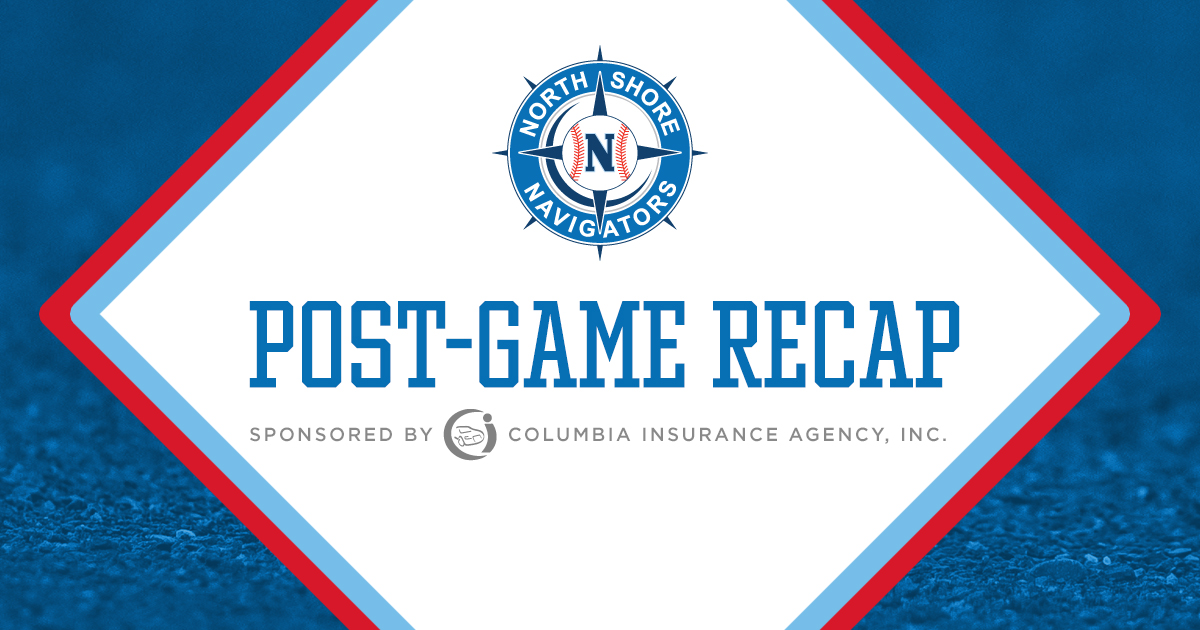 08/04/2019 7:48 PM
By Joshua Kummins
BRISTOL, Conn. -- The North Shore Navigators were unable to clinch a first-round bye in the this week's Futures Collegiate Baseball League playoffs as they concluded the regular season with their third straight loss in the form of Sunday's 10-3 decision against the Bristol Blues at Muzzy Field.
North Shore fell to 30-25 on the season, dropping into third place in the seven-team FCBL standings. As a result, the Navs will welcome sixth-seeded Nashua to Fraser Field for a single-elimination playoff game at 7 p.m. Monday. It will be the team's first postseason appearance since 2016.
On the flip side, Bristol clinched the No. 2 seed and moved to 31-23 with the win.
Six of the Navs' seven hits came from three different players as shortstop Andrew Olszak (Southern Maine), right fielder Dominic Freeberger (UNC Asheville), and first baseman Connor Morin (New England College) had two apiece. Left fielder Sean Lawlor (Flagler) had the other, blasting his eighth homer of the season in the sixth inning.
Blues starter Garrett Coe (UConn) stranded two North Shore runners on base in the first. Lawlor and Freeberger were both hit by pitches, but second baseman Keagan Calero's (UMass Lowell) ground ball fielder's choice ended the threat.
Bristol then jumped on the scoreboard first with two runs in the bottom half of the frame. Center fielder Austin White (Rhode Island) drew a leadoff walk, stole two bases, and scored on left fielder Christian Beal's (Bates) sacrifice fly to center field. Catcher Sam Loda (Central Connecticut State) doubled the home team's lead with a run-scoring single two batters later.
North Shore's Harry Painter (UMass Lowell) issued two more one-out walks in the second before right fielder Brandon Miller (St. John's) drove in Bristol's third run with another sac fly. First baseman Dylan Reynolds' (Fairfield) fielder's choice and an error in the next at-bat made the score 4-0.
Navs reliever Cedric Gillette (Merrimack) posted the first zero of the night in the third, but shortstop Zeke Diamond's (Emory) two-out single brought home the fifth Bristol run an inning later. The Blues extended their advantage to nine runs in a fifth frame that featured a two-run single from Reynolds, but Tucker Wittman (UMass) struck out two during his inning-long third relief appearance this summer.
After Coe dealt five straight scoreless innings to begin just his second start of the summer, the Navs scored twice in quick fashion in the sixth. Olszak started up the offense with a ringing double into the left-center gap before Lawlor brought him home on a towering homer to right.
Lawlor and third baseman Logan Bravo (Harvard) finish the summer tied for the team lead in homers, matching the single-season franchise record that Colby Maiola (UMass Lowell) set through just 36 games back in 2016.
The Navs added their third run in the eighth when Freeberger lined a two-out single to right. Morin and Olszak started that frame with back-to-back base hits and then center fielder Ben Malgeri (Holy Cross) grounded a 3-6 fielder's choice to set Freeberger up with runners on base.
Matt Bergeron (Saint Joseph's of Maine) worked around three hits over two scoreless innings of relief, but the Blues tagged Freeberger for one more run during their final at-bats. White drove in the run with an infield single, completing a 2-for-2 night with four runs scored and four walks from the top of the Bristol lineup.
Painter suffered his first loss as a Navigator as he allowed four runs (three earned) on one hit and five walks over 1.1 innings of work. Five relievers followed the recent Manchester Essex graduate and reigning Division 4 state champion into the game.
Designated hitter Kasey Bass (Wisconsin-Stout) went 3-for-5 and scored a run, helping the Blues reach the 12-hit mark as a team. Beal drove in three runs while Reynolds added two more. On the mound, Coe earned his second win after striking out six Navs over seven innings of three-hit, two-run ball.