News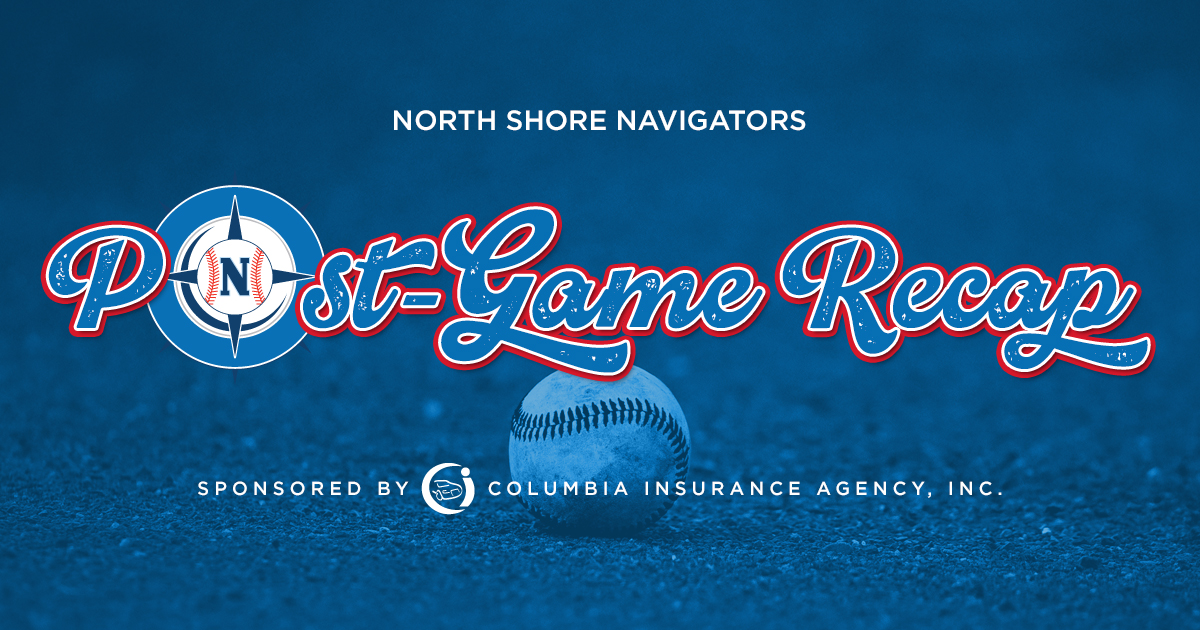 08/03/2019 7:12 PM
By Joshua Kummins
LYNN, Mass. -- The North Shore Navigators concluded the home portion of their Futures Collegiate Baseball League regular season in narrow fashion, dropping a 2-1 decision to the Nashua Silver Knights in the back end of a home-and-home series between the teams on Saturday night at Fraser Field.
Both teams were held to just four hits in the game, but single runs in the first and fourth innings lifted the Silver Knights to their fourth consecutive win and evened their record to 27-27 on the summer. North Shore has now lost back-to-back games and now sits at 30-24, a half-game behind the Brockton Rox and Bristol Blues who are now tied atop the FCBL standings.
Center fielder Ben Malgeri (Holy Cross) provided half of North Shore's offense, going 2-for-4 with singles in his first two at-bats. Third baseman Logan Bravo (Harvard) hit his team-leading eighth home run, tying the single-season franchise record that had stood since 2016.
Nashua scored its first run just three batters into the game. Center fielder Ben Irvine (Maryland) hit a leadoff single to center field before catcher Dylan Jones (Franklin Pierce) was hit by Navs starter Sebastian Keane's (Northeastern) offering in the next plate appearance.
Both runners then moved up on a wild pitch, and then right fielder Kyle Sandstrom's (Charleston Southern) sacrifice fly put the visitors ahead. Keane struck out three batters during his third straight two-inning appearance, but the North Andover native was charged with the loss after North Shore was unable to tie the game at any point.
The Silver Knights added an insurance run in the fourth. After Sandstrom drew a leadoff walk against North Shore reliever and future UMass Lowell southpaw Cam Seguin, third baseman Phoenix Hernandez (Southern New Hampshire) hit a run-scoring double over Sean Lawlor's (Flagler) head on the warning track in right.
Bravo drove home North Shore's run with a leadoff solo shot to left-center in the fifth, marking the lone blemish on the ledger of Silver Knight starter Stanley Vargas (New England College) through 4.2 innings. The Navs were unable to crack the scoreboard against any of Nashua's five relievers, with Brady McGarry (St. Leo) earning his second win of the summer after fanning two of the four batters he faced during the fifth and sixth frames.
Despite the loss, North Shore also received strong efforts from a trio of relievers. Hunter Wilichoski (Northern Essex CC) allowed just two hits and struck out two through three frames following Seguin, while Griffin Green (Virginia Tech) worked a pair of 1-2-3 innings to keep the Navs within a run.
Lawlor led off the eighth with a single to right, but Kyle Skidmore (Hofstra) forced Malgeri to ground into a fielder's choice before retiring the next two Navs batters. Lawlor's base knock was North Shore's only hit after the fifth inning. Joseph Quintal (Hofstra) struck out two during a 1-2-3 ninth to record his second save.
Before the game, the Navs honored Bill Terlecky in a special ceremony. Terlecky, who has served as the team's general manager since 2012, announced his retirement after 41 years in baseball earlier this week. He received gifts from members of the organization and tossed the ceremonial first pitch.
The Navs will conclude their regular season with a Sunday night trip to Bristol, Conn. First pitch against the Blues is set for 6 p.m. from Muzzy Field.