News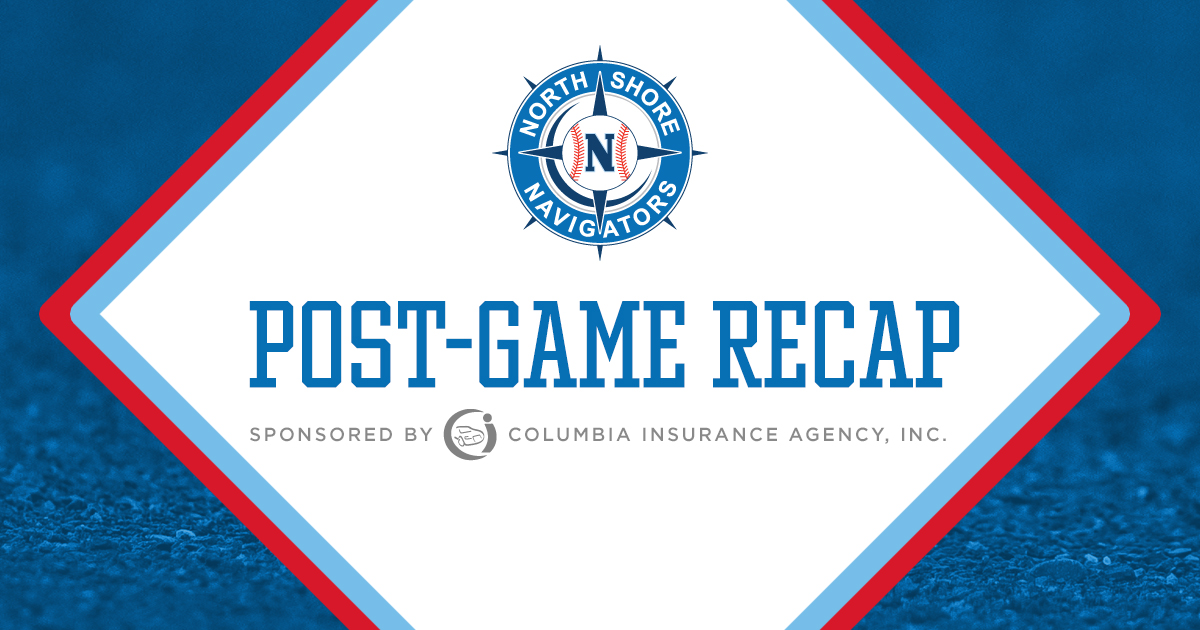 07/31/2019 8:24 PM
By Joshua Kummins
WESTFIELD, Mass. -- The North Shore Navigators broke out the bats for the second consecutive night, scoring double-digit runs in four separate innings and banging out a season-high 19 hits en route to a 16-5 win over the Westfield Starfires in Wednesday night's Futures Collegiate Baseball League game at Bullens Field.
The Navs swept the two-game series to improve to 30-22 on the season, reaching the 30-win mark for the first time since 2015. Westfield, which was held to six hits against five different North Shore pitchers and committed five errors, fell to 15-36.
Second baseman Keagan Calero (UMass Lowell) and designated hitter Andrew Olszak (Southern Maine) led North Shore's offense with four hits apiece and a combined six runs scored and seven RBI. Calero became the second North Shore player in as many summers to hit for the cycle and was one of eight Navs to record a hit in the contest.
Despite the lopsided win, North Shore had to play from behind for the first time since last Tuesday as Devin Kellogg (Hartford) hit a one-out single and scored on Sean Murphy's (Gettysburg) knock to right in the bottom of the first.
From there, the Navs scored often over the next three frames and put the game out of reach. Olszak and catcher Colin Wetterau (St. John's) started the second-inning offense with back-to-back singles. Shortstop John Rodriguez (San Jacinto) drove home the visitors' first run on a fielder's choice before Calero opened his 4-for-5 night with a line single to right.
The first six North Shore batters to step to the plate scored in the third, with center fielder Ben Malgeri (Holy Cross) hitting a two-run home run deep past the scoreboard in left. A hit batter and singles from Olszak and Wetterau followed, while third baseman Jose Aquino (San Jacinto) lined a single past third base to give the Navs a 6-1 lead.
Westfield's Bryce Walker (Hartford) hit a solo homer to center in the bottom of the third, but the Navs followed it up with their largest offensive frame of the night, scoring seven runs on six hits.
North Shore posted three consecutive hits with one out, with right fielder Kade Kretzschmar (Dartmouth) scoring left fielder Sean Lawlor (Flagler) and Olszak bringing home two runs on a single to right-center. Aquino ended Westfield starter Aidan Dunn's (Eastern Connecticut State) night with a run-scoring double to right. Two batters later, Calero helped to greet Patrick Jordan (Westfield State) with a two-out, three-run shot to deep left that extended the lead to 13-2.
Swampscott's Gavin Sullivan (Stetson) cruised to his fifth win of the summer as he allowed just three hits and completed five innings in 47 pitches. The Starfires grabbed an unearned run off Navs debutant Tucker Wittman (UMass) in the sixth as Danny Crossen (Northeastern) singled and advanced on an error before scoring on Christian Walsh's (UMass) grounder to short.
Calero doubled to start North Shore's seventh inning and was driven home on first baseman Dominic Freeberger's (UNC Asheville) grounder to short, but the hosts scored twice more in the bottom half of the frame on Sean Moorhouse's (Westfield State) hit.
Crossen completed the rare feat of playing all nine positions in one game when he took the mound to pitch the ninth for Westfield, and the Navs added a two-run spot to round out the scoring. Calero laced a triple to the right-center wall as the leadoff batter and trotted home on Freeberger's single. Olszak added a two-out single a few batters later.
Great Northeast Athletic Conference products Matt Bergeron (Saint Joseph's of Maine) and Parker Browne (Suffolk) were impressive as North Shore's final two pitchers, allowing just one combined hit over the eighth and ninth frames. Bergeron struck out two Starfires in his second straight relief appearance, which was a hitless inning.
For Westfield, Dunn was charged with his second loss of the season after allowing 12 runs (nine earned) on nine hits through 3.1 innings. The Navs finish the summer with seven wins in nine head-to-head meetings with the Starfires.
The Navs conclude their four-game road swing with a Thursday trip to Nashua, N.H. First pitch against the Silver Knights at Historic Holman Stadium is set for 7:05 p.m.