News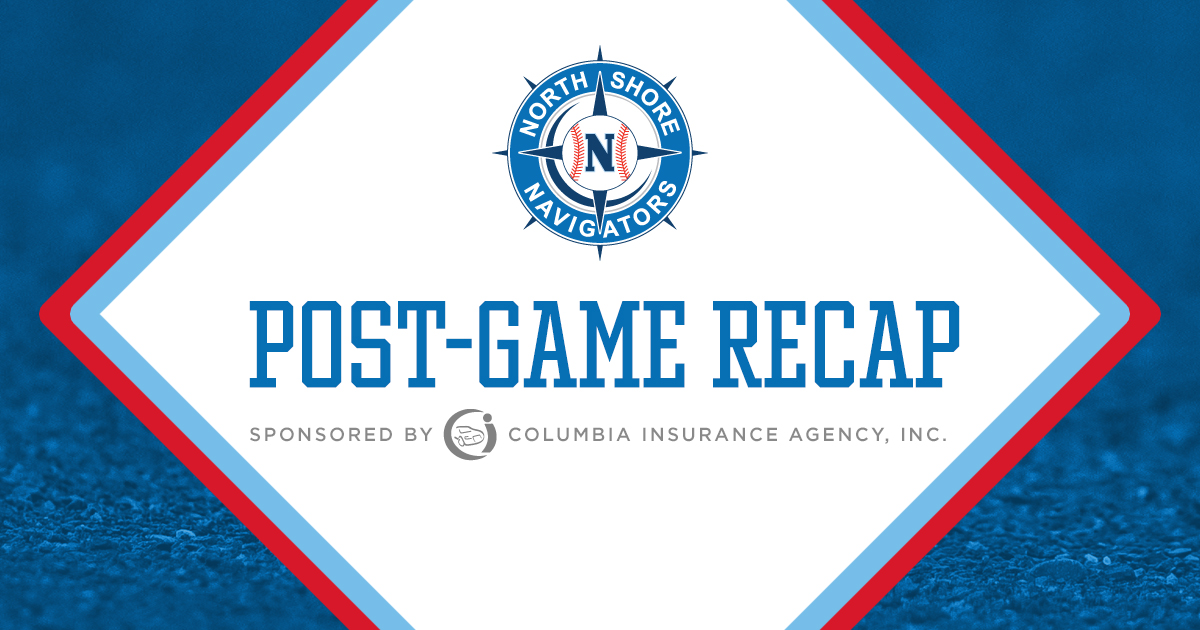 07/30/2019 8:12 PM
By Joshua Kummins
WESTFIELD, Mass. -- The North Shore Navigators scored multiple runs in each of the first four innings and never looked back on Tuesday night, collecting 17 hits in order to cruise to an 11-3 win over the Westfield Starfires at Bullens Field and return to the top of the Futures Collegiate Baseball League standings.
North Shore improved to 29-22 on the season after its third win in four games and took a half-game lead atop the FCBL following the win and Brockton's loss to Bristol. Westfield suffered its second straight loss, falling to 15-35.
While Cedric Gillette (Merrimack) pitched two-run ball over six innings to earn his first Navigator win, left fielder Sean Lawlor (Flagler) went 4-for-6 with two doubles, a run scored, and two RBI to lead the offense. Right fielder Kade Kretzschmar (Dartmouth) and catcher Nolan Watson (Dayton) had three hits apiece, with the latter driving in three runs and scoring two more.
The Navs scored double-digit runs for the ninth time in the victory, and their 315 for the season breaks the previous single-season franchise record (303) set back in 2016.
The first four Navs reached base against Westfield's Mason St. Pierre (American International) during a three-run, four-hit first inning that provided nearly all the offense they would need.
After designated hitter Dominic Freeberger (UNC Asheville) hit a leadoff double and Lawlorhit an infield single, center fielder Ben Malgeri (Holy Cross) drove home the game's first run on a fielder's choice. First baseman Colin Wetterau (St. John's) continued the inning with a two-out double inside the left-field line.
North Shore extended its lead to 5-0 when Lawlor ripped a one-out double off Westfield left fielder Pat Galvin's (Worcester State) glove. Shortstop John Rodriguez (San Jacinto) drew a leadoff walk before Watson reached on a fielder's choice and Freeberger singled for its second hit in as many at-bats.
Watson knocked his second homer of the year out to left-center in the third, bringing home Rodriguez after a two-out walk and a stolen base. An inning later, Malgeri hit a one-out double and crossed the plate on Kretzschmar's two-run homer to right in the following at-bat.
The Navs totaled 10 extra-base hits in the game, with the two homers being added to eight doubles. Both of third baseman Jose Aquino's (San Jacinto) hits were two-baggers.
North Shore's streak of scoring innings came to an end in the fifth before Westfield got on the board with a pair of sixth-inning runs. The Starfires strung together four straight two-out hits, with Galvin and second baseman Dolan Ocasal (UAlbany) driving in runs.
The teams traded single runs in the seventh. Rodriguez opened the inning with an infield single and took second on a wild pitch, while Watson's double to center allowed him to cross the plate. Westfield designated hitter Jeremiah Vargas (Stonehill) hit a leadoff single and scored after an error and a wild pitch during the bottom half of the frame.
After Harry Painter (UMass Lowell) struck out four batters over his two innings of one-hit relief, the Navs capped off the night's scoring in the ninth when Lawlor doubled and Malgeri reached on an error.
Right fielder Sean Murphy (Gettysburg), first baseman Andrew Ciacciarelli (American International), and Vargas all had two hits for Westfield, which was retired in order through the first seven batters of the game. In fact, Gillette retired the side on just three pitches in the opening frame.
On the pitching side, St. Pierre suffered his fifth loss as a Starfire after allowing nine runs on nine hits through the first four innings.
The Navs and Starfires conclude their two-game series at 6:30 p.m. Wednesday.