News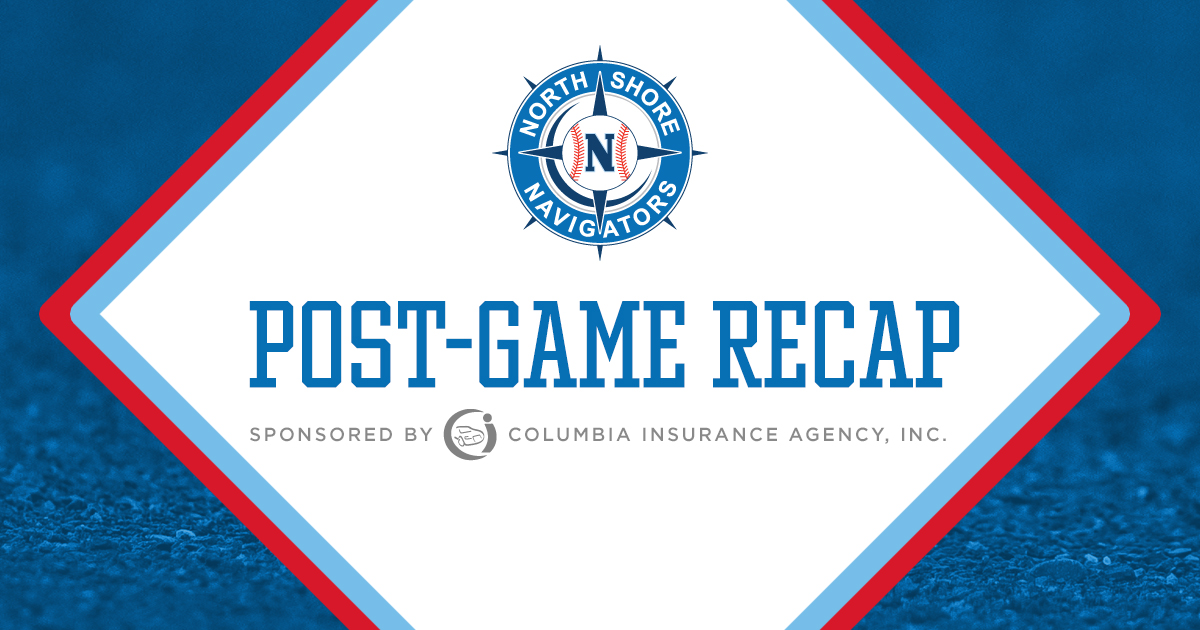 07/28/2019 7:45 PM
By Joshua Kummins
LYNN, Mass. -- Twelve hits from the offense and five scoreless innings of relief helped the North Shore Navigators post a 7-4 win over the Nashua Silver Knights in Sunday night's Futures Collegiate Baseball League game, the finale of a three-game homestand at Fraser Field.
North Shore improved to 28-21 on the season with its second straight win and sixth in the last ten games. Nashua fell to 23-26, remaining in control of the sixth and final playoff spot as the last week of the regular season begins.
Eight of North Shore's nine starters contributed to the double-digit hit total, with four straight in the middle of the lineup going 2-for-4. Center fielder Ben Malgeri (Holy Cross) and Sean Lawlor (Flagler) drove in two runs apiece, while right fielder Kade Kretzschmar (Dartmouth) scored twice and designated hitter Dominic Freeberger (UNC Asheville) added another run.
North Shore scored the game's first run during a second inning that began with Lawlor and Freeberger both lined the first pitch of their at-bats into left field for singles. After first baseman Colin Wetterau (St. John's) grounded a fielder's choice to second base, third baseman Logan Bravo (Harvard) scored Lawlor with a sacrifice fly to center.
The Silver Knights flipped the score in the third when left fielder Ben Irvine (Maryland) and catcher Dylan Jones (Franklin Pierce) hit one-out singles. However, the Navs tagged Nashua starter Patrick Harrington (Assumption) for four straight one-out hits, including back-to-back doubles from Malgeri and Lawlor.
North Shore took a two-run lead thanks to Lawlor's double before extending it an inning later. Bravo led off the frame with a double to left and scored on an error that followed shortstop John Rodriguez's (San Jacinto) base hit into the shortstop hole.
Three straight Nashua runners reached base to start the fifth, with right fielder Kyle Sandstrom (Charleston Southern) hitting an RBI single before Navs starter Jake Zoller (Wofford) exited the game. Hunter Wilichoski (Northern Essex CC) struck out the first two Silver Knights he faced out of the bullpen. A wild pitch scored Jones to bring Nashua within two runs, but Wilichoski completed a 2-4-1 putout to deny Sandstrom from crossing the plate as well.
Saugus native Todd Tringale (UMass) worked out of a bases-loaded jam in the sixth and finished 2.2 innings of scoreless relief with one strikeout. He was the second of four relievers to see action for the Navs.
North Shore again increased its lead in the bottom half of the inning as Freeberger hit a leadoff double and scored on catcher Nolan Watson's (Dayton) two-out infield single. After Nashua reliever Brady McGarry (St. Leo) got consecutive outs, Watson beat out the single to extend the inning.
Kretzschmar hit a one-out triple into the right-center gap in the seventh and scored on Malgeri's hit in the next at-bat.
Parker Browne (Suffolk) stranded two runners on base in the eighth as the Peabody native Irvine lined out to Rodriguez for a 6-3 double play. Marblehead's Beau Dana (Dickinson) made his first relief appearance since July 13, striking out one while working around a leadoff hit in the ninth.
Wilichoski improved to 4-0 after his 17th relief appearance of the season. Dana earned his 13th save, tying the franchise record that Middleton native Speros Varinos (Tufts) set in 2015.
Irvine led the Nashua offense with four hits, one run, and one RBI. Sandstrom and second baseman Luis Atiles (New England College) had multiple hits.
The Navs will spend their next four games away from Fraser Field before next Saturday's final home game of the regular season. The trip begins tomorrow night against the Worcester Bravehearts, with first pitch is set for 6:30 p.m. from Hanover Insurance Park at Fitton Field.