News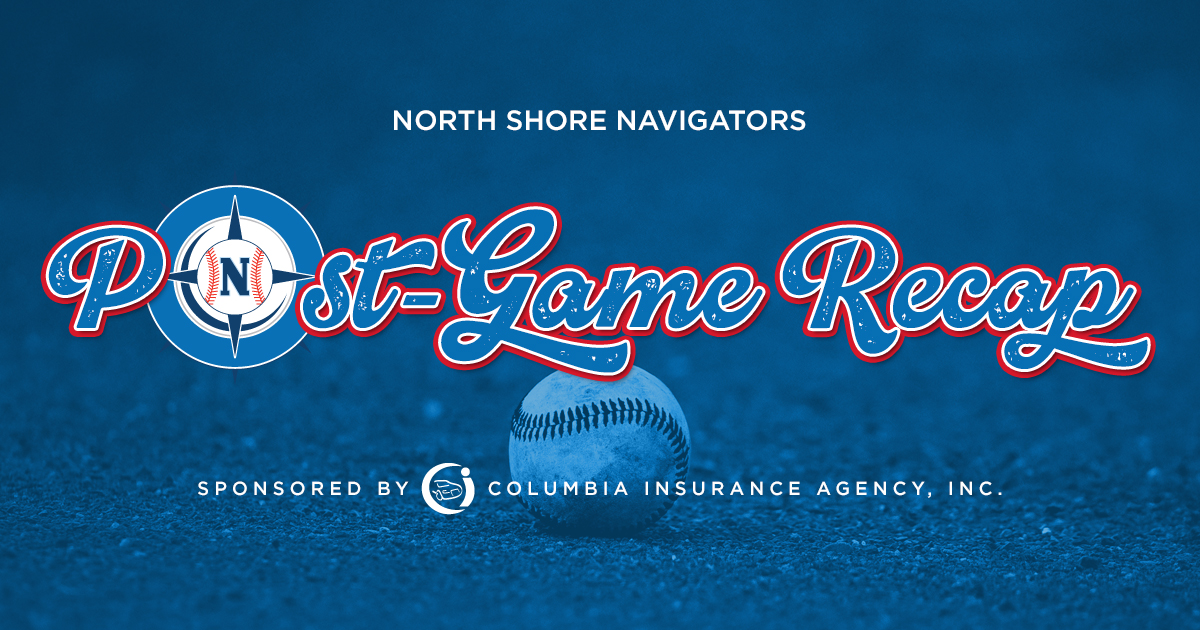 07/26/2019 8:04 PM
By Joshua Kummins
LYNN, Mass. -- The North Shore Navigators scored single runs in three separate innings and a trio of pitchers made them stand up en route to a 3-1 win over the Pittsfield Suns in Friday night's brisk two-hour, seven-minute Futures Collegiate Baseball League game at Fraser Field.
The Navs moved back to the top of the league standings with their second win in the last three games, improving to 27-21 on the season. Pittsfield, meanwhile, slipped to 25-20.
As a result of this past week's results, North Shore with the head-to-head season series tiebreakers over both the Suns and Brockton. The Navs won five of their nine games against both opponents and have a half-game lead on first place in the FCBL with a week's worth of regular-season games to play.
Center fielder Ben Malgeri (Holy Cross) was the main contributor to the Navs' offense, going 3-for-4 with two runs scored and his third home run. Right fielder Kade Kretzschmar (Dartmouth) and second baseman Dominic Freeberger (UNC Asheville) also recorded hits. Malgeri's second-inning solo shot was North Shore's 25th homer of the season, setting a new single-season franchise record.
On the mound, Cam Seguin (UMass Lowell) pitched six innings of three-hit, one-run ball with six strikeouts en route to his second win in as many appearances. The Austin Prep grad relieved Sebastian Keane (Northeastern) after two scoreless frames over which he struck out three.
Pittsfield starter Jared Henry (Southern Connecticut State) pitched a 1-2-3 first before Malgeri started up North Shore's offense with one swing of the bat, sending a ball over the left-center field fence. Kretzschmar and Freeberger followed with back-to-back singles preceding a stolen base, but Henry struck out a pair to help limit the damage.
Keane stranded Suns center fielder Jack Cooney (Springfield) on base after a leadoff walk in the first inning and then benefitted from catcher Colin Wetterau (St. John's) throwing out third baseman Jack Culumovic (Pensacola State) on the bases an inning later.
However, the visitors responded during Seguin's first inning of work to tie the score at 1-1. Shortstop Troy Strack (Lyon) drew a one-out walk and came around to score on second baseman Mark Coley's (Rhode Island) two-out knock to left.
Malgeri set the table for more Navs offense in the fourth, lining a leadoff single up the middle before stealing second. After Kretzschmar's foul fly allowed Malgeri to advance 90 more feet, Freeberger grounded a fielder's choice to short where Strack made a wild throw home. North Shore's second run put Michael Portela (Norfolk State) on the hook for the loss, despite allowing just the only hit and striking out three in three complete frames out of the Pittsfield bullpen.
Seguin worked around baserunners in five of his frames, including one on third base in the fourth when Jackson Peterson (Penn) was hit by a pitch, stole second, and advanced on a throwing error. He recorded at least one strikeout in four separate innings.
The home team's key insurance run came in the eighth. First baseman Sean Lawlor (Flagler) drew a two-out walk and scored all the way from first after Malgeri singled and advanced on left fielder Dom Hughes' (Kansas State) error.
Navs first-year manager Mike Odenwaelder turned the ball over to Lynn's own Angel Hernandez (Western Oklahoma State) in the ninth, and he converted his first save with a 1-2-3 frame on three consecutive ground balls. Hernandez became the third different North Shore pitcher to record a save in the last seven days.
The Navs take Saturday off before concluding their three-game homestand at Fraser Field with a 5 p.m. contest against the Nashua Silver Knights.