News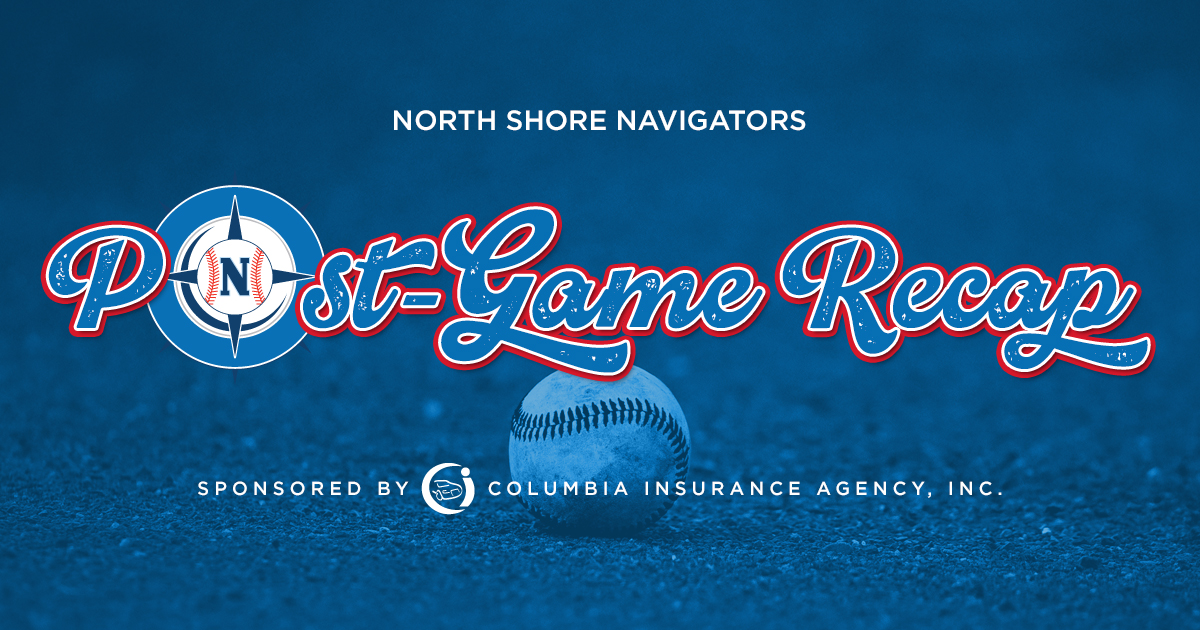 07/23/2019 8:24 PM
By Joshua Kummins
LYNN, Mass. -- The North Shore Navigators came back to tie Tuesday night's Futures Collegiate Baseball League game on three separate occasions, but the Westfield Starfires scored a single run in the ninth inning and made it stand up en route a 5-4 win at Fraser Field.
North Shore fell to 25-20 on the season and falls back into a virtual tie with Brockton atop the FCBL standings after its third straight loss. Westfield improved to 13-30, winning for just the fourth time in 23 road games.
Despite the loss, center fielder Ben Malgeri (Holy Cross) went 2-for-5 with a double, triple, and two runs scored. Three of the Navs' five hits in the game went for extra bases as third baseman Logan Bravo (Harvard) doubled and scored as part of a two-run fifth inning.
James Flood (Siena) had won five consecutive games as North Shore's starting pitcher, but the Starfires tagged him for a first-inning run. After center fielder Danny Crossen (Northeastern) drew a leadoff walk and advanced on a grounder, third baseman Thomas Joyce (Merrimack) sent a one-out single up the middle to plate the game's first run.
After North Shore was retired 1-2-3 against Mitch McQuate (Northeastern) in the first, it was able to tie the game an inning later. Malgeri led off the frame with a hustle double into left field and scored on right fielder Jose Aquino's (San Jacinto) sacrifice fly.
Westfield came right back and scored twice to take a 3-1 lead. Crossen drew his second walk to begin the frame and moved across the diamond on third baseman Devin Kellogg's (Hartford) double. Joyce put Westfield back in front with a double of his own, scoring both runners.
Both starters put up zeroes in the fourth before the Navs responded yet again, scoring two runs on two hits in the bottom of the fifth. Designated hitter Kade Kretzschmar (Dartmouth) hit a leadoff single before Aquino's fielder's choice erased him, but Bravo started the offense back up with a double past Kellogg's glove at third.
After catcher Louis Olivieri (Central Alabama CC) was hit by a pitch to load the bases, shortstop John Rodriguez (San Jacinto) and second baseman Keagan Calero (UMass Lowell) both drew walks to force runs home.
The teams traded single runs in the sixth, with Westfield doing so on shortstop Elijah Dale's (Kansas State) two-out single. Catcher Tommy Quinn (Stonehill) scored after being hit by a pitch. Malgeri manufactured North Shore's third run on his own as he laced a triple off the base of the wall in right and scored on a wild pitch.
Flood finished five innings at the start of the game for North Shore before Harry Painter (UMass Lowell) struck out three over 1.2 frames of two-hit, one-run ball. Hunter Wilichoski (Northern Essex CC) fanned four and allowed just one hit over two scoreless innings following Painter, but the Starfires scored the winning run against lefty Angel Hernandez (Western Oklahoma State) with two outs in the ninth.
Wilichoski fanned the first two batters of the final frame before Joyce walked and right fielder Sean Murphy (Gettysburg) reached on Bravo's two-base throwing error. Quinn and left fielder Christian Walsh (UMass) then drew back-to-back walks to force Joyce home with the go-ahead run.
Leif Bigelow (UConn) worked two scoreless innings in relief of McQuate en route to his first win of the summer for the Starfires before Justin Butz (Kansas State) retired the North Shore side in order in the ninth for his second save.
The Navs play their only road game of the week tomorrow against the Brockton Rox. First pitch is set for 6:35 p.m. at Campanelli Stadium.