News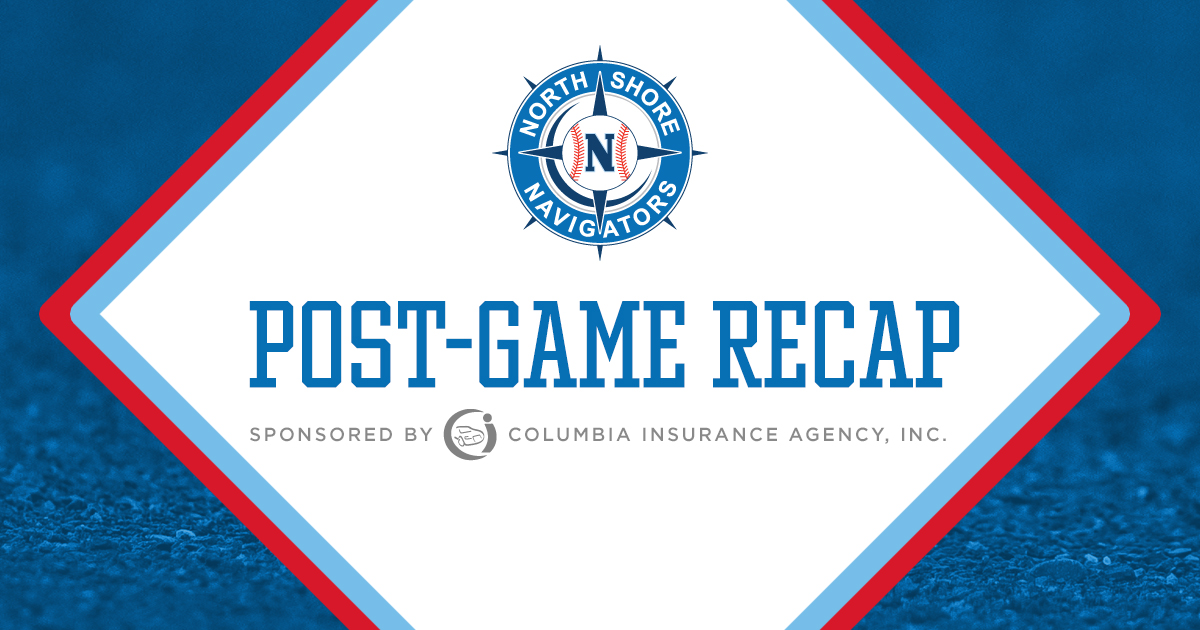 07/19/2019 10:37 PM
By Joshua Kummins
LYNN, Mass. -- The North Shore Navigators fought throughout Friday night's Futures Collegiate Baseball League doubleheader, but the visiting Brockton Rox rallied for four runs in the seventh inning of the nightcap and ultimately split the proceedings at Fraser Field with an 8-4 win.
Earlier in the day, North Shore scored at least once in five of its six innings at the bat and held off another Rox rally to post a 7-6 win. The twinbill featured the FCBL's top two teams, with the split keeping the Navs ahead by two games atop the standings with a 25-18 record. Brockton, meanwhile, moved to 22-19.
Despite North Shore's loss in the finale, Sean Lawlor's (Flagler) earned FCBL Player of the Night honors for the third time this summer. Lawlor hit for the cycle across the two games, finishing 5-for-7 with three runs scored and four RBI, including his team-leading sixth homer in the early game.
After taking a day off, the Navs return to action on the road for a Sunday contest against the Pittsfield Suns. First pitch from Wahconah Park is set for 5 p.m.
Game 1: North Shore 7, Brockton 6
Despite being held to six hits and committing four errors throughout the seven-inning game, the Navs finished held on for a narrow win with Jake Gigliotti (Northeastern) working around two hits to close the deal and record his second save of the season.
Lawlor hit a one-out homer to right field in the fifth to highlight his 2-for-3 game with two runs scored and three RBI. In the following frame, Dominic Freeberger (UNC Asheville) hit a leadoff single, stole second, advanced to third on a wild pitch, and scored the eventual winning run on Louis Olivieri's (Central Alabama CC) fielder's choice.
North Shore used two runs on three hits to jump on the scoreboard first in the first. After Andrew Olszak (Southern Maine) hit a one-out single up the middle, he took second on a wild pitch and scored on Lawlor's knock to center. Ben Malgeri (Holy Cross) followed with a single, but it was an error in center that allowed Lawlor to score and double the home team's lead.
The Rox cut into their deficit when Spencer Smith (Northeastern) singled to right with two outs in the second, but Navs starter Sebastian Keane (Northeastern) limited the damage to just a single run with his third strikeout in two innings.
The score changed in a big way an inning later as reliever Cam Seguin (UMass Lowell) was tagged for four runs on just two Brockton hits. BJ Murray (Florida Atlantic) provided the big blow with an RBI single, but two errors on the same play by North Shore's Kade Kretzschmar (Dartmouth) in center allowed Brockton's third baseman to score behind two teammates.
Colin Wetterau (St. John's) turned a leadoff walk into North Shore's third run in the bottom of the third. After Wetterau swiped second, Olszak and Lawlor sent back-to-back grounders to second base to advance him and eventually make the score 5-3.
North Shore won the game with four runs over the next three innings, including a pair in the fourth. Kretzschmar led off the multiple-run frame with a double to center and advanced when Freeberger reached base on an error. Olivieri then beat out a double play ball and set a successful double steal in motion, allowing Freeberger to score through the back door.
Lawlor's homer followed against Rox reliever Owen Langan (Northeastern) in the fifth before Freeberger's sixth-inning single became an eventual important insurance run when Olivieri's second fielder's choice in as many plate appearances and then an error. Freeberger stole second and advanced on a wild pitch to set up the play.
Navs reliever Harry Painter (UMass Lowell) walked five over his inning-plus in relief of Seguin, but Andrew Marra (Georgetown) was the lone runner to score on his ledger as he crossed the plate on Smith's single against Gigliotti. However, Quinn Krais (Wheaton) struck out to end the game with the potential tying run on second base.
After being named Most Outstanding Pitcher in Tuesday's FCBL All-Star Game, Seguin was credited with his first win of the summer in immediate relief of Keane. The Austin Prep grad fanned four and did not allow a run after the first of his three innings of work.
Marra and Smith each had two of Brockton's seven hits, while Langan relieved Liam LeVangie (Bryant) and was handed the loss after allowing two runs on two hits in 2.2 innings.
Game 2: Brockton 8, North Shore 4
The night game was another tight affair for most of the way as the score remained tied at 4-4 through five innings, but Brockton pulled out the win with a four-run seventh off Cedric Gillette (Merrimack) who relieved Navs starter Gavin Sullivan (Stetson) in the sixth.
Sullivan gave his North Shore side a chance to win, striking out a season-high seven batters through the first five frames. However, the visitors struck first to take a 1-0 lead when Mike Sabatine (Maine) led off with a single and scored after a stolen base, wild pitch, and Murray's RBI grounder to second.
The Swampscott native put up a zero in the following frame before Brockton broke the game open to 4-0 with three runs in the third. Sullivan issued two of his three free passes in the inning after striking out two batters, but JP Knight (Tufts) made him pay for the wildness with a three-run triple. Knight and Sabatine both finished 2-for-4 in the game, helping the Rox finish with nine hits as a team.
North Shore would not go down without a fight, though Scott Creedon (Northwest Oklahoma State) held it scoreless through the first two frames. The Navs scored their first run in the bottom of the third as Keagan Calero (UMass Lowell) led off with a bunt single to third, stole second, advanced on a wild pitch, and scored on Wetterau's sac fly to right.
Brockton's lead was cut in half quickly an inning later as Lawlor doubled and Freeberger singled in the next at-bat. First-year manager Mike Odenwaelder then set a double steal in motion, allowing Lawlor to come across with the home team's second run before an out was recorded in the frame.
After Sullivan struck out the side to conclude his night's work, it became a brand new game as the Navs chased Creedon from the game and added the tying run against reliever George Goldstein (Middlebury) in the fifth.
Nolan Watson (Dayton) and Calero laced back-to-back singles to start the offense before Wetterau singled to left to plate a run. Olszak lined into an 8-4 double play, but North Shore would not go away as Lawlor's triple into the Rox bullpen in right allowed Wetterau to score the tying run. Freeberger walked, but Kretzschmar flew out to end the rally.
Gillette worked around Knight's leadoff single in his first inning of work, but eight of Brockton's batters came to the plate in the seventh. After Eddy Hart (UMass) and Murray logged back-to-back doubles with one out, Marra delivered the biggest hit of the frame with a two-run single to center after Parker Browne (Suffolk) relieved Gillette.
Browne stranded a runner on base, but Goldstein worked around hits from Calero and Lawlor in the seventh to preserve Brockton's win. Those two Navigators each posted three hits in the nightcap, teaming up for six of North Shore's nine, while Wetterau had two of the three RBI.
Goldstein pitched zeroes after the fifth, finishing his three-inning outing with three strikeouts. Gillette fell to 0-3 with the loss for the Navs.