News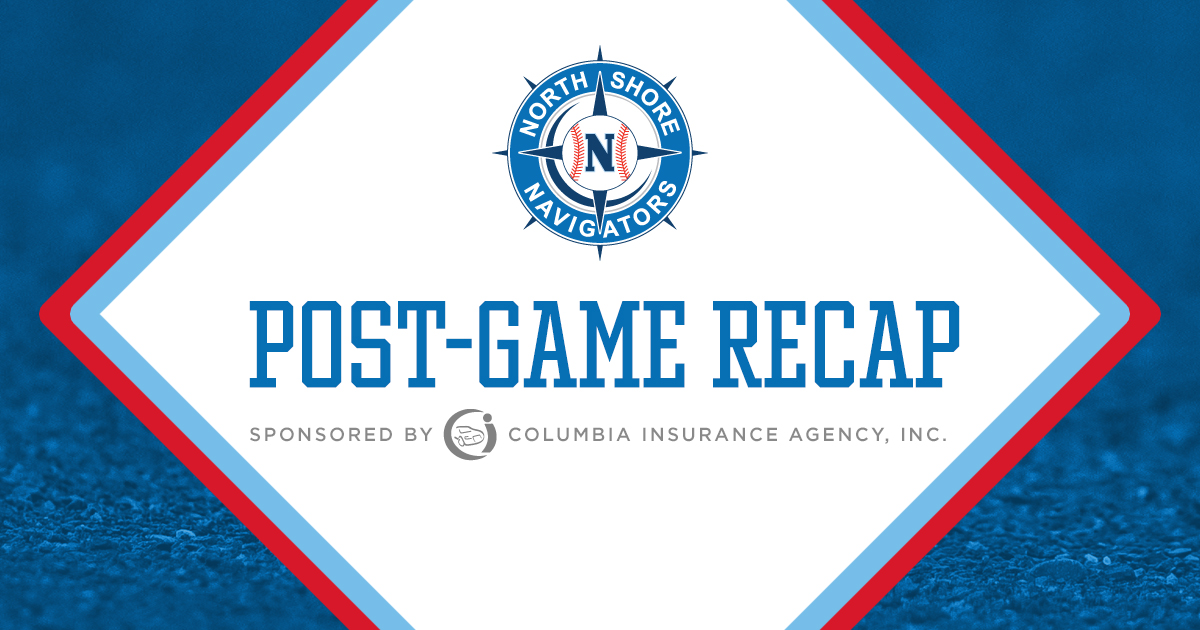 07/13/2019 9:30 PM
By Joshua Kummins
NASHUA, N.H. -- The North Shore Navigators made their final road game before the Futures Collegiate Baseball League's All-Star Break a memorable one, scoring all five of their runs by the sixth inning before holding off a late rally from the Nashua Silver Knights in Saturday night's 5-4 win at Historic Holman Stadium.
North Shore moved into a virtual first-place tie with Pittsfield in the FCBL standings after winning its third straight game. The Navs are now 22-17 on the season, while Nashua slipped to 18-20.
First baseman Dominic Freeberger (UNC Asheville) went 3-for-4 with two RBI to lead the Navigator offense, while right fielder Ben Malgeri (Holy Cross) and shortstop John Rodriguez (San Jacinto) each had two hits. On the mound, James Flood (Siena) improved to 5-1 after limiting Nashua to just a single run on four hits over five innings.
The Navs scored a pair of two-out runs against Nashua starter Nolan Collins (Bates) to take a first-inning lead. Left fielder Sean Lawlor (Flagler) started the offense with a walk before Malgeri lined a single into left-center. Freeberger then drove home North Shore's first two runs with a knock down the line in right.
Flood stranded runners on base in two of his first three innings before the Silver Knights halved their deficit in the fourth. Third baseman Phoenix Hernandez singled and scored on Southern New Hampshire teammate Mike La Rocca's two-out RBI single.
North Shore crossed the plate twice on two more hits in its next at-bats. After Keagan Calero (UMass Lowell) hit a leadoff single, the second baseman tagged up on center fielder Nolan Watson's (Dayton) foul pop and advanced another base when Nashua failed to cover third. Rodriguez dropped a double into the outfield to score Calero before he took off on contact and slid home safely on catcher Colin Wetterau's (St. John's) grounder to second.
Lawlor drew a leadoff walk in the sixth and scored as designated hitter Logan Bravo (Harvard) laced a single into left. Shaun Cormier (New England College) induced a fly ball and a strikeout to keep North Shore's lead at 5-1 and allow his offense to begin to mount a comeback.
Arlo Marynczak (Siena) was the first to throw in relief of Flood and had to work out of trouble during his second inning of the night. After the Nashua side was retired 1-2-3 in the sixth, right fielder Kyle Sandstrom (Charleston Southern) scored designated hitter Billy Butler (Rhode Island) with a two-out single an inning later.
Nashua trimmed the deficit to just one run in the eighth inning, which began with center fielder Jared Dupere (Northeastern) hitting a double. Marynczak got the next two outs, including one of his four strikeouts through 2.2 innings, but second baseman Luis Atiles (New England College) made the score 5-4 with a two-out, two-run home run to right-center field.
Closer Beau Dana (Dickinson) was called upon to get the final out of the eighth and then worked around three consecutive singles to begin the ninth. With 12 saves, the Marblehead native is now one shy of tying the franchise's single-season record.
Wetterau caught Nashua left fielder Dylan Jones (Franklin Pierce) stealing after he reached on the first of those hits, but Dana struck out Dupere and got La Rocca to foul out to third baseman Andrew Olszak (Southern Maine) to end the game.
Despite the loss, shortstop Noah Lucier (Stonehill), Hernandez, and Sandstrom all had two hits apiece. Collins allowed five runs on seven hits over the first 5.1 innings for Nashua before the bullpen duo of Cormier and lefty Kyle Skidmore (Hofstra) combined to pitch scoreless, two-hit ball the rest of the way.
Before the FCBL breaks for Tuesday's All-Star Game in Pittsfield, Mass., the Navs are set to host Bristol at Fraser Field for the second time in three days. Sunday's first pitch is set for 5 p.m.