News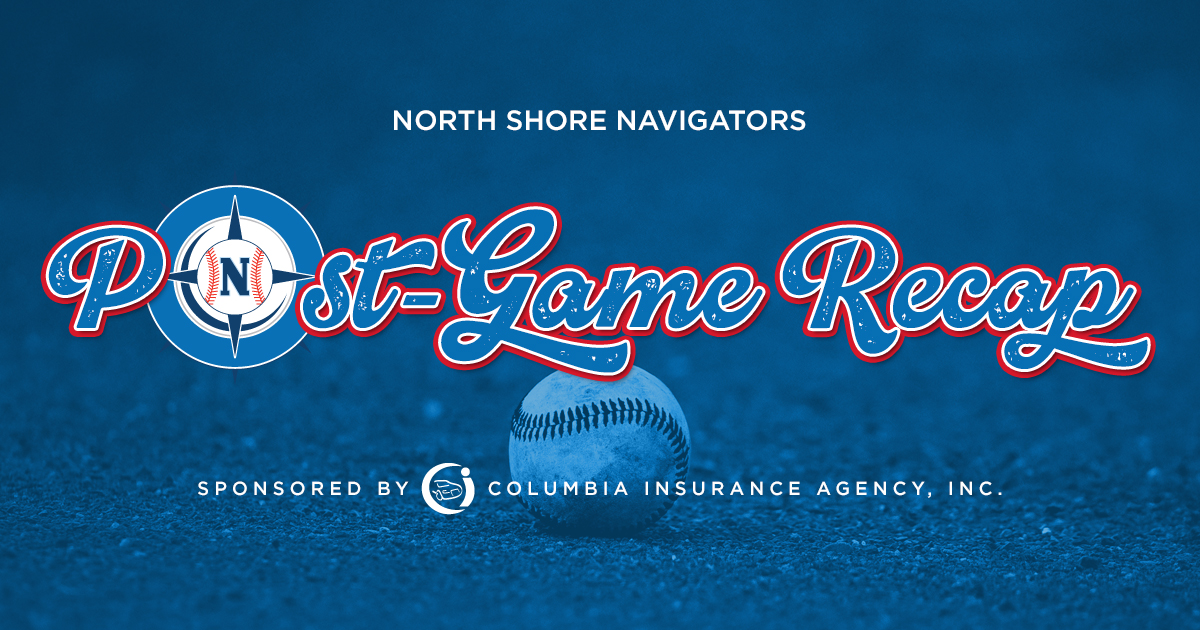 07/12/2019 8:11 PM
By Joshua Kummins
LYNN, Mass. -- Two crooked numbers propelled the North Shore Navigators on Friday night at Fraser Field as they scored three runs in the first inning and five more in the third en route to an 8-3 win over the Bristol Blues in Futures Collegiate Baseball League action. The game was called after 5.5 innings due to rain.
North Shore used its second straight win to improve to 21-17 on the season, while Bristol fell to 18-17. The Navs now sit one game behind first-place Pittsfield in the FCBL standings after entering Friday with Bristol just a half-game behind in third.
Left fielder Ben Malgeri (Holy Cross) and designated hitter Dominic Freeberger (UNC Asheville) both went 2-for-3 to lead the Navigators, who totaled 11 hits in just five innings at the bat. Freeberger drove home runs in his first two plate appearances and scored another run, while Malgeri and third baseman Andrew Olszak (Southern Maine) each crossed the plate twice.
Sebastian Keane (Northeastern) made his second start in as many weeks for the Navigators, ending each of his scoreless and hitless innings with strikeouts. The reigning Gatorade Player of the Year from North Andover walked one and used just 24 pitches to complete his night's work.
The Navs immediately followed up Keane's strong start with three runs on three hits against Bristol's in the bottom half of the frame, which began with right fielder Kade Kretzschmar (Dartmouth) hitting a single to center. It was Kretzschmar's 11th hit in a span of 18 at-bats.
Kretzschmar was erased on Olszak's fielder's choice before first baseman Sean Lawlor (Flagler) singled and Malgeri reached on a two-base error that brought the game's first run through the back door. North Shore extended its lead to 3-0 when Freeberger dropped a single into shallow right and Malgeri also crossed home on a relay throw on the same play.
Bristol second baseman Danny Roth's (Roger Williams) two-run home run to left made it a 3-2 game in the third, but reliever Jake Zoller (Wofford) bounced back to strike out two of the next three hitters and keep the Navs ahead. The southpaw allowed just two hits and struck out six over his four-inning relief outing.
The Navs sent all nine batters to the plate in their next at-bats, scoring five runs on four hits to put the game out of reach. Olszak led off with a double to right-center and scored on Malgeri's single up the middle before Freeberger followed with a line single to right. A two-base throwing error allowed center fielder Nolan Watson (Dayton) reach base and two runs to score. Catcher Louis Olivieri (Central Alabama CC) rounded out the inning's offense with a base hit of his own.
Center fielder Austin White (Rhode Island) led off Bristol's sixth inning with a double and scored on a throwing error as Zoller attempted to throw him out on the basepaths. Zoller retired the next three batters he faced and, as a result, was credited with his second win of the season.
James Judenis (Hartford) fell to 1-2 after throwing all five innings for Bristol. He allowed eight runs on 11 hits, though just five of the runs were earned. The North Shore duo of Keane and Zoller, meanwhile, limited the Blues' offense to just two knocks, including Roth's home run.
The Navs visit Historic Holman Stadium in Nashua, N.H., to face the Silver Knights at 6:05 p.m. Saturday. The following day, Bristol is set to return to Fraser for a 5 p.m. rematch that will mark the team's final game before the FCBL All-Star Game, which is slated for Tuesday in Pittsfield.