News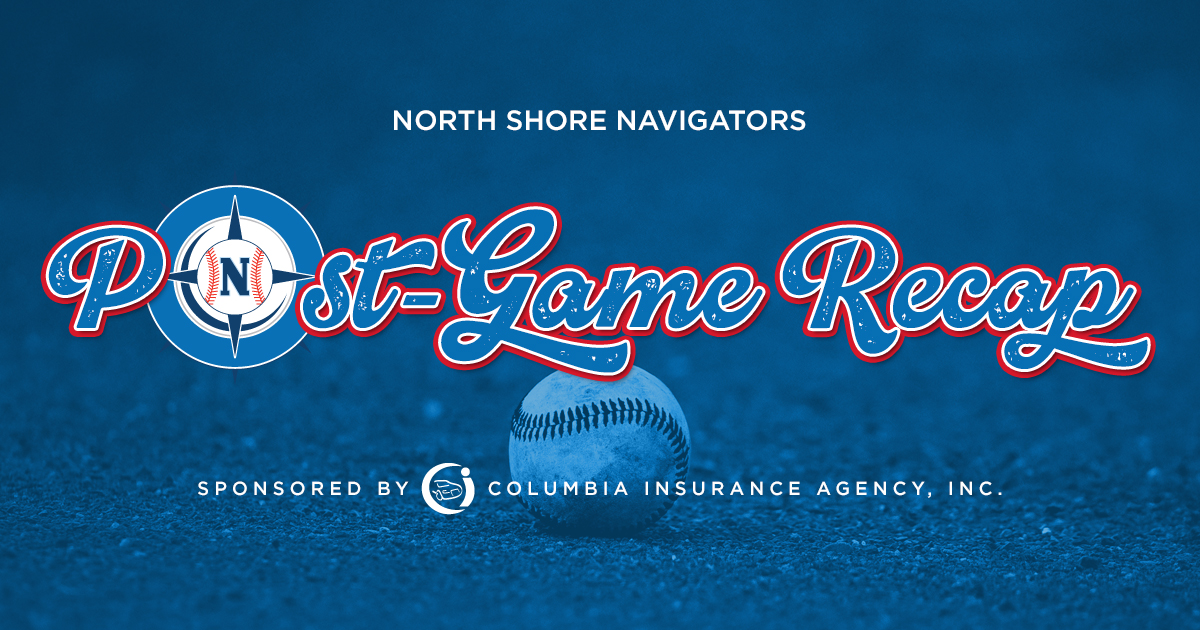 07/09/2019 8:35 PM
By Joshua Kummins
NASHUA, N.H. -- The Nashua Silver Knights scored all five runs they needed in the seventh inning and shut down the North Shore Navigators over the final four frames en route to a 7-3 win in Tuesday night's Futures Collegiate Baseball League game at Historic Holman Stadium.
North Shore's two-game win streak came to an end as it fell to 19-16 on the summer, while Nashua broke a three-game skid and improved to 16-18.
Designated hitter Kade Kretzschmar (Dartmouth) went 2-for-4 with a double, a run scored, and two RBI to lead the Navs offense, while four other North Shore players also found the hit column. On the mound, lefty Cam Seguin (UMass Lowell) threw six innings of one-run ball.
The Navs came out swinging against Nashua starter Evan Christopulos (Bentley) in the first inning, using two runs on three hits to light the scoreboard first for the eighth consecutive game.
Left fielder Colin Wetterau (St. John's) led off the game with a single through the shortstop hole and crossed the plate all the way from first on Kretzschmar's one-out double into the left-center gap. Shortstop Logan Bravo (Harvard) doubled the North Shore lead with a two-base knock to left two batters later.
The visitors were limited to just one hit over the next three innings, but the two runs proved to be plenty of offense for Seguin to work with during his third start of the summer. The Austin Prep grad struck out five Silver Knights and allowed just a single run on six hits over his six-plus frames.
Wetterau came home with North Shore's third run of the night after reaching on a one-out error and stealing second in the fifth. Kretzschmar added his third RBI in the last two games with a two-out line single to left.
After Seguin worked six frames for the second straight time out, the Navs bullpen was unable to hold the lead as the first five Nashua batters reached base and scored in the seventh.
Right fielder Kyle Sandstrom's (Charleston Southern) leadoff single ended the North Shore starter's night, but reliever Cedric Gillette (Merrimack) walked shortstop Noah Lucier (Stonehill) and allowed designated hitter Dylan Jones (Franklin Pierce) to bring Nashua's first run home on a single to right. After an intentional walk loaded the bases, center fielder Jared Dupere (Northeastern) singled to tie the game.
Peabody native pinch hitter Ben Irvine's (Maryland) sac fly to right brought in the go-ahead run, but Matt Poff (Saint Joseph's of Maine) escaped any further damage when Wetterau and catcher Louis Olivieri (Central Alabama CC) teamed up for a 7-2 double play to end the frame.
Nashua added insurance to its late-game lead an inning later when Dupere ripped a two-run double to the wall in right. The rising Northeastern sophomore from Amesbury had four RBI and was one of four repeat hitters for the Silver Knights. Griffin Young (Wheaton) earned the victory after he fanned three Navs and allowed just one hit and one walk over 2.1 innings.
The Navs complete their midweek road trip with a Wednesday visit contest against the Pittsfield Suns. First pitch from Wahconah Park is set for 6:30 p.m.