News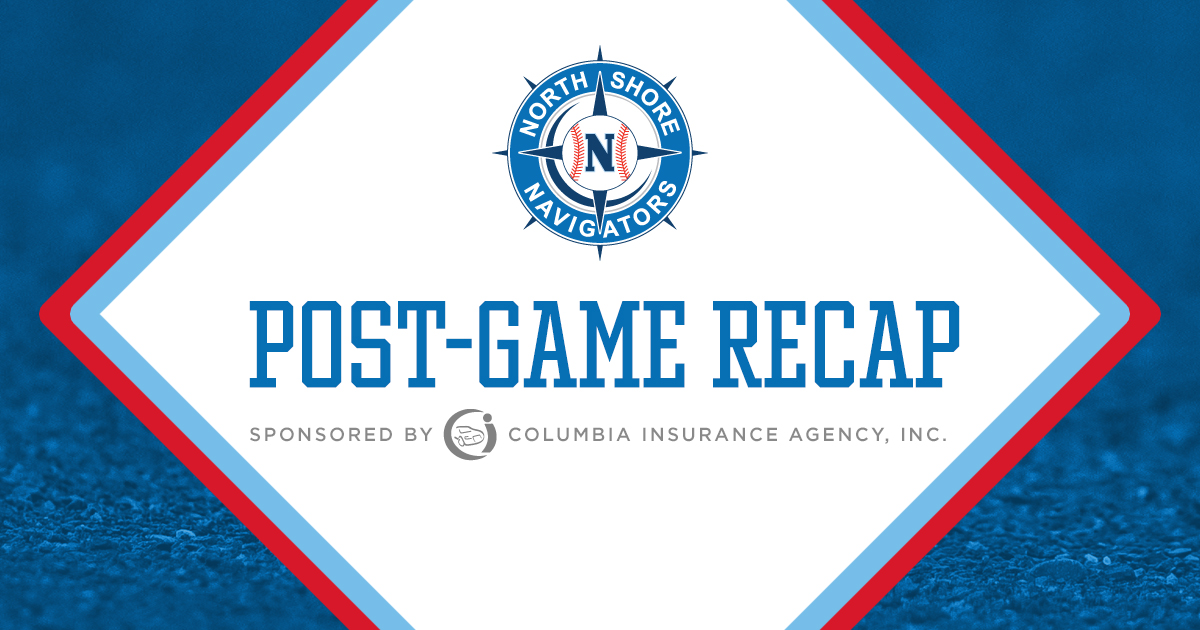 07/07/2019 7:59 PM
By Joshua Kummins
BRISTOL, Conn. -- Seven different players recorded hits and three drove in multiple runs as the North Shore Navigators scored in five of their nine at-bats and held off the Bristol Blues in a 13-10 win in Sunday night's Futures Collegiate Baseball League game at Muzzy Field.
North Shore improved to 18-15 after their fifth win in the last eight games, while Bristol lost its second straight and fell to 16-14. The Navs moved into a second-place tie with Brockton as a result of the win, but the two teams are just one game behind first-place Pittsfield.
Designated hitter Tyler MacGregor (Columbia) returned to the Navs lineup for the first time since June 26 and went 2-for-4 with two runs scored and five RBI, one shy of tying a single-game franchise record for the third time in the last two summers. In addition, left fielder Sean Lawlor (Flagler) scored three runs during a 2-for-5 night with a double and second baseman Keagan Calero (UMass Lowell) recorded three RBI from the No. 8 hole in the batting order.
The Navs clicked the scoreboard first for the third straight game, tagging Bristol lefty Matt Shane (Central Connecticut State) for two runs on just one hit in the first inning. Third baseman Andrew Olszak (Southern Maine) walked and first baseman Colin Wetterau (St. John's) was hit by a pitch to begin the game, and both came around to score after center fielder Ben Malgeri (Holy Cross) doubled to the wall in left and MacGregor hit a grounder to second.
Bristol responded quickly against Navs debutant Todd Tringale (UMass) in the bottom of the frame as right fielder Brandon Miller (St. John's) ripped a two-run home run that scored designated hitter Christian Beal (Bates) after a one-out error and stolen base.
Both starting pitchers put up zeroes in the second before the Navs broke the game open an inning later, sending eight batters to the plate to score five runs on three hits. A recent Saugus High graduate, Tringale allowed three hits and three earned runs during his three-inning debut.
MacGregor was the last of four Navs to reach base to start the third as he sent a run-scoring single into shallow right. The Peabody native then crossed the plate on Calero's two-run single through the right side three batters later.
The Blues trimmed their deficit to 7-4 in the bottom half of the frame as Beal and third baseman Buddy Dewaine (Central Connecticut State) sandwiched run-scoring doubles around two of Tringale's four strikeouts. An inning later, center fielder Austin White (Rhode Island) made it just a two-run game as he hit a two-out base knock off reliever Matt Poff (Saint Joseph's of Maine).
North Shore got back on the scoreboard in the sixth as Calero drew a one-out walk and scored on Wetterau's two-out single to right. MacGregor punctuated the following three-run frame with a two-run double, but Bristol got one run back when Miller singled home White after the latter Blue walk, stole second, and advanced to third on a wild pitch.
The Navs' last scoring of the night came in the eighth as seven batters stepped to the plate. Malgeri highlighted the frame with a one-out double to left before MacGregor's second run-scoring grounder of the game brought home Lawlor after a single.
Bristol made things interesting with runs in its final three at-bats, including three against Matt Bergeron (Saint Joseph's of Maine) in the ninth. Catcher Will Reiner (Villanova) and White both had RBI hits in the final frame, forcing first-year Navs manager Mike Odenwaelder to call closer Beau Dana (Dickinson) out of the bullpen.
Dana earned his league-leading 10th save of the season after Beal flew out to right fielder Kade Kretzschmar (Dartmouth) to end the game. The Marblehead native was the last of five Navs relievers to appear in the game, but Tringale earned the win in his first summer appearance. Poff and Manchester Essex grad Harry Painter (UMass Lowell) were also making their North Shore debuts.
White and Miller each had three RBI to lead the Blues, who totaled 13 hits as a team. Shane was tagged with his first loss as he allowed seven runs (just three earned) on five hits over four innings. The Blues starter recorded five of the team's 11 pitching strikeouts.
With their week-long road trip now complete, the Navs return to Fraser Field for a Monday night contest against Brockton. The Rox will be making their first visit to Lynn this season, with first pitch set for 7 p.m.