News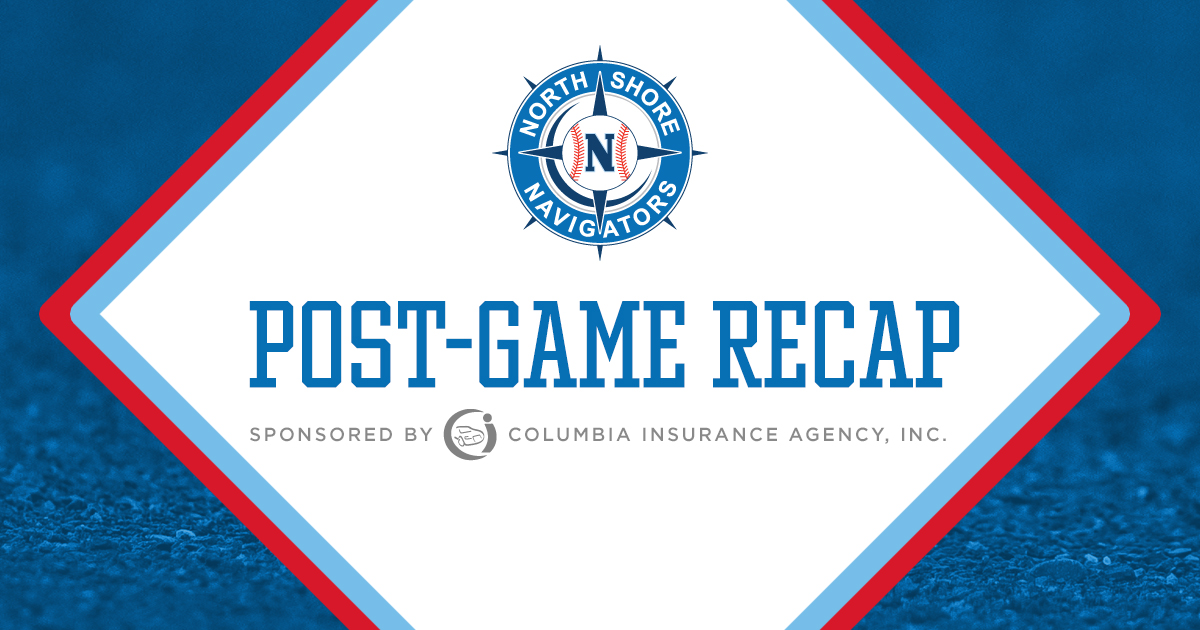 07/03/2019 8:23 PM
By Joshua Kummins
BRISTOL, Conn. -- The Bristol Blues led just once in Wednesday night's Futures Collegiate Baseball League game at Muzzy Field, but the only lead they needed capped off the four-run, four-hit eighth inning that propelled them to a 5-4 win over the visiting North Shore Navigators.
North Shore slipped to 15-14 on the season and now trails first-place Pittsfield by two games in the FCBL standings. Bristol jumped one game ahead of the Navs with their 15-12 record.
Catcher Colin Wetterau (St. John's) went 2-for-4 with two runs scored, becoming the eighth different Navigator to hit a home run this season. Left fielder Ben Malgeri (Holy Cross) and right fielder Kade Kretzschmar (Dartmouth) also had hits and scored runs for North Shore, which was out-hit by a 12-4 margin.
Bristol's late-inning rally spoiled future UMass Lowell left-hander Cam Seguin's excellent six-inning start, his longest of five appearances this summer. The Woburn native struck out six Bristol batters and allowed just one run on seven hits.
The North Shore offense wasted little time getting to Ryan Lauk (Wagner) during his fourth consecutive start against the same opponent, going deep for a pair of home runs as part of a three-hit first inning to take a 3-0 lead.
Wetterau gave the visitors an early advantage after he launched the second pitch of the game over the right-field wall. Lauk bounced back to record two outs before Malgeri beat out an infield single to extend the inning. Kretzschmar added to the Navs' lead on one swing of the bat as he sent a 1-2 offering out to right for his second homer in three days.
The Navs tacked on a single run two innings later when Wetterau hit a leadoff double to the left-center wall, stole third, and scored on first baseman Sean Lawlor's (Flagler) sac fly to left.
Lauk settled in from there and struck out seven North Shore batters over seven innings, not allowing a hit after the visitors took a 4-0 lead. Four 1-2-3 frames aided the Bristol righty in completing seven frames for the second straight outing.
Seguin faced just one batter over the minimum through four frames before the Blues scored their first run of the game in the fifth. The southpaw struck out two in the inning, but right fielder Christian Beal's (Bates) single was the third hit and brought Bristol within three runs.
The score remained 4-1 until Bristol left fielder Parker Upton (Creighton) singled, designated hitter Brandon Miller (St. John's) walked and crossed the plate on Navs reliever Matt Bergeron's (Saint Joseph's of Maine) wild pitch, and first baseman Dylan Reynolds (Fairfield) hit a run-scoring single to begin the eighth.
Third baseman Buddy Dewaine (Central Connecticut) was then intentionally walked to load the bases and force the Navs to call Parker Browne (Suffolk) out of the bullpen. Browne allowed the inherited runners to score as catcher Jordan Laske (Rhode Island) and shortstop Zeke Diamond (Emory) produced the tying and go-ahead runs with singles.
Christian Seelhorst (Seton Hill) hit Navs center fielder Nolan Watson (Dayton) with a pitch to begin his relief stint in the eighth for Bristol, but Wetterau hit into a 4-6-3 double play to set up his team's opportunity to take the lead. As a result of coming in immediately before the Blues jumped ahead in the bottom of the inning, the reliever was credited with his first win.
Blues closer Will Nowak (Hartford) issued a two-out walk to shortstop Logan Bravo (Harvard) in the ninth before striking out designated hitter Colin Macko (UNC Asheville) to finish the game and his seventh save. Bergeron suffered his third loss for the Navs as he allowed three runs on four hits and two walks in an inning-plus.
Upton went 3-for-5 and scored a run to lead Bristol's offense, while Reynolds, Dewaine, and Diamond were also repeat hitters for the Blues. Dewaine also scored a pair of runs.
The Navs continue their week-long road trip Thursday night against the Pittsfield Suns. First pitch at Wahconah Park is set for 6:30 p.m.