News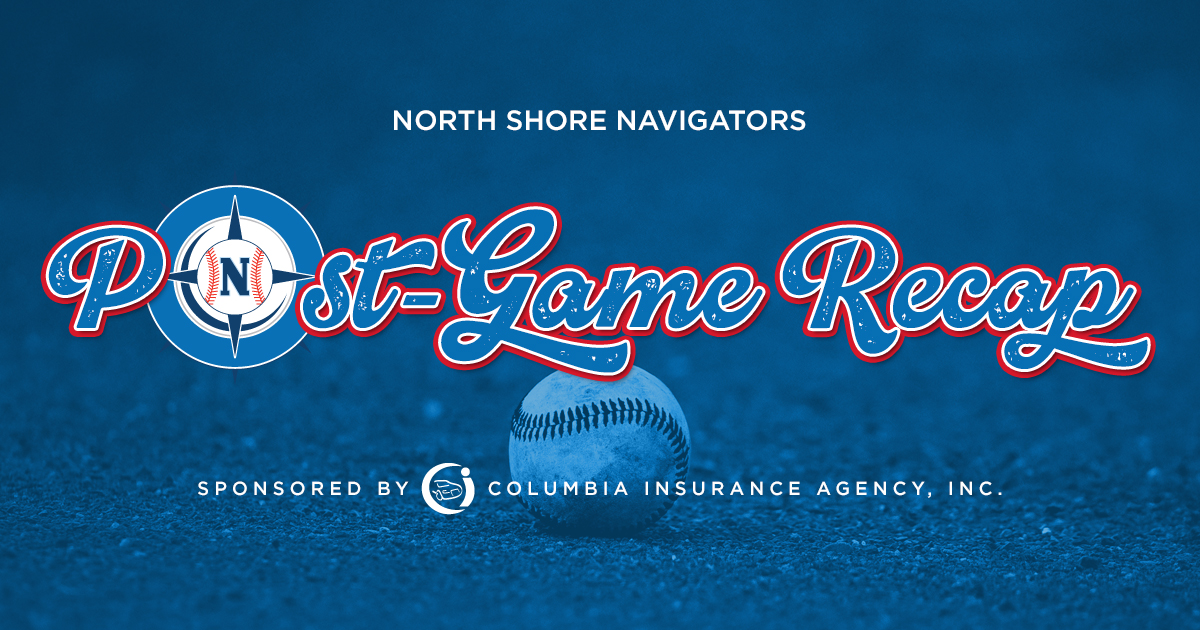 07/02/2019 8:06 PM
By Joshua Kummins
WESTFIELD, Mass. -- The North Shore Navigators jumped on the scoreboard with four first-inning runs and never looked back on Tuesday night as eight different players recorded the team's 13 hits en route to an 11-4 win over the Westfield Starfires in Futures Collegiate Baseball League action at Billy Bullens Field.
North Shore improved to 15-13 with its second win in three games and third in as many contests against Westfield this summer. The host Starfires dropped to 8-20 after losing their second straight.
Shortstop Logan Bravo (Harvard) was one of five repeat hitters for the Navs, going 2-for-3 with a double, his team-leading fourth home run of the summer, and three RBI. Center fielder Sean Lawlor (Flagler) was also 2-for-3, scoring three runs and driving in two more.
The Navs started the game with seven consecutive baserunners and provided starter James Flood (Siena) with nearly all the offense he would need, tagging Westfield's Aidan Dunn (Eastern Connecticut State) for four runs on two hits in the first inning.
After first baseman Colin Wetterau (St. John's) and second baseman Andrew Olszak (Southern Maine) drew back-to-back walks, Lawlor and left fielder Ben Malgeri (Holy Cross) reached on consecutive fielder's choices. The latter of those also included an error that allowed Wetterau to score and give the visitors an early lead.
Third baseman Ryan Hernandez (Houston) singled up the middle to load the bases in his first Navs at-bat before right fielder Kade Kretzschmar (Dartmouth) added another fielder's choice and Bravo ripped a two-run single to left to punctuate the inning.
Flood and Dunn matched zeroes over the second and third frames, but Bravo's rocket over the scoreboard in left field highlighted a three-run fourth. The Westfield lefty struck out the next two batters before North Shore started up its offense again with two outs as Wetterau walked, Olszak hit a ground-rule double, and Lawlor drove them both home with a single to left.
Westfield got on the scoreboard with first baseman Andrew Ciacciarelli's (American International) sacrifice fly to center in the fifth, but Flood finished his six-inning start and eventual third straight win allowing just one unearned run on seven hits with five strikeouts.
North Shore scored four times over the final three innings, with Hernandez's single and an error bringing home runs in the seventh. The Starfires loaded the bases to start the bottom half of the frame against Navs reliever Bobby Cliche (Maine), scoring on a wild pitch, an error, and designated hitter Sean Murphy's (Gettysburg) sac fly.
Cedric Gillette (Merrimack) stranded two Westfield runners on base in the three-run frame and finished with three strikeouts in 2.2 innings of two-hit, scoreless ball. While Gillette worked to close the game, North Shore scored single runs on two hits in both the eighth and ninth.
Catcher Louis Olivieri (Central Alabama CC) provided the first of those RBI with fielder's choice after Bravo walked and designated hitter Colin Macko (UNC Asheville) singled. An inning later, Lawlor walked and Malgeri had a base hit before Kretzschmar lined a sac fly to round out the scoring.
Left fielder Devin Kellogg (Hartford) led the Starfires, going 2-for-4 with a run scored. Center fielder Danny Crossen (Northeastern) scored two of their four runs. On the mound, Lief Bigelow (UConn) and Jackson Harrigan (Bryant) fanned five Navs batters over the final four innings.
The Navs continue their five-game road trip on Wednesday night against the Bristol Blues. First pitch from Muzzy Field is set for 7 p.m.