News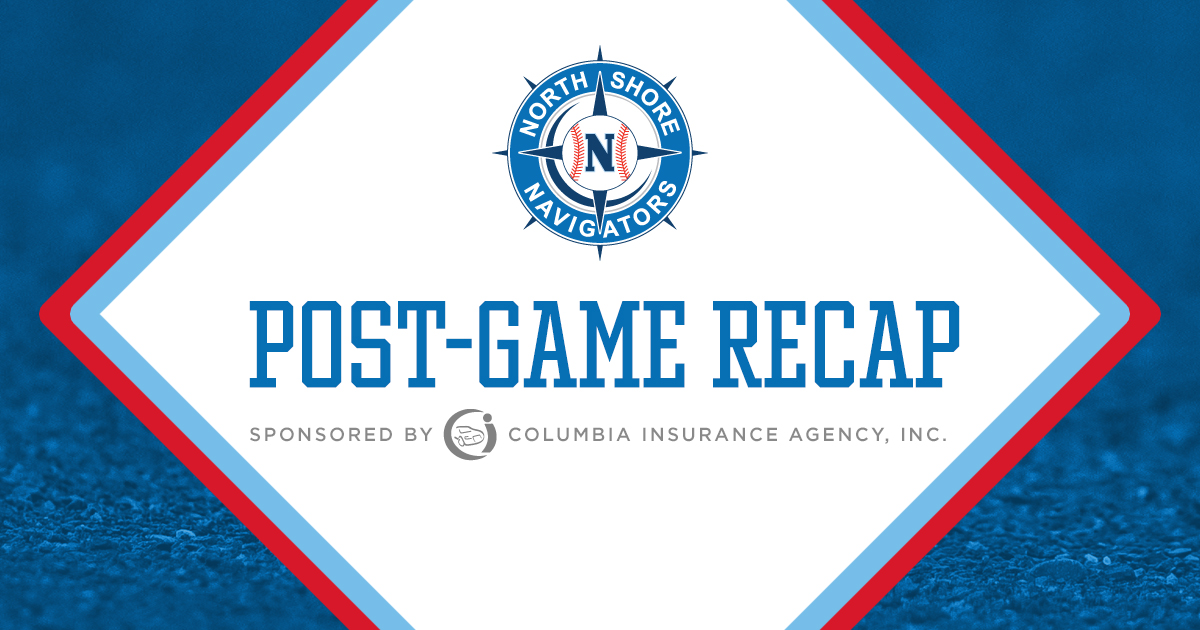 06/30/2019 7:02 PM
By Joshua Kummins
LYNN, Mass. -- Late-inning runs doomed the North Shore Navigators for the second straight night on Sunday at Fraser Field as the Bristol Blues scored three times in the seventh to claim a 5-3 win and jump into sole possession of third place in the Futures Collegiate Baseball League standings as the midway point of the season nears.
The Navs fell to 13-12 with their second straight loss and now sit in a fourth-place tie with Worcester. Visiting Bristol improved to 13-11 after the Bravehearts snapped its seven-game win streak on Saturday night.
Catcher Louis Olivieri (Central Alabama CC) reached base three times during a 2-for-3 night with an RBI, helping to lead North Shore's eight-hit attack. Third baseman Andrew Olszak (Southern Maine) and left fielder Sean Lawlor (Flagler) were both 2-for-5, with the Danvers native scoring a run and driving in another.
North Shore drew first blood with a pair of runs against Blues starter James Judenis (Hartford) in the first inning. Designated hitter Colin Wetterau (St. John's) worked a nine-pitch at-bat before lining a triple deep into the right-field corner and then scored on Olszak's base hit to center. Left fielder Sean Lawlor (Flagler) singled and then second baseman Dominic Freeberger (UNC Asheville) grounded a run-scoring fielder's choice back to Judenis on the mound.
As the home team's starter for the fifth time this summer, Gavin Sullivan (Stetson) worked five innings and allowed just two unearned runs during his final frame. The Swampscott native induced a pair of fly balls, but a fielding error led to back-to-back hits from right fielder JT Mounce (Oklahoma State) and center fielder Austin White (Rhode Island) extended the inning and brought home the tying runs for Bristol.
The Navs got a run back and took the lead an inning later as right fielder Kade Kretzschmar (Dartmouth) drew a one-out walk, advanced on a wild pitch, and crossed the plate when Olivieri dropped a hit into shallow center.
Jake Gigliotti (Northeastern) worked around a two-out baserunner in the sixth, but Bristol's biggest offensive push of the day came in the seventh and ultimately won the game. The Navs reliever got the second out of the inning with the bases loaded before designated hitter Brandon Miller (St. John's) flipped the score in favor of the visitors with a three-run double to right.
Dominic Niman (Central Connecticut) relieved Judenis after the Swampscott native Olivieri's single and walked Wetterau to load the bases, but Olszak struck out to end the inning. After Judenis allowed three runs on seven hits and struck out five through 5.2 innings, Niman got the next four outs and was credited with his fifth win of the year for the Blues.
Kretzschmar led off the eighth with a base hit before Blues reliever Christian Seelhorst (Seton Hill) issued walks to Keagan Calero (UMass Lowell) and Olivieri. However, the Navs stranded two on base and remained two runs behind after closer Will Nowak (Hartford) struck out Wetterau and Kretzschmar was tagged out in a rundown while trying to score on a wild pitch.
Nowak mowed down North Shore in order in the ninth, striking out Freeberger to end the game. Freeberger was credited with two fielder's choices in the game, but his 23-game on-base streak to begin the season officially came to an end.
White went 2-for-3 with a run scored and an RBI from the top of Bristol's order, while Miller had three RBI and shortstop Zeke Diamond (Emory) had a pair of singles, walked, and scored twice.
The Navs complete their three-day homestand with a Monday doubleheader against the Worcester Bravehearts. First pitch at Fraser Field is now set for 11 a.m.