News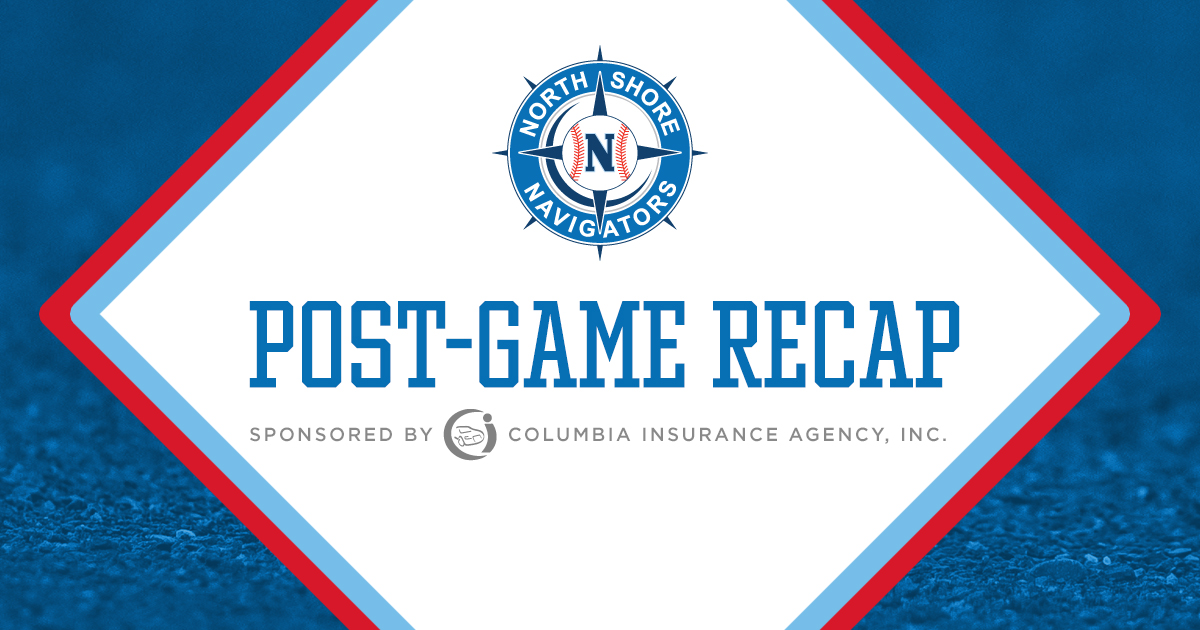 06/26/2019 8:59 PM
By Joshua Kummins
LYNN, Mass. -- The Bristol Blues earned their sixth consecutive Futures Collegiate Baseball League win Wednesday night, scoring in seven of their nine innings at the plate before holding off a late North Shore Navigators rally during a 16-10 win at Fraser Field.
North Shore fell to 12-9 on the season after its second straight loss and third in four games, while Bristol continued its recent tear and jumped above the .500 mark at 11-10.
Four batters recorded multiple hits for the Navs, who scored seven runs in the eighth inning after falling into a 14-3 hole. Left fielder Andrew Olszak (Southern Maine) went 3-for-4 with a run scored and two RBI, while catcher Colin Wetterau (St. John's) was 2-for-4, scored twice, and drove in a run. Right fielder Sean Lawlor (Flagler) had a pair of hits and scored once, and center fielder Nolan Watson (Dayton) had three RBI and two runs scored while going 2-for-4.
Bristol tagged Navs starter Jake Zoller (Wofford) for two runs in each of the first two innings. The left-handed Zoller was handed his second straight loss against the Blues after he allowed three earned runs on six hits and three walks.
Left fielder Parker Upton (Creighton) and designated hitter Brandon Miller (St. John's) posted back-to-back singles with one out before a failed pickoff and catcher Jordan Laske's (Rhode Island) two-out knock opened the scoring. Second baseman Danny Roth (Roger Williams) began the second with a triple and scored on Watson's error.
The Navs were able to score their first run in between Bristol's pair of two-run innings. First baseman Dominic Freeberger (UNC Asheville) lifted a sacrifice fly to center after Wetterau and Olszak laced hits against Blues starter Ryan Lauk (Wagner) to open the game.
Reliever Arlo Marynczak (Siena) posted North Shore's first zero in the third before Bristol blew the game wide open with two runs in the fourth and five more an inning later. Four of the visitors' runs in the latter of those frames came on two hits as center fielder Austin White (Rhode Island) hit his second triple of the game and Upton homered to right.
North Shore scored a pair of runs in the fifth when Olszak laced a triple to the wall in right. Watson started that inning's offense with a two-out single before Wetterau drew a walk. However, the Blues got one run back during their next trip to the plate as shortstop Zeke Diamond (Emory) opened the frame with the team's second homer of the game and season.
Bristol put the game out of reach with two runs in the seventh and ninth, but the hosts put up their most furious rally of the season in a seven-run eighth. Eleven batters came to the plate as the Navs closed within four runs.
Ben DeLaubell (Army) relieved Lauk to begin the frame and allowed five straight baserunners before recording an out. Third baseman Logan Bravo (Harvard) concluded that stretch with an RBI single after Olszak's infield single, a following knock from Lawlor, a walk, and an error.
After a strikeout and a hit batter, Watson cleared the bases with a triple over Bristol center fielder JT Mounce's head. Wetterau then added an RBI single to center to lift the Navs to the 10-run mark. Spencer Fox (Southern Connecticut State) finished the game for the visitors, allowing a hit over 1.2 scoreless innings.
Diamond finished 5-for-6 with four runs scored and one RBI to lead Bristol's 18-hit attack. Every member of the starting lineup recorded at least one hit while the Blues benefited from six Navs errors.
The Navs will look to bounce back during a Thursday doubleheader against the Worcester Bravehearts. First pitch from Hanover Insurance Park is set for 5 p.m.