News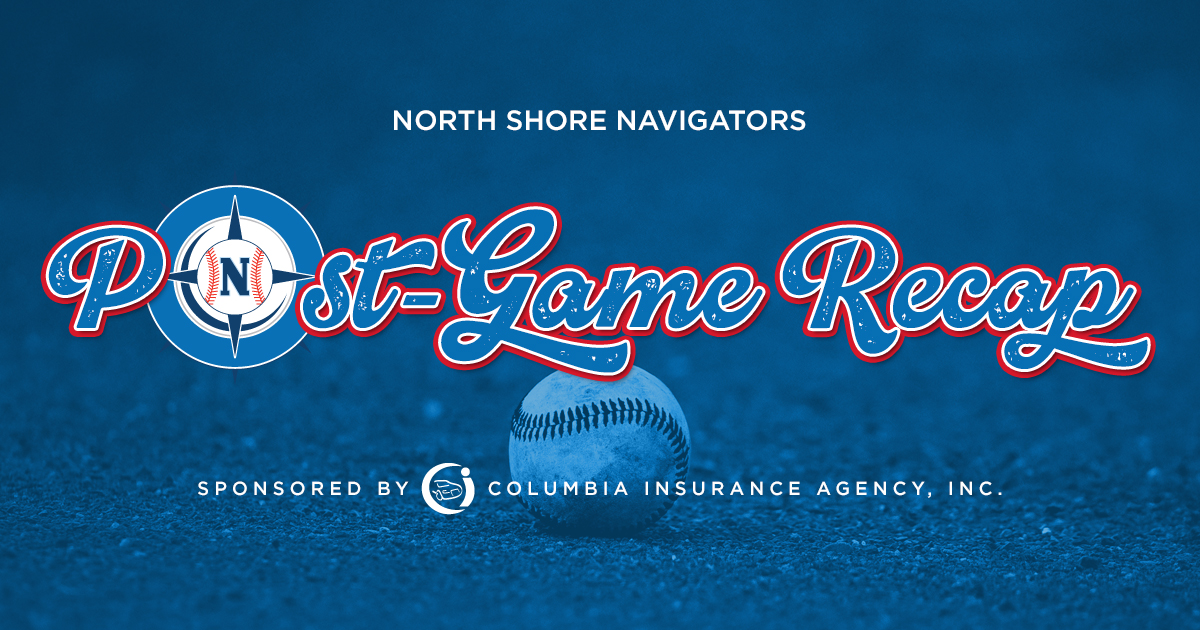 06/23/2019 6:07 PM
By Joshua Kummins
WORCESTER, Mass. -- The Worcester Bravehearts scored eight times over the first four innings and held off a late rally from the visiting North Shore Navigators to earn a 10-6 win in Sunday afternoon's Futures Collegiate Baseball League game at Hanover Insurance Park at Fitton Field.
North Shore slipped to 12-7 after its third loss in five games. Worcester posted a double-digit run total for the first time this summer and improved to 8-10.
Center fielder Nolan Watson (Dayton) and catcher Louis Olivieri (Central Alabama CC) each went 2-for-4 to lead the visitors' nine-hit attack. Watson scored twice, while Olivieri had two RBI and crossed the plate once himself.
Navs starter Gavin Sullivan (Stetson) worked around two baserunners in the first before the Bravehearts tagged the Swampscott native for two runs an inning later. Third baseman Ben McNeill (NYIT) helped produce the first run in quick fashion as shortstop Tyler Becker (Adelphi) followed his single with an RBI triple to right. Catcher Riley Livingston (Holy Cross) then singled up the middle to double the Worcester lead.
The Bravehearts extended their lead to 4-0 with another two-run, three-hit output. First baseman Mack Cheli (Chapman) began a stretch of three consecutive one-out knocks, the last of which was a double from McNeill. Becker completed the inning's scoring with an RBI groundout.
Worcester's best offensive stretch of the day came in the fourth when all nine batters stepped to the plate. After the first three Bravehearts reached on two singles and a hit batter, Cheli and designated hitter Paul Coumoulos (St. Leo) brought home runs on back-to-back base hits.
Blake Bennett (UMass Lowell) was then called upon to make his third relief appearance of the week and allowed a bases-loaded walk to McNeill and Becker's sac fly, helping Worcester stretch its lead to 8-0. An eight-run lead was plenty for Braveheart starter Eric Chavarria, as the Cypress College product limited the Navs to a hit and a walk and struck out six over six innings.
Both teams were scoreless in the fifth and sixth innings, but the Navs posted their first three-run frame of the game as eight came to the plate in the seventh. Second baseman Dominic Freeberger (UNC Asheville) and first baseman Tyler MacGregor (Columbia) reached on consecutive errors to start the inning, which continued with shortstop Logan Bravo (Harvard) grounding into a fielder's choice.
North Shore re-started the offense with one-out hits from Watson and Olivieri before left fielder Colin Wetterau's (St. John's) lined a two-run, two-out single to center. The Bravehearts hit the 10-run mark on left fielder PJ Barry's (St. Leo) two-run double to left in the bottom of the frame.
The Navs capped off the scoring with a three-run ninth, causing Bryce Hellgeth (Dayton) to be summoned from the bullpen for a one-out save. After Keagan Calero (UMass Lowell) singled as a late-game replacement for Bravo and Watson doubled to right, Olivieri dropped a single into center that plated two runs.
Third baseman Andrew Olszak (Southern Maine) hit a two-out knock up the middle to bring the Navs within grand slam range. After right fielder Sean Lawlor (Flagler) walked, Hellgeth came in to relieve Ethan Teixeira (American International) and ended the game with a strikeout of Freeberger.
Sullivan suffered the loss after allowing eight runs on 11 hits in 3.1 innings as the starter. Bennett pitched scoreless ball over the next 1.2, while Jake Gigliotti (Northeastern) was a bright spot with a one-hit final frame of relief.
McNeill went 3-for-3 with a run scored and two RBI to pace the Bravehearts, and Becker drove in three. Eight of Worcester's nine starters recorded at least one hit and scored at least one run.
The Navs have Monday off for the second consecutive week before returning to Fraser Field for a two-game homestand that begins at 6:30 p.m. Tuesday against the Brockton Rox.