News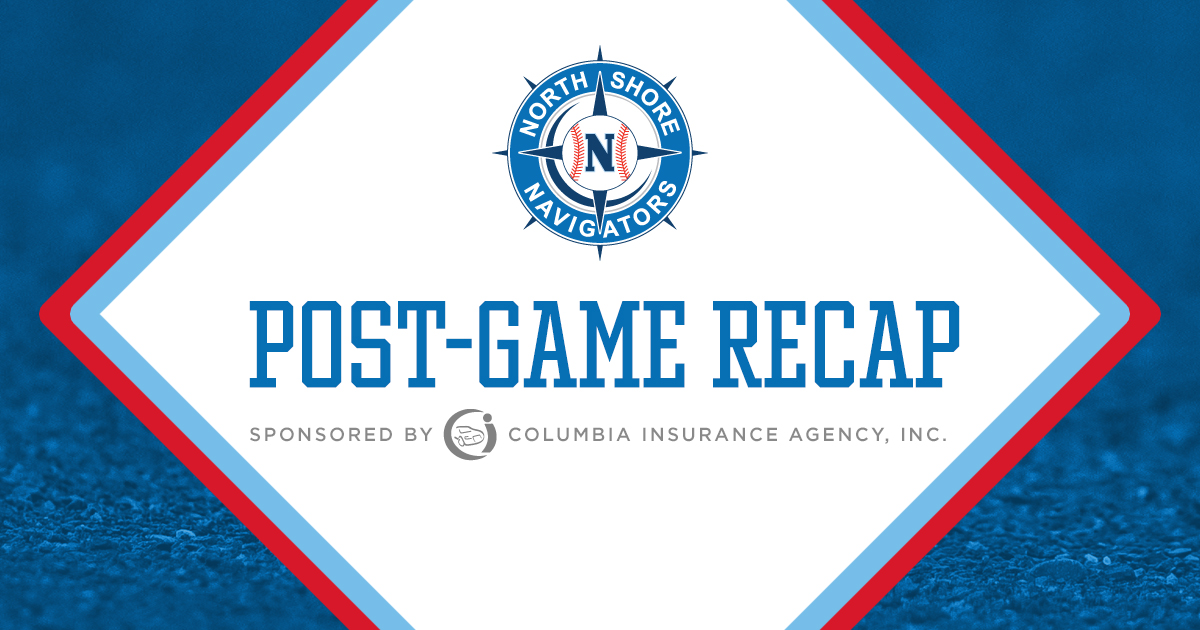 06/18/2019 8:26 PM
By Joshua Kummins
LYNN, Mass. -- The North Shore Navigators' offense banged out 10 hits while three relief pitchers combined for 12 strikeouts over the final five innings en route to Tuesday night's 7-3 win over the Pittsfield Suns in Futures Collegiate Baseball League action at Fraser Field.
North Shore improved to 10-4 and extended its first-place lead over both the Suns and Brockton to 1.5 games. Pittsfield fell to 9-6 on the season as a result of losing for the second consecutive night.
Second baseman Andrew Olszak (Southern Maine) went 2-for-4 with two extra-base hits, two RBI, and a run scored to help lead the Navigator lineup. Third baseman Logan Bravo (Harvard) smacked his team-leading third home run of the summer in the fifth inning as part of his own 2-for-4, two-RBI effort.
In addition, UMass Lowell's future was on display on both sides of the ball as three future River Hawks made their Navigator debuts. Shortstop Keagan Calero also tripled to highlight a two-hit night, while relief pitchers Cam Seguin and Blake Bennett struck out a combined eight batters over the final three frames. Seguin struck out the side twice following starter Gavin Sullivan (Stetson) and fellow reliever Arlo Marynczak (Siena).
Pittsfield scored a first-inning run against Sullivan as center fielder Dom Hughes (Kansas State) drew a leadoff walk and stole second base before crossing the plate on catcher Jackson Petersen's (Penn) first of two sacrifice flies in consecutive at-bats.
The Navs broke the game open for good in the bottom of the second, scoring five runs on six hits while sending all nine batters to the plate. First baseman Tyler MacGregor (Columbia) and Bravo started the offensive rally with back-to-back singles as the first two of five consecutive batters to reach.
After designated hitter Colin Wetterau (St. John's) reached on a fielder's choice back to the mound, right fielder Colin Macko (UNC Asheville) and Calero got the Navs on the board with consecutive base hits of their own. North Shore re-started the offense with two outs when catcher Nolan Watson (Dayton) singled to right and Olszak tripled to the wall in center to extend North Shore's lead to four runs.
Hughes and Petersen also combined for Pittsfield's last two runs. Peterson hit another sac fly in the third before scoring the future Wildcat with a one-out double two innings later. Marynczak escaped a jam in the latter frame, striking out back-to-back batters with runners in scoring position to keep North Shore's lead at two.
The Navs immediately responded with a pair of runs in a bottom half of the fifth inning that began with Olszak doubling to ensure his fourth multi-hit game of the season. After Pittsfield starter Jake Kodros (Broward) induced back-to-back fly balls, Bravo added some insurance to the North Shore lead with a two-out, two-run shot to left-center.
As it turned out, the lead was plenty safe for North Shore's bullpen trio. Sullivan tossed four innings of two-hit, one-earned run ball and struck out four to improve to 2-1, while Marynczak matched the Swampscott native starter's strikeout total over his two frames of one-hit work.
Seguin worked around two hits and a walk over the seventh and eighth frames, but the Woburn native and former Austin Prep lefty recorded three of his six strikeouts in looking fashion to finish his Navs debut in style. Bennett added a pair of K's during a one-hit ninth, preserving North Shore's seventh home win in eight tries on Fraser's 79th birthday.
Pittsfield's Austin Genao (Broward), Brodie Altiere (Nichols), and Joshua Jezouit (Framingham State) pitched scoreless, one-hit ball after the starter Kodros was pulled partway through the fifth, but the Navs were able to make it an even 10 hits on the night when center fielder Kade Kretzschmar (Dartmouth) lined a two-out single to his counterpart in the eighth.
Petersen carried the visiting offense, going 3-for-3 with a double, and three RBI. Hughes scored all three runs. Kodros slipped to 2-1 after allowing seven runs on nine hits in 4.2 innings.
Before the Navs return to Fraser Field later this week, they are slated to play their next two games away from Lynn. The first of those comes at 7 p.m. Wednesday against the Bristol Blues from Muzzy Field.