News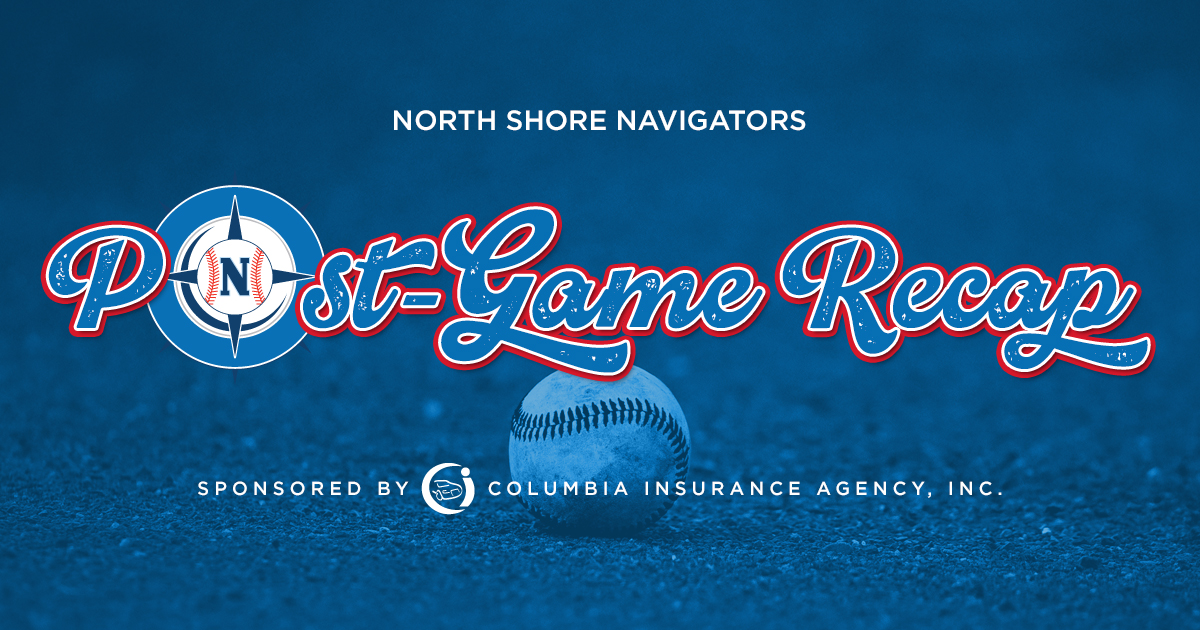 06/15/2019 8:04 PM
By Joshua Kummins
BROCKTON, Mass. -- The North Shore Navigators saw their four-game winning streak come to an end Saturday night as the Brockton Rox scored four runs in the eighth inning and held on for a 5-4 win in Futures Collegiate Baseball League action at Campanelli Stadium.
Following the night's action, the two teams joined Pittsfield in a three-way tie for first place in the league standings. The Navs slipped to 9-4, while Brockton extended its league-leading win total and improved to 10-5.
Left fielder Colin Wetterau (St. John's) went 2-for-4 with all four of North Shore's RBI, including a bases-clearing double as part of a three-run rally in the ninth inning. Shortstop Logan Bravo (Harvard) had a 2-for-3 day with two runs scored, also helping the Navs establish a 6-5 advantage in the hits column.
North Shore starter James Flood (Siena) and Brockton counterpart Tyler Bell (Babson) traded zeroes over each of the first two innings before the Rox manufactured the game's first run in the bottom of the third.
Flood struck out seven batters for the second straight outing, with the fourth of those coming against Rox shortstop Spenser Smith (Northeastern) to start Brockton's first run-scoring frame. Center fielder Casey O'Laughlin (Northwestern) was then hit by a pitch, stole second and third, and crossed the plate on a wild pitch.
O'Laughlin's run was the only one scored by either team through the first seven innings, thanks in large part to Bell's work during his second start since joining Brockton from the Division 3 College World Series. He faced the minimum through 12 batters before Navs first baseman Dominic Freeberger (UNC Asheville) ripped a leadoff double in the fourth, but a double play erased the opportunity for a tying run.
Flood surrendered just the aforementioned run on two hits and three walks during his five-inning start for the Navs. Reliever Cedric Gillette (Merrimack) threw scoreless ball over the following two frames, striking out a pair of Brockton hitters.
The Navs managed the tying run during a two-hit eighth. Bravo led off the frame with a single past diving Brockton third baseman Mitch Donofrio (Eckerd), and right fielder Kade Kretzschmar (Dartmouth) followed with a walk. Wetterau squared the score two batters later as he lined a base hit to center against Rox debutant Liam LeVangie (Bryant).
Brockton reliever William Gallagher (Babson) stranded a pair of Navs on base while recording the final two outs of the eighth, and his offense responded quickly in the bottom half.
Gillette allowed a two-out single to first baseman Gabe Giosso (St. Mary's, Calif.) and designated hitter Anthony Calarco (Northwestern) walked before Hunter Wilichoski (Northern Essex CC) was called upon in relief. Left fielder JP Knight (Tufts) was then hit by a pitch and came around to score on second baseman Eddy Hart's (UMass) laced a two-strike pitch to center for a bases-clearing triple.
North Shore would not go quietly, however, as Owen Langan (Northeastern) issued three straight walks to help the visitors start a quick rally. The reliever followed with back-to-back strikeouts, but Wetterau doubled to the wall in left to clear third baseman Tyler MacGregor (Columbia), Freeberger, and Bravo from the bases and bring the Navs within a run.
St. John's Prep grad Jake Sanderson (UConn) followed Langan out of the Brockton bullpen and earned a one-out save for getting designated hitter Louis Olivieri (Central Alabama CC) to fly out to center. Gallagher snagged his second win in three appearances as he recorded the immediate two outs before Brockton took the game's final lead.
Hart had two of Brockton's five hits and all three of the team's RBI. It was his triple that forced Gillette into his first loss of the summer.
The Navs are scheduled to return to Fraser Field for a 3 p.m. doubleheader against the Worcester Bravehearts on Father's Day.