News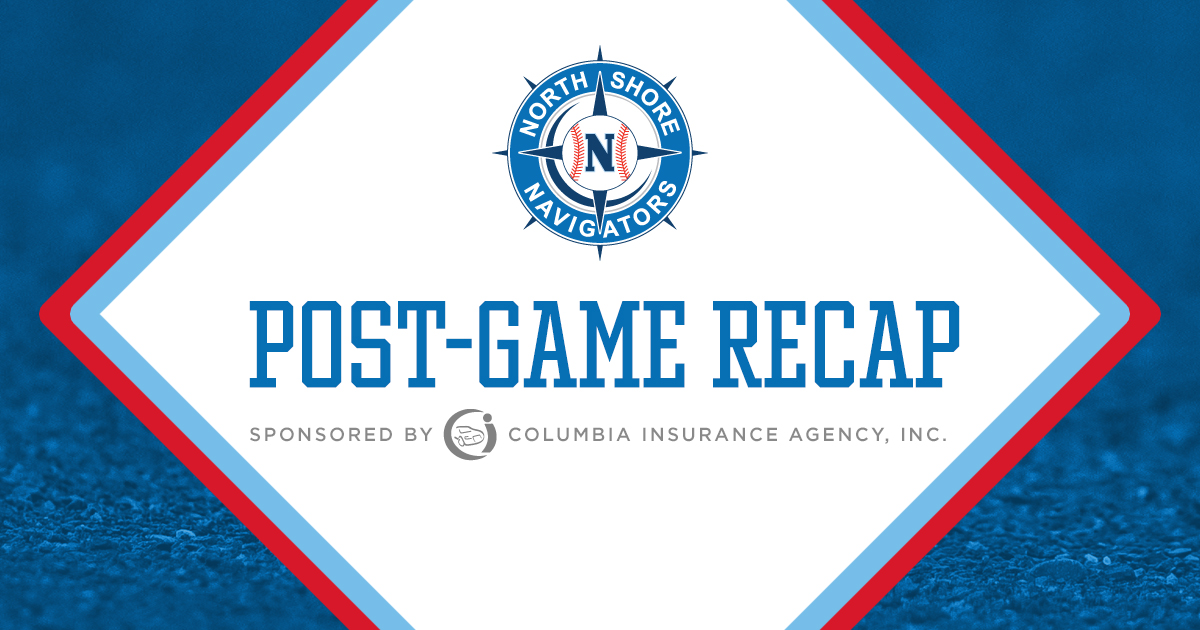 06/11/2019 8:43 PM
By Joshua Kummins
BRISTOL, Conn. -- The North Shore Navigators scored twice in the fifth inning and a combination of five relief pitchers made the slim lead stand up in Tuesday night's 4-2 win over the Bristol Blues in Futures Collegiate Baseball League action at Muzzy Field.
First-place North Shore moved to 8-3 on the season, while Bristol fell to 3-7 as its losing streak moved to four games.
Designated hitter Andrew Olszak (Southern Maine), second baseman Dominic Freeberger (UNC Asheville), and catcher Colin Wetterau (St. John's) all had multiple hits for the Navs, pacing a nine-hit attack. Olszak drove in North Shore's first two runs in the third and fifth innings, while Freeberger's two-out single in the ninth provided key insurance for the team's third consecutive win.
The teams traded single runs in the third. First baseman Joey Kalafut (Edgewood) drew a leadoff walk in the visiting half of the frame and stole second before Olszak finished a nine-pitch plate appearance with a run-scoring single into left-center field.
Jake Zoller (Wofford) pitched a 1-2-3 first inning in relief of North Shore starter Shayne Audet (New England College), but Bristol tagged the southpaw for the tying run in its half of the third. Audet allowed a leadoff single, hit a batter, and issued a walk in the first before exiting his first start of the summer due to injury.
After center fielder Austin White (Rhode Island) and right fielder Brandon Miller (St. John's) opened Bristol's third inning with back-to-back singles, designated hitter Dylan Reynolds (Fairfield) lifted a sacrifice fly to center to tie the game at 1-1.
Bristol stranded the bases loaded in the first and third frames, while Zoller and Arlo Marynczak (Siena) escaped a two-on jam in the following frame. The Blues worked two walks around a fly ball, but Marynczak struck out Reynolds to retire the side and keep the game tied.
North Shore scored twice in the fifth to take it largest lead of the night at 3-1. The go-ahead run came in quickly as Wetterau laid down a perfect bunt single and forced Blues pitcher Ryan Lauk (Wagner) to make an errant throw that allowed Wetterau to advance 90 feet. The catcher then crossed the plate on Olszak's two-strike single just inside the first base bag.
After Olszak's second hit, Freeberger reached on a fielder's choice and took second on a wild pitch. Center fielder Ben Malgeri (Holy Cross) gave the Navs some needed insurance at the time with a two-out single into left-center.
The Blues got one run back when catcher Will Reiner (Villanova) led off the sixth with a single and scored on Miller's single to left. Marynczak bounced back to strike out back-to-back batters to end the inning, increasing his season-high total to six through just 2.1 innings of relief. The 6-foot-7 righty was ultimately credited with his first win.
Hamilton-Wenham product Hunter Wilichoski (Northern Essex CC) worked around three free passes during his fifth relief stint of the summer, but he posted strikeouts to end both innings and keep the visitors in front.
In the ninth, Freeberger increased North Shore's lead to two runs as he scored pinch hitter Nolan Watson (Dayton) with a two-strike single. Marblehead's Beau Dana (Dickinson) worked the ninth, striking out two to record his league-leading fifth save of the summer. Dana also benefitted from right fielder Kade Kretzschmar's (Dartmouth) outstanding diving catch on a sinking line drive off the bat of Reiner.
Lauk took the loss after allowing three runs on six hits and two walks. The starter struck out five before Dominic Niman (Central Connecticut State) pitched three innings of one-hit ball. On the offensive side, White and Miller combined for four of Bristol's six hits.
The Navs return to action at 10:30 a.m. Thursday when they make their first-ever trip to Bullens Field in Westfield, Mass., to take on the Starfires. The same two teams will return to Fraser Field for a Friday game at 7 p.m.