News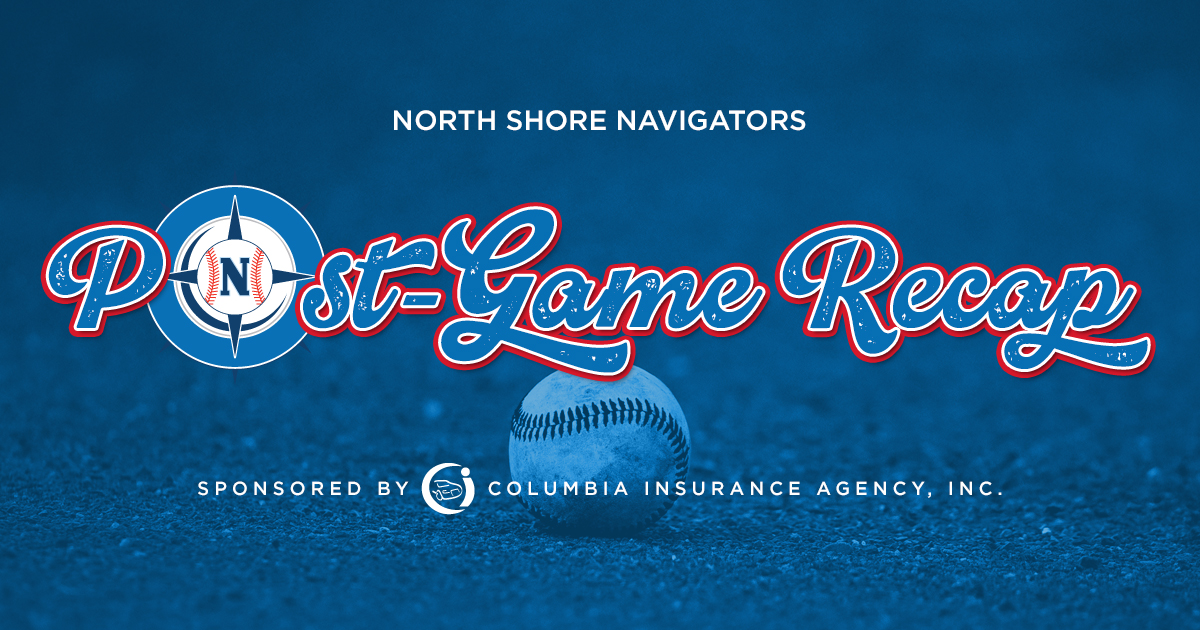 06/09/2019 6:48 PM
By Joshua Kummins
LYNN, Mass. -- The North Shore Navigators finished an impressive offensive weekend and maintained their first-place Futures Collegiate Baseball League standing with a 14-2 win over the Westfield Starfires in Sunday's first-ever meeting between the two teams.
First-place North Shore improved to 7-3 on the season after combining for 26 runs on 34 hits over the last two games, the first of which was Saturday's 12-7 win over Nashua. Westfield fell to 4-7 as a result of its second straight road loss.
The Navs banged out 18 hits for their best single-game offensive performance since a 19-hit night on June 23, 2017 at Seacoast. Eight members of North Shore's starting lineup had a hit, with six posting multiple.
Center fielder Ben Malgeri (Holy Cross) led the offense as he defended his FCBL Player of the Night honor from Saturday. The rising sophomore posted the fourth five-hit game in franchise history, going 5-for-5 with a double, two RBI, and two runs scored out of the No. 6 hole in the batting order.
Shortstop Andrew Olszak (Southern Maine) went 3-for-5 with two runs and two RBI, while third baseman Logan Bravo's (Harvard) 2-for-4, four-RBI day included his second home run in as many games. In addition, third baseman Tyler MacGregor (Columbia) went 1-for-2 with two RBI and reached base four times, inching closer to the FCBL batting lead with his .459 average.
The Navs plated two runs in each of the first three innings to take a commanding lead that they would never relinquish. Catcher Nolan Watson (Dayton) led off the game with a double to left-center and scored the game's first run on Olszak's single up the middle before an error following Malgeri's first hit brought in second baseman Dominic Freeberger (UNC Asheville).
Left fielder Sean Lawlor (Flagler) doubled North Shore's lead to 4-0 with a two-run single in the second. MacGregor led off the third with a walk and scored on a wild pitch, while Watson hit a one-out single over the second base bag to bring in the sixth North Shore run.
Westfield scored its only two runs of the game in the fifth. After shortstop Elijah Dale (Kansas State) and second baseman Jeremiah Vargas (Stonehill) led off the inning with singles, center fielder Danny Crossen (Northeastern) hit an RBI grounder to short and right fielder Sean Murphy (Gettysburg) singled in the next at-bat.
North Shore was retired 1-2-3 in the fifth before responding with its most productive offensive inning of the night, sending 11 batters to the plate to produce seven runs on as many hits in the sixth. Olszak and Lawlor led off with back-to-back singles, and Freeberger was hit by a pitch to load the bases. Olszak crossed the plate on MacGregor's single to right before Malgeri plated two more on a double into the left-center gap.
First baseman Colin Macko (UNC Asheville) was hit by a pitch following Malgeri's two-bagger and then Bravo cleared the bases with a triple to right. Right fielder Kade Kretzschmar (Dartmouth) knocked a two-out single for the second hit of his Navs debut and scored on Olszak's second hit of the inning.
The Navs added their final run in the eighth as Bravo hit a leadoff homer over the left field fence. The Andover native and Austin Prep grad became the first North Shore player to leave the yard in back-to-back games since Sal Frelick (Boston College) did so in three straight at the beginning of last July.
While the offense rolled, North Shore pitching was also strong. Swampscott's Gavin Sullivan (Stetson) earned his first win of the season after allowing two runs on six hits over the first five innings. Trystan Sarcone (Dartmouth) punched out five over the following three frames of one-hit ball, and Parker Browne (Suffolk) finished the night with a 1-2-3 inning.
Left fielder Thomas Joyce (Merrimack) had two of Westfield's seven hits, including a fourth-inning double. Vincenzo Camera (Westfield State) took the loss as he allowed six runs on seven hits in his 2.1-inning start. St. Mary's grad Matt Costanza (American International) recorded five outs during a scoreless relief outing for the Starfires.
North Shore begins a three-game road trip Monday night against the Worcester Bravehearts. First pitch from Hanover Insurance Park at Fitton Field is set for 6:35 p.m.