News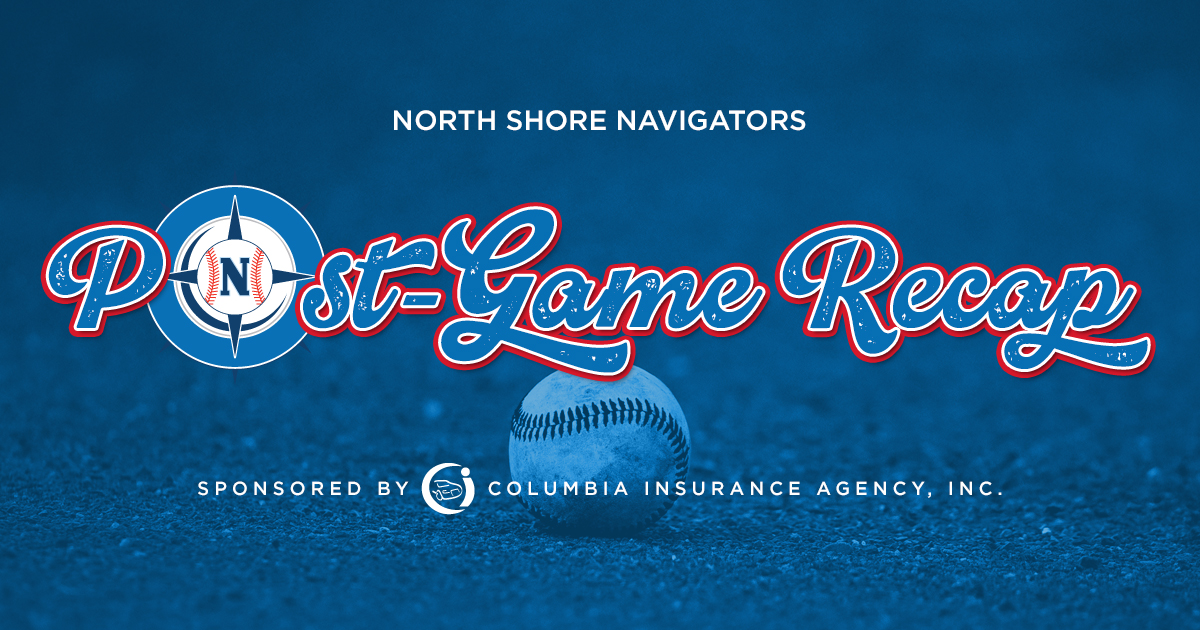 06/03/2019 8:28 PM
By Joshua Kummins
LYNN, Mass. -- The North Shore Navigators earned their second one-run win of the season Monday night at Fraser Field, working through a bases-loaded, nobody-out jam to hold on for a 4-3 decision over the Worcester Bravehearts in Futures Collegiate Baseball League action.
The Navs improved to 4-1, tying Pittsfield for first place after Westfield handed the Suns their first loss of the season. Playing its first road game of the season, Worcester slipped to 1-2 with both losses having come to the Navs since a no-hitter to open the summer last Thursday.
Second baseman Dominic Freeberger (UNC Asheville) went 2-for-4 with an RBI, while left fielder Sean Lawlor (Flagler) provided the game-winning offense on a two-run single in the bottom of the sixth inning. On the mound, Hunter Wilichoski (Northern Essex CC) worked 2.2 innings before allowing a runner en route to his second win of the season and closer Beau Dana (Dickinson) struck out the final two batters he faced after loading the bases in the ninth.
After going down 1-2-3 against Worcester starter Jeremy Adams (St. Petersburg) in the first inning, the Navs took a 1-0 lead during their next trip to the plate. Third baseman Tyler MacGregor (Columbia) hit a one-out double to left and came around to score after catcher Louis Olivieri (Central Alabama CC) reached on a fielder's choice three batters later.
The Bravehearts tied the score at 1-1 when third baseman Bryce Hellgeth (Dayton) singled home third baseman Paul Coumoulos (St. Leo) in the fourth, tagging Gavin Sullivan (Stetson) for his only run allowed during a 3.1-inning start.
Continuing the back-and-forth affair, North Shore flipped the score in its favor an inning later. Right fielder Ben Malgeri (Holy Cross) singled with one out before Freeberger dropped an RBI single over second base to give the Navs a 2-1 lead.
Worcester took the lead for the first time with a two-run sixth inning. Navs reliever Bobby Cliche (Maine) allowed a leadoff triple to designated hitter CJ McKennitt (Holy Cross), and he crossed home on right fielder PJ Barry's (St. Leo) single before a fielder's choice RBI for center fielder John Thrasher (Hartford) two batters later.
Wilichoski stranded a pair of Bravehearts baserunners to end the sixth and proceeded to toss 2.2 innings of perfect relief before walking second baseman Mariano Ricciardi (Cypress) to begin the ninth.
Upon Wilichoski's entry, the Navs immediately responded with their own two-run sixth. First baseman Colin Wetterau (St. John's) and center fielder Nolan Watson (Dayton) drew back-to-back walks. After shortstop Andrew Olszak's (Southern Maine) grounder back to the mound moved both runners into scoring position, Lawlor hit a two-run double to center to give North Shore a 4-3 lead.
After Ricciardi reached to begin the ninth, Thrasher reached base on an error on a sacrifice bunt and left fielder Jakob Sessa (St. Petersburg) was a hit by a pitch. A fielder's choice at the plate clinched the first out before Dana struck out the next two to nab his second save.
McKennitt went 2-for-5 with a triple to pace the Worcester offense. Ethan Teixeira (AIC) suffered the loss, allowing one run on one hit and two walks in one-third of an inning.
The Navs have Tuesday off before returning to Fraser Field for a 10:30 a.m. Wednesday game against Nashua.