News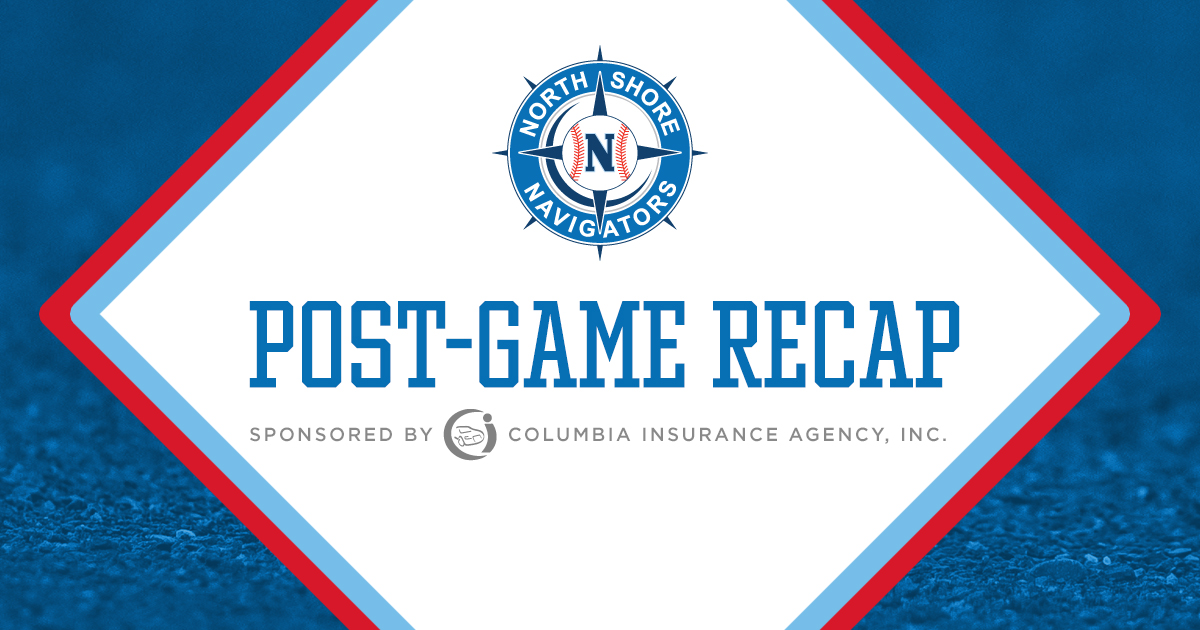 06/02/2019 4:44 PM
By Joshua Kummins
BROCKTON, Mass. -- The North Shore Navigators suffered their first loss of the young Futures Collegiate Baseball League season Sunday afternoon at Campanelli Stadium as Brockton's four-run fourth inning and three errors in the field were too much to overcome in the eventual 7-3 decision.
After being held to four hits for the second consecutive game, North Shore slipped to 3-1 with the loss. Right fielder Colin Macko (UNC Asheville) had two of the team's three RBI and one of three doubles. On the flip side, Brockton improved to 3-2 after tying its 10-game season series with the Navs at a game apiece.
Rox starter Dominic Rutigliano (New Haven) pitched a 1-2-3 first inning to set the tone for the game, and his offense came through with single runs in two of the first three frames. In the first, third baseman Mitch Donofrio (Eckerd) laced a one-out single to begin the offensive day and then came around to score on first baseman Gabe Giosso's (St. Mary's, Calif.) hard-hit grounder to third.
Fresh off earning All-New England First Team honors this spring, catcher Gaby Cruz (Bryant) punctuated his Brockton debut and doubled the lead two innings later with a towering home run over the left-field bullpen.
Brockton broke the score wide open while sending all nine batters to the plate in the fourth. Second baseman Nick Shumski (Merrimack) was the first of six to reach base safely during the inning. He later scored on an error that followed shortstop Spenser Smith's (Northeastern) double before Donofrio and Giosso posted the next three RBI.
The four-spot chased Navs starter James Flood (Siena) from the game, despite his six strikeouts through 3.1 innings of work. He allowed eight hits, and five of the six runs charged to him were earned. Brockton added a run in the fifth as Smith beat out an infield single and scored on designated hitter Tommy Kretzler's (College at Brockport) double to left.
All three of North Shore's runs came against Rox veteran Brad Marchetti (Tufts) in the seventh. Third baseman Tyler MacGregor (Columbia) started the rally with a one-out single. After second baseman Dominic Freeberger (UNC Asheville) was hit by a pitch, Macko and first baseman Colin Wetterau (St. John's) hit back-to-back doubles that produced all of the offense.
Relievers Jake Zoller (Wofford) and Parker Browne (Suffolk) were strong in their North Shore debuts, allowing just one run on five combined hits over the final 4.2 innings. Zoller struck out four, and Browne worked around a pair of singles in the eighth.
Donofrio and Cruz both went 3-for-5 with one RBI and a combined three runs scored to pace the Brockton offense. Smith went 2-for-4 and scored twice from the No. 9 hole. On the mound, Rutigliano gave up one hit and struck out three over his five-inning start, while Marchetti and Owen Langan (Northeastern) teamed up to fan five in relief.
The Navs return to action at 7 p.m. Monday when the Worcester Bravehearts visit Fraser Field for the first time this summer.