News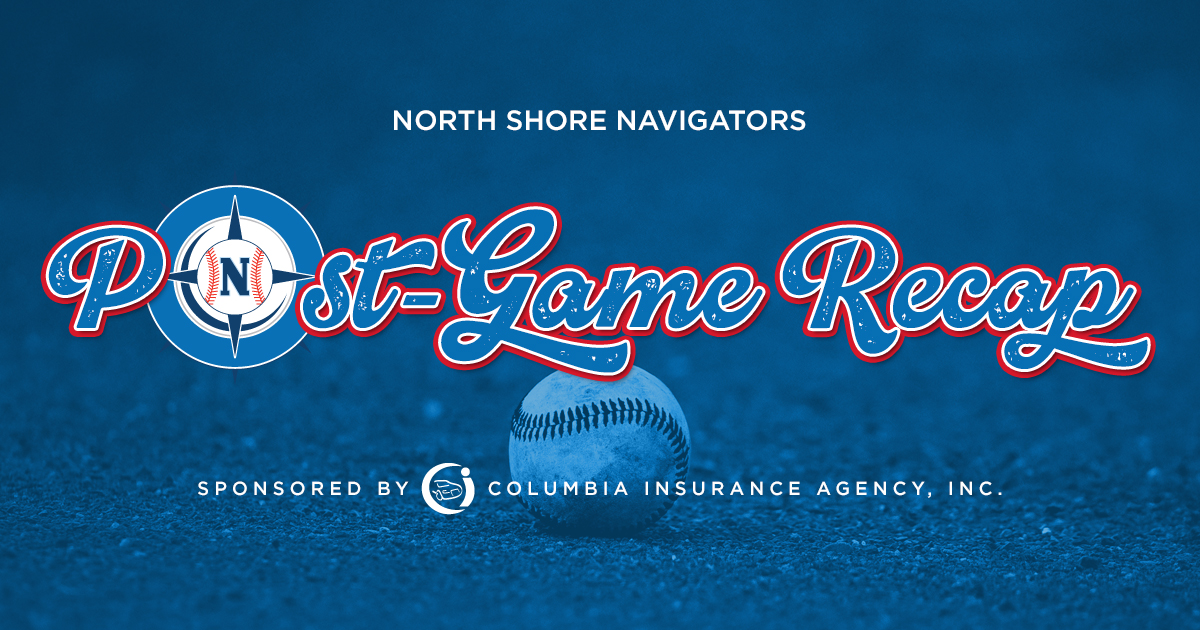 05/31/2019 8:26 PM
By Joshua Kummins
WORCESTER, Mass. -- The North Shore Navigators broke out the bats for the second consecutive night to begin the summer, posting 14 hits en route to a 12-4 win over the Worcester Bravehearts in Friday night's Futures Collegiate Baseball League game at a sold-out Hanover Insurance Park.
Following Thursday's season-opening, 9-8 win in Brockton, the Navs improved to 2-0 for the first time since 2013. Worcester slipped to 1-1 on the young season.
Four North Shore batters recorded multiple hits and four recorded multiple RBI as part of the impressive offensive performance. Catcher Nolan Watson (Dayton) went 4-for-6 with two runs scored out of the leadoff spot, while third baseman Tyler MacGregor (Columbia) went 3-for-5 and drove in four runs for his second consecutive multi-hit game.
Pitching minutes from his hometown of Auburn, rising Northeastern freshman Jake Gigliotti earned the win in his North Shore debut. He struck out six and allowed just two hits and one walk through 4.2 innings of relief.
North Shore began the night with back-to-back hits from Watson and shortstop Andrew Olszak (Southern Maine) before right fielder Ben Malgeri (Holy Cross) was hit by a pitch to load the bases. The Navs scored first for the first time this summer as left fielder Sean Lawlor (Flagler) hit a sacrifice fly to center and extended their lead on MacGregor's two-run single through the middle.
The Bravehearts got a run back in their half of the first against North Shore starter Cedric Gillette (Merrimack) as center fielder John Thrasher (Hartford) drew a leadoff walk and scored on designated hitter Jack Gardner (Cypress) grounder to short two batters later.
The visitors added to their lead with three runs over the fourth and fifth innings. Designated hitter Colin Macko (UNC Asheville) led off the former frame with a solo home run to right field. In the fifth, catcher Louis Olivieri (Central Alabama CC) hit a sac fly that scored Malgeri and MacGregor added his second run-scoring hit of the game with a two-out single to left.
Gillette had retired 12 consecutive batters following Thrasher's leadoff walk, but the Bravehearts scratched across three runs on just one hit in the fifth. The Andover native hit two batters and walked two others to bring home a run before left fielder Jakob Sessa (St. Petersburg) sent Worcester's first hit of the game into left with one out.
After allowing Gillette's inherited runners to score, Gigliotti settled down and struck out back-to-back Bravehearts with the bases loaded to keep North Shore ahead by two runs.
Watson led off North Shore's four-run eighth with a triple and scored on Freeberger's two-run single into shallow right four batters later. In the following at-bats, Olivieri added an RBI grounder to third and MacGregor brought home the team's 10th run with a single to center.
The Navs added two hits in the ninth with Lawlor's one-out single driving home a run. Gigliotti allowed a leadoff walk in the home half, but a 4-6-3 double play and his final strikeout ended the game.
Sessa and P.J. Barry (St. Leo) were the lone Worcester hitters. Jakob Barker (Seminole State) allowed six hits and four runs during his four-inning start for the Bravehearts, while five pitchers threw out of the bullpen over the final five frames.
The Navs return to action Saturday night to take on the Nashua Silver Knights in their home opener. First pitch at Fraser Field is set for 6 p.m.